Goucher College provides basic Zoom accounts to all faculty, staff, and students.  Use the following instructions to get started, upgrade your account (by special request for online teaching only), test your settings, see tips, or get technical assistance.
---
Sign In / Create an account (Web browser) 
Accounts are created automatically the first time a user logs in successfully on our site.
Go to http://goucher.zoom.us and click Sign In (

NOT Sign Up

) to launch a Goucher login page* with a campus picture on it.
*If the Sign In link or Goucher login page do not appear, your browser is logging you in  to a Zoom account automatically. To sign into a different account, you will need to…
– Click your profile icon and choose "Sign Out", then CLOSE YOUR BROWSER
– Open and sign-out of the Zoom software installed on your Mac or Windows computer, then CLOSE THIS SOFTWARE
– Restart your browser and start step one over.*You might be prompted to "switch accounts" if you previously had a personal Zoom account registered under your Goucher email address. This is correct. Please follow all prompts and instructions for switching your account over to Goucher's hosted site.
Enter your Goucher username@goucher.edu (

NOT email

) and password to continue. A basic account will be created for you automatically. 
NOTE: Faculty teaching online courses may request a full Zoom license by emailing helpdesk@goucher.edu. However, Goucher is planning to discontinue using Zoom in the future and all Goucher members are encouraged to use Microsoft Teams for hosting online meetings. Visit https://blogs.goucher.edu/knowledgebase/2023/01/03/online-meetings-and-chat-with-microsoft-teams/ to learn more.
---
Sign In From Desktop Software
Once your account is created (see above), you will often be prompted to "Open Zoom Meetings" to join or run meetings using the Zoom desktop software. Should you need to sign-in from the software screen, click the "Sign In with SSO" button, and then type goucher as the company domain to proceed.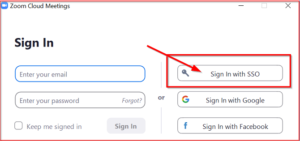 ---
Join A Test Meeting
You can join a test Zoom meeting to familiarize yourself with Zoom controls and test your microphone/speakers before joining a Zoom meeting. You can also test your video or audio while in a Zoom meeting. Note that users in a Zoom test meeting are added as participants, not hosts, so host features such as sharing and recording are not available for testing.
---
Use Zoom Add-ins
Add Zoom To A Canvas Course
Instructors can schedule and start Zoom meetings directly from their Canvas course(s) using the Canvas Zoom tool. To start, add Zoom to your Canvas course navigation through the course settings. Once added, click the link to access your Zoom meeting information. Here you can create new meetings or start meetings already scheduled.
Students will see a list of scheduled meetings for just this class along with a JOIN button. They will not see meetings scheduled with other classes. Click here for more details.
Add Zoom Outlook Plug-in
The Outlook Plug-in for Zoom is available to add to your Outlook calendar for synchronized meeting scheduling. The plug-in is available to download and install on the Goucher Zoom site meetings screen. When prompted to Sign In, click the "Sign in with SSO" button underneath the password fields, and then type goucher as the company domain to proceed.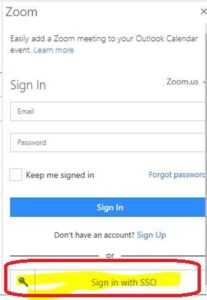 ---
Add Live Transcriptions to Your Meeting as a Host (Highly Recommended)
Zoom hosts can enable a side panel in their meetings that automatically transcribes spoken words to text for participants to follow (much like closed captioning).  Here's how…
IN-MEETING FOR HOSTS
When hosting a meeting, click the LIVE TRANSCRIPT button on the host toolbar (1), and then select ENABLE AUTO-TRANSCRIPTION from the pop-up window (2). If your window is too small to display the entire host toolbar, you will need to click the MORE (3) button first.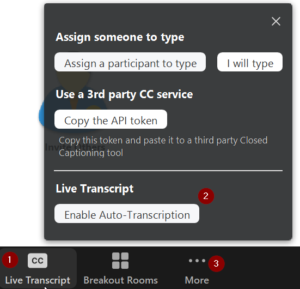 IN-MEETING FOR PARTICIPANTS:
When enabled by the host, you will see a notification above Closed Caption/Live Transcript in the meeting controls, informing you that one of these services is available. If live transcription is available, click Live Transcript, and then select Show Subtitle.
VIEWING IN CLOUD RECORDINGS:
Audio transcription is turned on for cloud recordings by default*. When recordings are played, the transcribed text appears on the right-hand side of the video. To display the transcript as closed captions while playing a recording, click the CC icon at the bottom right of the screen.
*Note that the audio transcript may take additional time to process after the cloud recording video/audio has processed.
For more detailed information on downloading, viewing, and editing audio transcription saved to a cloud recording, visit this Zoom Support article.
---
Get Training and Technical Assistance
Have a question about using Zoom? We rely on the Zoom Help Center to provide technical assistance for our Zoom users. Refer to this this page first for helpful instructions, training videos, and answers to questions about how to use Zoom. The video tutorials are particularly useful.
Goucher users can submit a support request to Zoom by online submission or by initiating a chat using the chat bubble available on the Zoom web page.
Questions not answered after contacting the Zoom Help Center should be directed to helpdesk@goucher.edu.