IMPORTANT MAC UPDATES (January 2021)
As the Spring 2021 semester starts, it is important to make sure that you are running the latest supported version of both Mac OS and Microsoft Office.
In this article, we will cover how to check your current versions, and then perform updates to make sure that you are running the latest supported version.
Please note that as of this time (January 2021), Goucher College is NOT supporting Mac OS 11, Big Sur, due to incompatibilities with Goucher specific systems.
HOW TO CHECK YOUR OS VERSION
Click on the Apple menu at the upper left corner of the screen and choose "About This Mac."
The window that pops up will show you what version of MacOS you are running. Goucher IT suggests running MacOS 10.14.6 Mojave or 10.15 Catalina.
If you are running an earlier version of Mojave (10.14.1 through 1.14.5), then you can update by clicking the "Software Update" button.
If you are running an earlier version of MacOS (10.9 through 10.13), then follow the instructions in the next section to update your OS.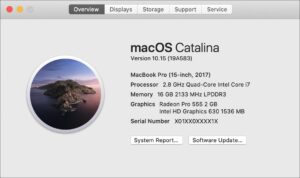 HOW TO UPDATE TO CATALINA
Before you begin, it is best to make sure that any important files on your computer are backed up, whether that means you upload them to Box, another server, copy them to a USB drive, or anywhere else off your computer. Problems and failures are not expected, but it is best to be prepared in the unlikely event that they occur.
Make sure you will not need to use your computer for up to one hour, this update can take a long time to complete.
Use any web browser, navigate to https://apps.apple.com/us/app/macos-catalina/id1466841314?ls=1&mt=12. The Mac App Store will open and then click on the download button in the upper right corner of the window.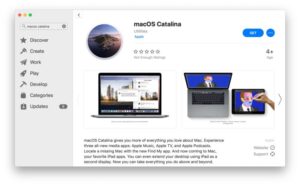 After the download is complete, a window will pop up welcoming you to MacOS Catalina and guide you through the process. Continue through the installer process until a timer appears.
Your computer will restart multiple times during the install process. This is normal. When the process is complete, you will be at a setup window, where your Mac will ask you about some personalized settings, such as choosing to use Dark Mode, or allowing Siri to be active. You can choose whatever you like.
UPDATING OFFICE TO THE LATEST SUPPORTED VERSION
Open any Microsoft Office application. In this example, we will use Word, but you can use whatever application you would like.
Open the Help menu at the top of the screen, and choose "Check for Updates"
The Microsoft AutoUpdater will run, check what versions of applications you are running, and allow you to update them. Please make sure all of your work in any Microsoft Office application is saved before continuing.
You may need to run the updater multiple times to be fully up to date. Please run the updater multiple times, until it informs you that all apps are up-to-date.