---
How do I change my password?
Every 180 days, Goucher faculty and staff must change their account passwords for security purposes. Besides receiving the standard email warnings that it is near time to change passwords, Mac users will receive a secondary warning on their login screens.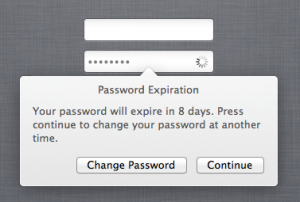 It's best to change your password by clicking this "Change Password" button when it appears, because it will automatically change your keychain password as well!
What if I change my password another way?
If you change your password through a different method, the first time you log in, you will receive this error message: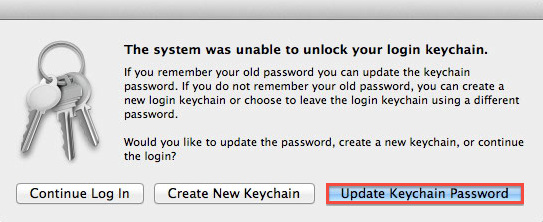 At this time, click the highlighted "Update Keychain Password" button. Your Mac will then ask you to enter both your previous password, and your new password. This will successfully update your keychain password!
What is a "keychain?"
A keychain is your Mac's way of storing sensitive credentials in a secure way. Keychains are encrypted files that can contain passwords, security information for our network, and can even personal information, such as credit card numbers and address information.
Every keychain has its own password, and the info can only be accessed, or "unlocked," by entering that password in.
When you log in to your Mac for the first time, it automatically creates a keychain called "Login," that it will use to store your information. It will set the keychain password to be the same as your login password. This is the preferred method, because your Mac will automatically unlock your keychain once you login, allowing itself to access what you stored there.
What do keychain errors mean?
If your keychain password and your account password aren't the same, you will get this kind of error: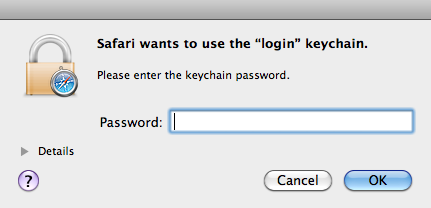 This error means that the application "Safari" wants to access some secure information stored in your keychain. For example, it could be the password to your Facebook account. But because your keychain password and login password are different, your keychain wasn't unlocked when you logged in, so Safari is asking you to enter the keychain password to unlock it.
Please contact the HelpDesk for assistance in making your keychain passwords match. You will need to know what your keychain password is in order for us to fix the keychains. It's usually what your account password was before your most recent changed.
What if I can't remember my old password?
If you can't remember your old password so that we can fix your keychain, we can still make the error go away by erasing your old keychain and building a new one. Please contact the HelpDdesk for assistance with this.
Changing your password will only have minor effects on the way you use your Mac. You may have to re-enter your passwords or information for a few things, such as:
Website passwords (Facebook, Twitter, Amazon, etc.)
Email accounts (Both Goucher and any personal accounts being used)
AutoFill forms (such as shipping addresses when online shopping)
WiFi passwords for non-Goucher networks
My keychain or password problem isn't listed here.
Please contact the HelpDesk by emailing helpdesk@goucher.edu, and we'll be happy to assist you with any other keychain problems you may be experiencing.