What is Horizon MyApps?
Horizon MyApps is a site that allows Goucher users to run specialty software from their own computer through the Horizon Client application. The specialty software is actually running on a Goucher server although it appears to be running from your own computer.
Examples of student software:
SPSS
MATLAB
JMP
MS Office 2013 for Windows
Examples of faculty/staff software (dependent on department):
Image Now
PowerFAIDS
PowerCampus
Raiser's Edge
MS Office 2013 for Windows
NOTE: If you are on a Mac, some programs you can only access through Horizon (examples include PowerCampus and Raisers Edge).
How do I run Horizon MyApps?
Before you begin…
On-campus users must be connected to GoucherWifi (not the GoucherGuest wifi signal)
Off-campus users must make a VPN connection to the Goucher network.
From your PC or Mac computer:
Open a browser on your computer and go to https://myapps.goucher.edu.
Download and install the "VMWare Horizon Client" on your computer.
After downloading and installing the Horizon client, you are presented with this screen (below). Enter myapps.goucher.edu to continue.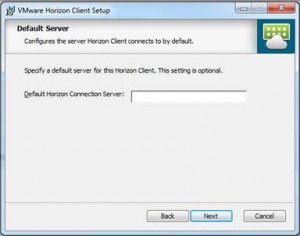 4 . Log in with your Goucher username and password.
You only have to configure the Horizon Client Server on your computer once. The next time you launch this software, just double-click the MyApps.goucher.edu icon and enter your Goucher username and password to continue.
Saving and Accessing your Files
Students
For students doing work on the Horizon programs, you will need to access and save your work files through Darwin. The following linked article details the entire process:
Faculty/Staff
When working on Horizon, Faculty/Staff must save their files to the hard drive on their own computers. During the initial Horizon setup process, you may have been prompted to allow access to local and removable storage. If you selected it then, you can skip this section. Otherwise, below are instructions on how to set that up:
For Mac Users:
Click VMware Horizon Client menu (make sure the Horizon application is currently selected, and it will appear in the top left corner)
Select Preferences
Click the Sharing tab
Click the plus (+) sign
Browse for the folder you would like to make available, then click "Add".
The new location will then appear in the Folder list. Close Preferences when done.
Then, once you try to open a file on any of the Horizon programs, look for [selected folder] on [computername] from the Look-In list.
For PC Users: 
Click the gear icon in the top right corner of the window
Select Sharing
Click ADD
Browse for the folder you would like to make available and click OK
When you save a file, the location you added above will appear as [selected folder] on [computername] in the folder list.
Can I run Horizon MyApps from my phone or tablet?
Yes! A "VMWARE Horizon Client" app is available for iOS, Android, and Windows Phone.
Is there anything I can do if I have technical problems?
If your computer freezes or you have other problems, try the following:
From the VMWare Horizon Client window (not inside one of the software programs), click the gear icon in the upper right and select RESET.
Uninstall the VMWare Horizon Client and reinstall it.
For Sharing issues:
On Mac: Go to System Preferences. Under "Sharing" select "allow access to [username]."
On PC: Go to the gear in the top right corner of the window. Under "Sharing" select "allow access to [username]."
If neither of these steps corrects your problem, contact the IT Help Desk at helpdesk@goucher.edu for further assistance.