Panopto frequently asked questions and topics:
Note: After July 30, 2019, Goucher College will transition from Panopto to Canvas Studio. *Instructors will be able to log into and save their own Panopto video backups until the July 30th deadline.*
1. How do I log into Panopto?
Visit the Panopto web site at http://www.panopto.com.
Sign in using Canvas and enter your usual Goucher username and password.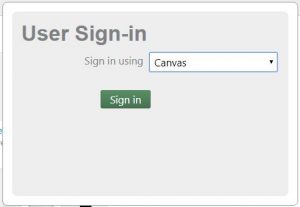 2. Where can I find my Panopto videos in Canvas Studio?
Videos recorded through Panopto prior to May 1st, 2019, have been organized into collections that match the course title of the original Panopto folder. To find your imported videos, click the Studio icon on the main Canvas navigation panel, select the hamburger icon next to "My Uploads", and choose a collection name from the list (see picture below).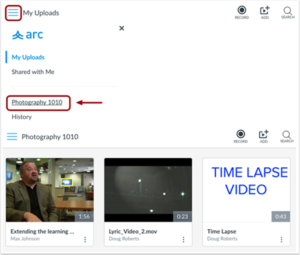 Or, to search for a video or audio file, click the Search icon [1]. In the Search field [2], enter the name or subject of the video or audio file. Click the Enter or Return key on your keyboard.

*Note that if a video with the same title and length appeared multiple times under the same user, duplicate versions were often skipped. This means a video reused over multiple semesters might only appear in one collection. The search feature above will be useful in finding the video in these cases.
3. How do I manually transfer my Panopto videos to Canvas Studio?
Note: Videos recorded after May 1, 2019 were not copied from Panopto to Canvas Studio and should be migrated manually by the instructor.
Login to Panopto (http://www.panopto.com)
Download your desired podcast video as an MP4 to your desktop
Login to Canvas (http://canvas.goucher.edu)
Click the "Studio" icon on the left navigation panel, and then click the "ADD" button in the upper right corner.
4. Where can I get more information?
Visit our Canvas Studio Resources page for a list of quick tutorials.
Or, contact Canvas Support if you need troubleshooting assistance. They are available 24/7 (holidays too). Click the Help icon in the Canvas navigation panel to access an online trouble form, live chat, or phone number. You can also send an email to support@instructure.com.