Siphnean Landscape – 1989
Dimitri Hadzi (American, 1921-2006)
Bronze – Edition 2/7 – Height: 67 inches
Gift of Sidney and Jeah Flah Silber '54 in 2015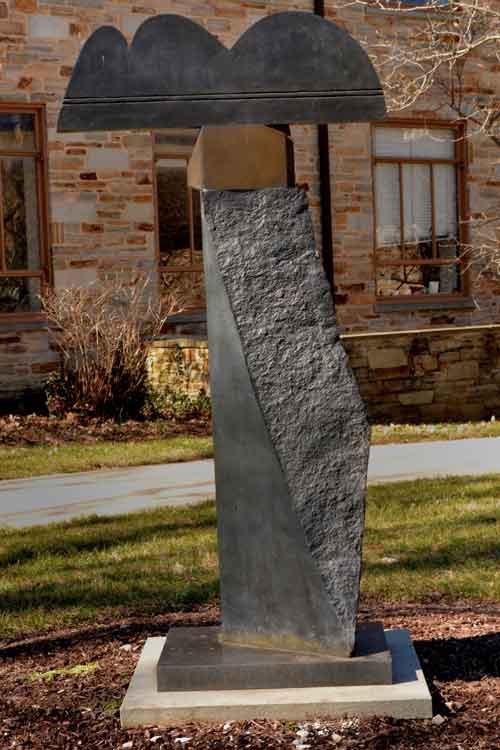 About the Artist:
Dimitri Hadzi was born in Greenwich Village on March 21, 1921 to Greek parents. Hadzi's interest in art started at a young age, as a boy, he won a drawing contest and his strong science and math skills gained him admission to Brooklyn Technical School, graduating with a degree in chemistry. Interested in his ancestry, he enrolled in a Greek after-school program , where he received his first exposure to Greek language, mythology, history and theater. Hadzi used his ethnic culture throughout his lifetime in visual reference, themes, and titles of his sculptors.
During WWII, Hadzi volunteered for the US Air Force and was sent to South Pacific where on his free time he sketched and painted, becoming increasing interested in art. After the war, he resolved to becoming an artist and enrolled in Cooper Union.
At the age of 29, a scholarship took him to Athens where he studied the history of Greco-Roman sculpture and learned the technical demands of carving in stone. Afterwards, moving to Rome, he set up his first studio and meet his wife, Martha Leeb, a art historian and archeologist. They had two children.
Within a few years Hadzi work took off. He was shown at the Museum of Modern Art, The Whitney, Guggenheim, Hirshorn, and Cleveland museums purchased his work. Many University acquired his work including, MIT, Yale, Harvard, and Princeton. Lincoln Center commissioned K. 458 The Hunt and the Sun Life Insurance Company in Baltimore commissioned Helios ,a suspended piece in bronze. In 1975, Hadzi left Rome to come to Harvard, soon to be the first tenured studio art professor.
Dimitri Hadzi retired in 1989 and turned to making smaller sculptures of wood-fired stoneware. In his lifetime, he became internationally known, a member of the American Academy of Arts and Letter and the National Academy of Design. His most notable sculptures are tall and imposing, abstract in bronze and stone, and radiate energy with hints of figuration. Hadzi died on April 16, 2006 in Boston. He was 85 and lived in Cambridge, Mass.
---
Works On Display:
Helmet V, (1959-1961) Hirshhorn Museum and Sculpture Garden:
https://learninglab.si.edu/resources/view/636854#more-info
Centaur (1954) in the garden of Prospect House in Princeton, New Jersey:
http://www.princeton.edu/prospecthouse/