Sorel Etrog (Canadian, 1933-2014)
Height: 60 inches – 1976
Gift of Sidney and Jeah Flah Silber '54 in 2012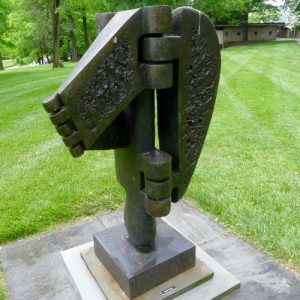 About the Artist:
Sorel Etrog was a Romanian-Canadian sculptor. Born in Jassy, Romania on the 29th of August 1933. He died the 26th of February 2014 in Toronto, Ontario, where he lived a great part of his life.
Sorel and his family were Jewish, and managed to survive the Second World War, then moved to Israel in 1950. In Israel, he studied drawing, painting, sculpture, graphic design, and theater set design at the Tel Aviv Art Institute.1953-1955 Etrog produced his first construction in polychromed wood 1954, then joined an artists' co-operative at Ein Hod founded by Marcel Janco. He held his first solo exhibition at ZOA, Tel Aviv, in 1958. This exhibit helped win him a scholarship to study at the Brooklyn Museum in New York.
His first sculptures were mainly plywood painted constructions and small terracottas, but since 1962 he has modeled in plaster for bronze casting and has also carved in marble.
Etrog's style is deeply indebted to both surrealism and Pablo Picasso's work of the 1930s, as well as to major 20th century sculptors such as Romanian-born modernist Constantin Brancusi and American abstract-expressionist David Smith. While much of Etrog's work appears abstract, it invariably alludes to the human form. Etrog's theme throughout his work is the integrity of the human body in an industrialized world, and thus his sculptures typically consist of elaborately interlocking parts that resemble the elements of a machine.
Sorel Etrog was best known for his abstracted figurative sculptures such as his massive Sun Life on the northeast corner of King Street and University Avenue which is a landmark for many Torontonians. However, his lesser-known collaborations with Samuel Beckett, Eugène Ionesco and Marshall McLuhan convey the profoundly human – and humane – aspects of an artist whose thoughts encompass sculptural and metaphorical considerations of connection, passage, relationship and continuity.
Etrog's work develops a complex visual vocabulary that explores time and the permanent bond between the plastic arts, with architecture on one hand, and society on the other. Etrog explores spontaneous symbols, primal elements and the relationship between form and symbol. The artist describes his art as "tension created by pulling together and pulling apart, with being stuck and being freed, a world of grabbing and holding on and losing hold… bringing shapes together but at the same time giving each an independence."
In 1959, the Solomon R. Guggenheim Museum purchased one of his early sculptures. It was during this period in New York that Etrog met his long-standing collector and patron, Samuel Zacks, leading to his first solo exhibition in Canada at Gallery Moos in Toronto. Etrog moved to Toronto is 1961 and became a Canadian citizen. He was one of the three artists who represented Canada at the 1966 Venice Biennale.
For more than half a century, Sorel Etrog was one of Canada's most renowned contemporary sculptors. In 1968, Etrog was asked to design the Canadian film award called the Genie (which was known as "the Etrog" until 1980).
While Etrog's finest work is sculptural and in bronze — he worked directly with plaster models, which allowed him to give even large sculptures an intimate sense of detail and texture. He was also an accomplished painter and draftsman. Etrog typically used painting and drawing as a testing ground for ideas he then developed into larger sculptures.
In addition to his work as a painter and sculptor, Etrog published poetry, plays, and non-fiction He did book illustrations for Eugene Ionesco and Samuel Beckett. He also collaborated with Marshall McLuhan on the publication of Spiral in 1976, a book interweaving still images from his 1975 film of the same name with quotes from a wide variety of writers.
Etrog was appointed a member of the Order of Canada in 1994, and Chevalier dans L'Ordre des Arts et des Lettres by France in 1996.
In 2013, the Art Gallery of Ontario proudly presented a career-spanning exhibition of artist Sorel Etrog's work, featuring his archetypal sculptures and his rarely seen film, Spiral, plus drawings, paintings, book illustrations and prints from both the Gallery's and private collections.
He has received several important commissions, including those for Expo '67, Montreal; SunLife Centre, Toronto; Windsor Sculpture Garden, Windsor, Ontario; Los Angeles County Museum, and Olympic Park in Seoul, Korea, and has collaborated with artists such as Eugene Ionesco, Samuel Beckett, John Cage and Marshall McLuhan.
Etrog's work is represented in major capitals and cities of the world and is included in the permanent collections of the National Gallery of Canada, Ottawa; the Art Gallery of Ontario, Toronto; the Montreal Museum of Fine Arts, among others.
His work has been part of many group exhibitions at the National Gallery of Canada, Ottawa; The Carnegie International, Pittsburg; The Museum of Modern Art, New York, The Solomon R. Guggenheim Museum, New York; the Hirshhorn Museum and Sculpture garden, Washington, D.C.; Palazzo Vecchio, Florence; Musee des Beaux-Arts, Le Havre; Musee Rodin, Paris; Kuntsmuseum, Basel; and the Centre Georges Pompidou, Paris.
His career has left an undeniable mark, both on the tToronto cityscape and the many people in the art community who knew and admired him.
---
Works On Display:
Toronto Sculpture
http://www.dittwald.com/torontosculpture/search.php?Artist=Sorel%20Etrog
Artcyclopedia: Etrog Sorel
http://www.artcyclopedia.com/artists/etrog_sorel.html
Dallas Museum of Art, Texas
http://www.dma.org/collection/search?artist_creator_exact=Sorel%20Etrog
Art Gallery of Hamilton, Ontario
http://www.artgalleryofhamilton.com/edu/sartist.asp?artistID=2016
Harvard University Art Museums, Massachusetts
http://www.harvardartmuseums.org/collections/object/311805?position=0
Hirshhorn Museum and Sculpture Garden, Washington D.C.
http://hirshhorn.si.edu/search-results/?edan_search_value=Sorel%20Etrog#
University of Lethbridge Art Gallery, Alberta, Canada
http://hirshhorn.si.edu/search-results/?edan_search_value=Sorel%20Etrog#
Smithsonian American Art Museum National Art Inventories
http://siris-artinventories.si.edu/ipac20/ipac.jsp?session=145633M5X963Q.114&profile=ariall&uri=link=3100006~!1354~!3100001~!3100002&aspect=Browse&menu=search&ri=1&source=~!siartinventories&term=Etrog%2C+Sorel%2C+1933-2014%2C+sculptor.&index=AUTHOR