Sophia Vari (Greek, b. 1940)
Bronze – Edition 1/3 – Signed and Stamped – Height: 48 inches – circa 1940
Gift of Sidney and Jeah Flah Silber '54 in 2015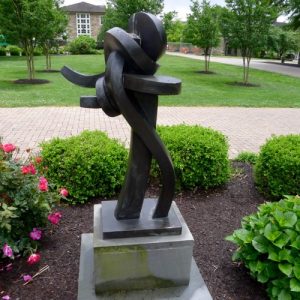 About the Artist:
Vari was born in 1940 in Greece and has been an artist since she was 18 years old; she is now 75. While Vari received a formal art education in most mediums in Paris when she was young, she has become most famous for her sculptures. She works primarily in metal and stone. Her first pieces were very representational of the human form, but her work has evolved to become only slightly suggestive of the figure. Her work has been consistently described as expressive and sensual, due to how the forms seem to interact with themselves, the space, and the viewer. Vari has most recently started to include color in her sculptures, in order to include her other passion, painting, which brings even more life to her work.
Vari's sculptures have evolved through several stages in the last few decades. When she began sculpting in the 60s, her work was figurative. Later in the 80s, she began to feel limited by figurative work, and started to create rounded abstract forms that were only suggestive of the human body. According to Vari, the importance of this transition is that what is unimportant is removed while what is left is the main idea, which may still be a figurative sentiment. Eventually she began incorporating more planar figures, and by the mid 90s she was applying color to the surfaces.
From her early representational phase to her most recent abstractions, Vari's work has been consistently characterized by its extraordinary sensuality and expressive quality. When experienced, Vari's sculptures reveal themselves in a subtle and clever manner. Her work is an investigation of form and balance, and is mindful of classical and renaissance rules while also recognizing the expressive potential of contemporary sculpture. She creates intricate forms that interact with themselves, the space, and the viewer.
Links:
http://www.eyesin.com/article/art-design/art/sophia-varis-new-sculpture-installed-in-new-york