Mary Ann Mears (American, b. 1946)
Yellow painted steel – Signed and Stamped – Height: 48 inches – 1976
Gift of Sidney and Jeah Flah Silber '54 in 2015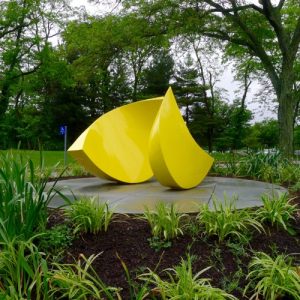 About the Artist:
Mary Ann Mears grew up in Chatham, New Jersey. She graduated from Mount Holyoke and then proceeded to NYU for her masters. She was a professor at Community College of Baltimore and Goucher College. While she no longer teaches, she does still works on her own projects and with multiple organizations that aim to bring high quality art to the public. These organizations include the Maryland Art Place (founder), Maryland Citizens of the Arts, Arts Education for Maryland Schools Alliance (founder) and Maryland State Department of Education Advisory Panel.
She believes that exposure to the arts is vital to the lives of people and aims to create equity of access, especially for children. Mears is very involved with the public arts in Maryland. She crafted and lobbied for Maryland's Public Art Bill, which was indeed successful.
"I want to give people something to pique their imaginations, something that will add a moment of beauty to their day."
Mary Ann Mears is primarily a sculptor but does work in mixed media and printmaking. She incorporates her work into both public and private spaces. Part of her creative process is evaluating the spaces she considers to create for in order to see how the space is used and how people interact with it.
Her sculptures are made of aluminum and stainless steel and are often painted in bright colors, which have a highly glossy finish. She works out of her home studio, in Baltimore, Maryland.
Interview:
Mears was first introduced to sculpture at Mount Holyoke College. She was unable to register for a painting class, her second semester of freshman year, but was encouraged to register for the sculpture class with Leonard DeLonga. In his class, Mears learned how to weld and use different materials. She grew to love making sculptures and continues to do so today.
Her sculpture, Les Jaunes Filles, was not a commissioned piece but instead exhibited at a gallery where Sid Silber purchased it. He placed it in his garden, where it was to be seen from one perspective. The title is a French pun because instead of Les Jeunes Filles (The Young Girls), it is named, Les Jaunes Filles (The Yellow Girls). The reason for the color yellow is that it has the most contrast when placed in a natural space such as a garden.
Links:
She has many pieces that were created for public spaces here in Baltimore and the surrounding areas. Below is a list of the Baltimore locations.
http://maryannmears.com/projects/red-buoyant
http://maryannmears.com/projects/spun-grace-0
http://maryannmears.com/projects/river-flight
http://maryannmears.com/projects/ashburton-aery
http://maryannmears.com/projects/sinsyne
http://maryannmears.com/projects/streamings
http://maryannmears.com/projects/boanerges
http://maryannmears.com/projects/brio