John Van Alstine (American, b. 1952)
Painted steel and bluestone – Signed – Height: 50 inches – 2006
Gift of Sidney and Jeah Flah Silber '54 in 2012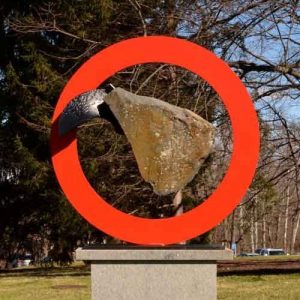 About the Artist:
Inspired by mythology, Alstine has made many sculptures entitled Sisyphean Circle. He distinguishes them with roman numerals; for example, the sculpture owned by Goucher is called Sisyphean Circle X. In Greek mythology, Sisyphus must push a boulder up a hill, in the underworld, to have it roll back down again. Alstine calls this myth "…a metaphor for the creative process" because he physically and metaphorically builds and pushes up to create something and once it's finished and the stone is at the top, it falls back down and he starts over to creates another sculpture. He sees the myth as "a process" rather than a punishment and "the sculpture embodies that process."
Alstine's work is recognized for its grace and balance. While he uses mainly steel and stone, he manipulated his work to look weightless. In many of his pieces, and especially in his Sisyphean Circles, the granite stone looks as though it is floating.
Alstine was born in upstate New York and grew up in the Adirondack Mountains. He graduated from St. Lawrence University, got his BFA from Kent State University and his MFA from Cornell University. He taught at the University of Wyoming, Laramie, and then at the University of Maryland, College Park. In 1987 he left teaching and moved back to the Adirondacks to pursue working on his artwork full time.
His work has been shown throughout the Unites States as well as in Europe and Asia. He was chosen to create a large-scale sculpture for the 2008 Beijing Olympics and was awarded a Merit Award for this piece.
An interview with Glen Harper gives us more insight into the artist's process and evolution (http://www.johnvanalstine.com/docs/book/bookinterview.html): Alstine spent most of his life in the New England area and more specifically, Upstate New York. In this region, stone is part of the landscape, which may be why Alstine has made it a big part of his work with sculpture. In 1976, Alstine moved to Wyoming to teach at the University of Wyoming. This move out West inspired his Stone Pile series. The large amounts of exposed sedimentary stone got Alstine thinking about the layers of minerals that build up and the massive amounts of energy that are stored in all these layers of stone. In 1983, when Alstine moved to Jersey City, he was inspired yet again by the landscape, which happened to be marine and industrial salvage. Because of this, he was able to find materials such as anchors and chains to use in his work, which is very evident in his list of works ranging from 1983 to 1988 and even beyond his years in Jersey City (http://www.johnvanalstine.com/docs/sculpture_1981-90.html).
Much of his work displays a tension between gravity and weight. This is very intentional and it is a theme seen throughout his work, including the piece on Goucher's campus, Sisyphean Circle X. Another common theme among his work is the vessel. Alstine sees it as a "metaphor for passage" and originally started using vessel-like objects in order to broaden and challenge his work. However, even as he expanded his work, the tension between gravity still exists in these pieces. An example of this is Tether (Boys Toys) made in 1995.
He has many large-scale works spread across the U.S. and elsewhere. Below is a list of works on display.
Links
http://www.johnvanalstine.com/docs/portfolio/Beijing_Olympic.html
http://www.johnvanalstine.com/docs/portfolio/cardinalis.html
www.johnvanalstine.com/Michigan_State_proposals.htm
http://www.johnvanalstine.com/docs/garden.html