James Rosati (American, 1911-1988)
Bronze – Signed – Height: 48 inches – Untitled 1974-75
Gift of Sidney and Jeah Flah Silber '54 in 2015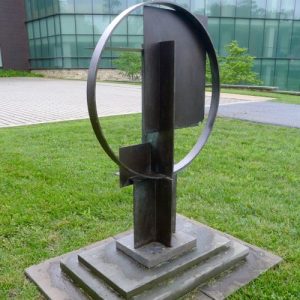 About the Artist
James Rosati was born in Washington, Pennsylvania in 1911. At the age of 17, he was playing violin in the Pittsburg String Symphony but turned his creative vices towards sculpture around 1934, when he was 23. Around this time, the Great Depression hit and as a way to boost the economy, F.D.R. created the WPA Art Project. The WPA allowed artists to create art while being paid a weekly wage. For four years, this was Rosati's only source of income and it gave him the opportunity to focus on his art full time.
In 1944, Rosati moved to New York. There he got a job as a professor of sculpture at Pratt Institute and Cooper Union, and later at Yale University. Throughout his life, he achieved many things and was awarded many grants and fellowships including the John Simon Guggenheim Fellowship, the National Foundation on the Arts & Humanities Grant, and the position as a juror on the Vietnam Memorial design competition.
In the 1960s, Rosati began making sculptures that were much more geometric than his previous works. The geometric shapes in his work affected the way in which the sun hit and cast shadows on his art, creating movement in his pieces.
Don Lippincott and Roxanne Everett were business partners at Lippincott Inc. when they approached Rosati to commission his work for their company in the late 1960s. This relationship became a very important part of his career. The relationship he built with Lippincott Inc. lasted until his death.
The process of making sculptures with Lippincott Inc. involved working with a crew to recreate Rosati's models into large-scale sculptures. Rosati was involved in every step of the way. Below are examples of sculptures made from models with the help of Lippincott Inc.
In 1988, Rosati died at the age of 77 in New York, NY.
http://jamesrosati.org/index.html
Links:
Untitled, 1971-77 National Gallery of Art
http://www.nga.gov/content/ngaweb/Collection/art-object-page.56619.html
Untitled, 1971 National Gallery of Art
http://www.nga.gov/content/ngaweb/Collection/art-object-page.56353.html