Frieda Sohn (Lithuanian, 1912-2006)
Bronze – Signed – Height: 48 inches – Circa 1985
Gift of Sidney and Jeah Flah Silber '54 in 2012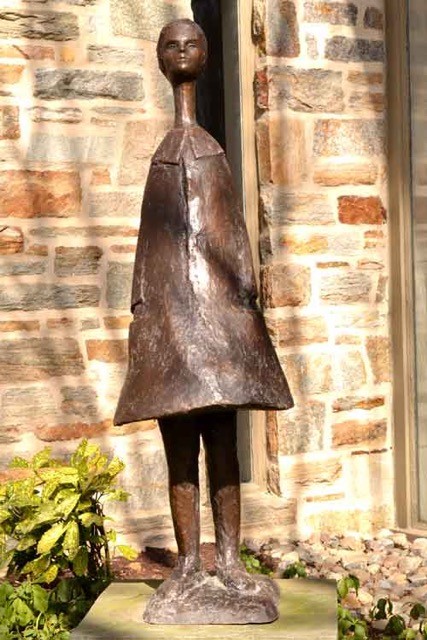 About the Artist:
Frieda Sohn was a well-known abstract sculptor from Baltimore whose animals and warm depictions of the mother-child bond won praise and scores of exhibitions. Over the course of her long and productive career, which stretched into her 90s, Sohn produced more than 300 imaginative transformations of various subjects. She also taught hundreds of students at the Baltimore Museum of Art, Loyola College, Baltimore City Community College, Baltimore Clayworks and other institutions.
Born in Lithuania as one of two daughters of a drugstore owner, Frieda Rosengarten and her family moved to New York about 1924, where she lived until 1948. Sohn studied French, German, and fine arts at Hunter College of the City University of New York and went on to teach in New York and Long Island public schools from 1934-48. She was inspired to pursue a career in sculpture while studying art history at Columbia University with renowned outdoor sculpture artist Oronzio Malderelli (Italian, 1893-1963). Thereafter, she pursued graduate studies in sculpture at Columbia and advanced studies at the Beaux-Arts Institute. During her New York residence, Sohn's work was shown often at the Sculpture Center in New York and in galleries throughout the city. She sold work during these exhibitions to many private collectors, some of whom lived and worked in Baltimore where she would later reside. The Sculpture Center in New York acquired many of her pieces. Upon leaving New York, Sohn moved to Baltimore, Maryland until 2004.
In a 1950 profile of her in The Baltimore Evening Sun, Sohn explained that her works were "naturalistic rather than realistic." She went on to say that her forms were "a simplified version of representational work – that is to say, you can recognize the subject, yet occasionally it is distorted for emotional or aesthetic purposes." She said that emotion was central to her creative process.
Mary Ann Mears, a fellow sculptor and friend, said that Mrs. Sohn's students appreciated her in part because she was "incredibly honest but very gentle about it. She was so beloved because she had a fine intellect, and was always reading and studying and bringing wonderful insights to people."
Frieda Sohn works primarily in the media of wood and stone, does bronze and aluminum castings and has also worked in clay. Most of her works are abstracted figurative sculpture: mother and child, family or animal figures. Favorite animals as subjects include cats, bears and monkeys. Over the course of her life, Sohn has produced more than 300 original works. While her primary medium is sculpture, Sohn spent many summers at North Carolina's Penland School of Crafts where she devoted her energies to printmaking. While there, she also learned how to cast sculptures in aluminum.
Sohn and her husband, a talented mathematician and engineer whom she met at Columbia University while he studied optometry, moved to Baltimore City in 1948. She was an instructor from 1949-68 as part of The Baltimore Museum of Art (BMA) adult education programs (which are no longer available), at Goucher College in the 1950s and at various other private schools in Maryland. She also lectured at Loyola College and at Saidie A. May Art Center, among many other institutions. Sohn then taught art history survey courses, 20th Century art history and sculpture at the Community College of Baltimore from 1968-79, and was made full professor there a couple years before retiring. Later in her career, she taught at Baltimore Clayworks and the Jewish Community Cente
Frieda Sohn instructed a number of important Maryland artists in sculpture, including Amalie Rothschild (1916-2000) who first attempted work in 3-D under Sohn's tutelage. In addition, Sohn has long been an associate of prominent 20th Century Maryland artists, including Rothschild and Mary Ann Mears. For her lifetime achievement, Sohn was recognized as a "living treasure" as a sculptor, artist and teacher by the Maryland Chapter of the Artists' Equity Association (1986), along with Reuben Kramer and Herman Maril. Over the years, many Baltimore Sun newspaper articles have featured Sohn and her exhibitions, along with photographs of her work or of her working in her studio. She was also featured, with sculptor Reuben Kramer, in 1959 in the "Man the Maker" television series that ran in the 1950s until 1962 on WMAR-TV and was produced by The Walters Art Museum (then the Walters Art Gallery) and Enoch Pratt Free Library
Until 2004 Frieda Sohn resided in the greater Baltimore area, and moved to Toronto that year. Upon retiring in 1979 and until she departed Baltimore, she maintained a loyal following of sculpture students who consulted with her on their projects three days a week in the studio at her home. There is a fund in Sohn's name that her students and others have established in her honor at The Baltimore Museum of Art
Travelling to Mexico and Guatemala in 1973 was formative to Sohn's signature style, as were the influences of Henry Moore and Italian sculptors Marino Marini (1901-1980) and Giacomo Manzu (1908-1991), among others, whom she met on a ten-week trip to Italy and Greece, with a couple of weeks spent in France and England as well. Sohn's facility with languages enabled her to become fluent in Italian just months prior to her travel abroad.
Goucher is lucky to have 2 pieces by Sohn,– Mother and Child, which is located in the Alumnae/i house patio, and another one in front of the President's house entitled Preteen, which was thought to have been modeled after the artist's daughter, who later attended Goucher.
---
Sohn's pieces were shown locally at the Peale Museum in Baltimore, the BMA, the Corcoran Museum of Art in Washington, D.C., The Johns Hopkins University and at many invitational shows. She won the Best in Show prize at both the Maryland Regional show at The Baltimore Museum of Art and Loyola College. In Maryland, her works are part of the permanent collection at Towson University, the Baltimore Museum of Art, and University of Maryland University College, and have been purchased by many local collectors. She was often commissioned to produce work, such as for Camp Louise for girls in Cascade, Md. One of her pieces sits on the campus of the Roland Park Country School.