Joseph Csaky (Hungarian, 1888-1971)
Bronze – Edition 5/8 – Signed and Stamped – Height: 26 1/2 inches – circa 1940
Gift of Sidney and Jeah Flah Silber '54 in 2015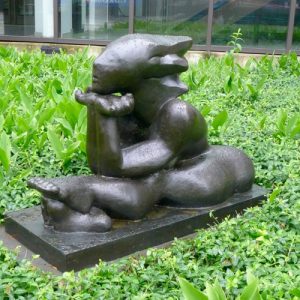 About the Artist:
Joseph Csaky was born in 1888 and grew to become one of the most instrumental sculptors of 20th century France. He was born in Szeged Hungary, but later moved to Budapest in 1905 to attend the School of Decorative Arts at Budapest. However, Csaky did not like the conservative teaching style and left the school. After leaving the school, he worked in the studio of László Kimnach.By 1906 he had found employment at the Zsolnay ceramics factory.
In 1908 he moved to Paris to continue his education at the Académie de la Palette. Cskay became an integral part of the artistic scene in Paris. He lived in La Ruche or "the beehive" which housed many artists in the early 20th century. He was close friends with several well known artists such as Pablo Picasso and Georges Braque. Csaky alongside these artists are often thought of as the founders of the Modern art movement in Paris. In addition, Csaky is often praised as being the first sculptor to apply Cubist principles to sculpture. Many of his sculptures at he created during his time in La Ruche were made of plaster, and there are only two are known to have survived, Standing Woman (1913)1 and Head (1914).2 There is also a bronze version of Standing Woman that can be found at the Guggenheim in New York.3
At the outbreak of WWI, Csaky volunteered to serve in the French army. Following the war, many of his works became more figurative.
In 1912 Csaky was part of the Section d'Or Exhibition, which was considered the height of the Cubist movement. His work induced controversy, and he displayed in several important Parisian avant-garde exhibitions. For example, he showed at the nationale des beaux-arts in 1911, the "Cubist Room" of the Salon d'Automne in 1911 and 1912, and the Salon des Indépendants also in 1912.4
Csáky died in Paris on May 1, 1971.5
---
References:
1 This image was originally found in Edith Balas' book, Joseph Csaky: A Pioneer of Modern Sculpture, and the following link provides easy access to a photo of this sculpture.
https://upload.wikimedia.org/wikipedia/en/e/e8 /Joseph_Csaky%2C_1912%2C_Danseuse%2C_Femme_à_l%27éventail%2C_Femme_à_la_cruche%2C_original_plaster%2C_photo_from_Csaky_archives_AC.110.jpg
2This image can be found in the French publication Montjoie, 1914. To view the image follow the link:
https://en.wikipedia.org/wiki/Danseuse_%28Csaky%29#/media/File:Joseph_Csaky,_Head,_1913,_Plaster_lost._Photo_Ren%C3%A9_Richard,_Joseph_Cs%C3%A1ky,_Frankfurt,_1988.jpg
3http://www.guggenheim.org/new-york/collections/collection-online/search
4For more biographical information on Csaky, there is the following ebook: https://books.google.com/books?id=rUPz18-QeyEC&printsec=frontcover&source=gbs_ge_summary_r&cad=0#v=onepage&q&f=false
5More biographic information about Csaky: http://www.guggenheim.org/new-york/collections/collection-online/artists/bios/1069/Joseph%20Cs%C3%A1ky or https://archive.org/details/bub_gb_0T8LAAAAIAAJ