The Ritchie Boys tells the story of American soldiers who used their German language skills and cultural knowledge of Germany to fight against Nazi Germany. Many of them were persecuted by the Nazi regime and had to leave Germany in the 1930s. They were trained in Camp Ritchie, MD, in intelligence and psychological warfare and then send to Europe. The surviving Ritchie Boys are in their eighties and nineties now. They never met for reunions; they did not join veteran associations. In the end, the Ritchie Boys quietly left the war behind them and went on to enjoy quite remarkable careers – in arts and politics, in business and academia. In "The Ritchie Boys" these remarkable, funny, sharp, brave men share their memories with us.
The event will be followed by remarks from Wolf Thormann (Professor Emeritus). He served in the US Army as one of the "Ritchie B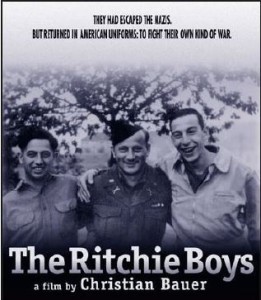 oys." Professor Thormann was a Professor of French at Goucher College from 1960-1989. In addition, he served as chair of the Modern Languages Department for numerous years. Wolf Thormann was born in Frankfurt, Germany, emigrated with his family to France in 1933, and came to the US in 1941.