Monthly Archives:
May 2017
Videos produced by: Michelle McAdams ('17).
On April 26, Goucher sponsored a day long student and faculty symposium. The symposium includes multiple events in one, such as the Digital Media Showcase and Contest, the Julia Rogers Research Prizes, and Independent Study and Research Presentations on research-based and creative works that stem from student-faculty partnerships.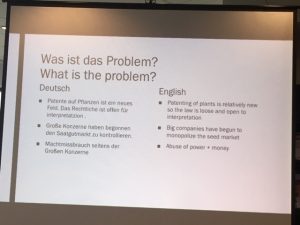 As part of the symposium, Celena Dyal (Chemistry Major, '17) showcased the outcome of an independent study project she conducted in fall 2016 in German with Uta Larkey. Her presentation was titled "Patente auf Pflanzen in Deutschland" (Patenting of Plants in Germany). For the project, she researched and studied laws, regulations, and problems that occur with the relatively new practice to patent plants. In particular, she discussed problems that stem from the fact that most patent seeds are now controlled by a few large companies such as Monsanto. The presentation was well attended and ended with a Q & A session.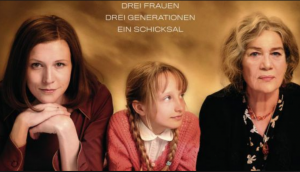 On April 25, Uta Larkey introduced Hannas schlafende Hunde (Hanna's Sleeping Dogs) at the 29th Baltimore Jewish Film Festival. The festival is one of North America's longest running celebrations of Jewish-themed movies, presenting internationally renowned films of Jewish interest, many of them Baltimore and Maryland premieres.The festival ran this year from March 19 to April 30.
The movie, Hanna's Sleeping Dogs (Austria/Germany, 2016) is based on the novel by Elisabeth Escher of the same title, and the film was directed by the Austrian director Andreas Gruber. The film centers on the story of nine-year old Johanna who is growing up in the 1960s as a good Catholic girl in a provincial Austrian town. When her blind grandmother Ruth tells her the secret about their Jewish past, the "sleeping dogs" of the family history awake. But unlike her traumatized mother, Johanna doesn't want to hide. To show her pride in her family heritage, Johanna changes her name to Hanna. After the screening, Dr. Larkey and Gary Meliker from the Baltimore Jewish Film Festival led a discussion about the film.
Trailer: Hanna's Sleeping Dogs