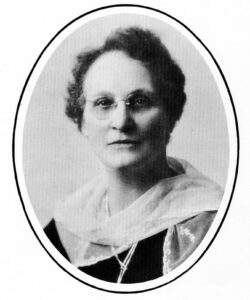 Dr. Annie Heloise Abel was a Professor of History at Goucher College from 1906 to 1915. During her time teaching at Goucher, she participated in many activities and organizations that supported the Suffrage Movement. She was an active member of the Equal Suffrage League in Baltimore and the President of College Equal Suffrage League, Maryland branch. One of her most notable writings on the subject was the article on the Baltimore Sun, May 2, 1915, titled "Equal Pay for Equal Work."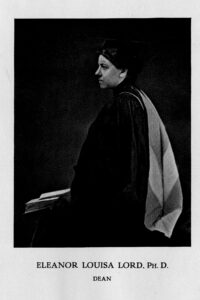 Dr. Eleanor Louisa Lord was a valuable member of the Goucher College community and an ardent supporter for the suffrage movement. She was a Professor of History at Goucher from 1897 to 1920 and the Dean of the College under President Guth from 1910 to 1920. She was also an active member of the Women's Civic League of Baltimore.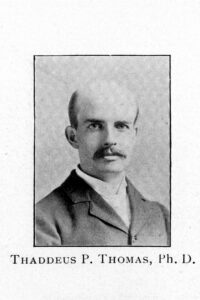 Dr. Thaddeus P. Thomas was a professor in multiple departments through his long tenure at the Woman's College of Baltimore/Goucher College from 1892 to 1934. He taught classes in history, sociology, economics, and social science. Although Dr. Thomas was not pro-suffrage initially, he became an ardent supporter, often speaking at suffrage club meetings both on and off campus.  He hosted class debates on suffrage as early as 1894 and 1896. He was also a contributing editor for Maryland Suffrage News. After he retired, he was asked to write The History of Goucher College with Anna Knipp which was finished shortly after his death.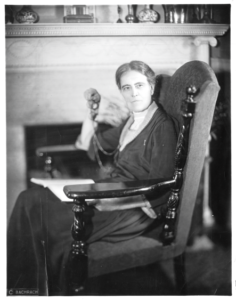 Dr. Lillian Welsh, M.D., a physician, began working at the Women's College of Baltimore/Goucher College in 1894 as the head of the Physiology and Physical Training Department. Besides examining every incoming student, Welsh gave lectures on hygiene, and even taught a class on love after college. Her students recalled that "in the days of the struggle for woman's suffrage, all subjects in her course in hygiene led inevitably to the discussion of votes for women." She was a great part of the public health movement fighting against tuberculosis and STDs and was a member of civic, social, and suffrage clubs. In 2016, Welsh was inducted into the Maryland Women's Hall of Fame.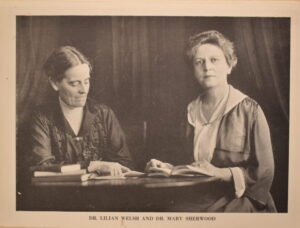 Dr. Mary Sherwood, a medical doctor, was active in child health and prenatal care and created the Municipal Bureau of Child Welfare. She worked with Dr. Lilian Welsh at the Evening Dispensary for Working Women and Girls. Like Welsh, she was a well-known physician in Baltimore, and she was Susan B. Anthony's physician while the suffragist leader was in Baltimore for the NAWSA Convention in 1906. After the 19th Amendment passed, Sherwood became a member of the League of Women Voters. She was an honorary member of Goucher's Class of 1900 and became a trustee of Goucher in 1923. Although never on the Goucher faculty, Sherwood was closely connected with the campus and often spoke at Goucher suffrage meetings.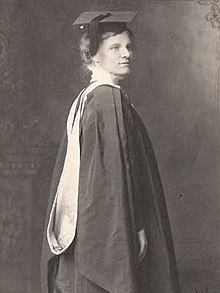 Dr. Mary Williams was a Professor of History at Goucher College from 1915 to 1940. While her academic focus was on Latin America, she was a feminist and encouraged her students to think about women's political rights.  During her teaching time at the college, one of her most popular classes was "History of the Women's Movement." She also founded the Northern California Chapter of the National Women's Party. She was honorably invited to participate at the first World Women's Party in Geneva, June 1939.