The 2021-2022 Kratz Summer Writing Fellows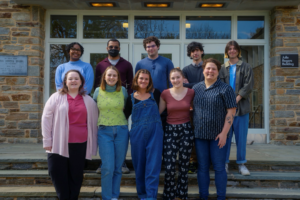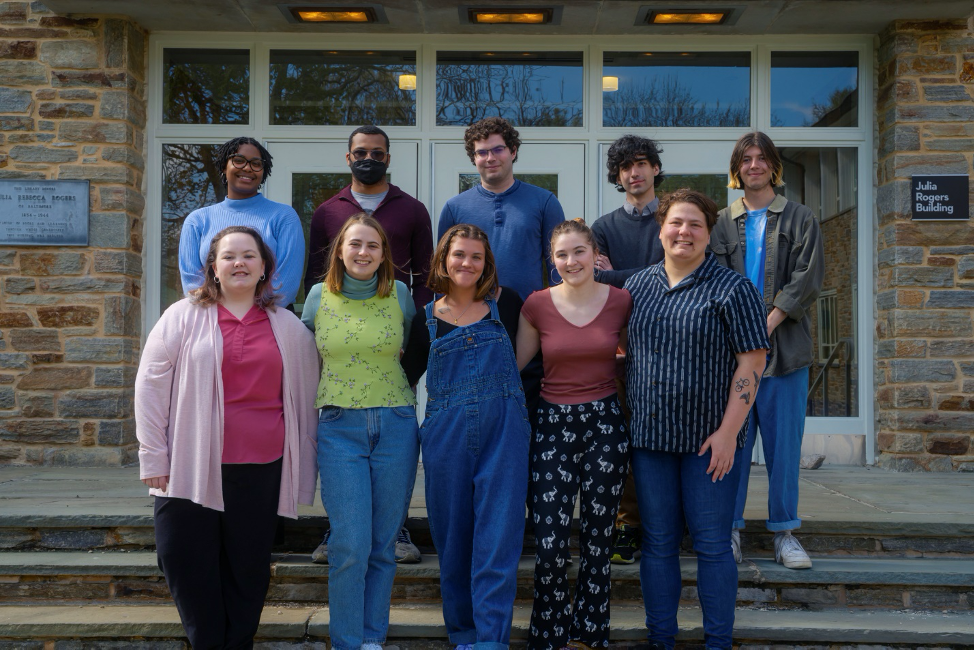 Front row (l-r): Jess McKinney (2021 winner), Grace Fischbach, Ellison Butterfield, Adele Ehrman, Jamie Damm
Back row (l-r): Madison Mattison, Josiah Acosta-Ballard, Sam Stashower (2021), Nicolas Aliquo, Ethan Keydel
Not pictured: Robert Ritchie Maldonado, Rachel Leeds.
Each year, the Kratz Center for Creative Writing at Goucher College offers summer writing fellowships which range from between $2,000 to $4,000. The Kratz Center is pleased to welcome the following new Summer Writing Fellows (in alphabetical order):
Josiah Acosta-Ballard will travel to small towns in Georgia as research for his short fiction project which focuses on students interacting in small school environments.
Nicolas Aliquo will tour historical estates around the New England area as research for a fantasy novel which takes place almost entirely in a Victorian-style mansion.
Ellison Butterfield will travel to San José Del Pacífico and Oaxaca de Juárez to create a chapbook exploring angels (and other namings of celestial guidance and protection).
Jamie Damm will travel to Ireland and Northern Ireland to write a collection of poems focusing on how Catholic identity and sexuality intersect with personal Irish heritage and culture.
Adele Ehrman will visit various mental health facilities in the Mid-Atlantic region to create a collection of nonfiction essays regarding the field.
Grace Fischbach will travel to her ancestral village in Sweden to explore her heritage and family through a series of chronological poems.
Ethan Keydel will travel to Mexico City to create a poetry collection informed by local religious lifestyles.
Rachel Leeds will take inspiration from Greyhound bus traveling to write a multi-perspective novella that gradually descends into surrealism.
Robert Ritchie Maldonado will undertake a grand tour of Europe to support the completion of his novel in progress, Unbroken.
Madison Mattison will produce a collection of short stories about the evolution of a young couple in 1980s Washington, D.C.
2023 Summer Writing Fellowships
Guidelines and Stipulations
Each year, the Kratz Center for Creative Writing at Goucher College offers writing fellowships for the summer. The fellowships fund worthy projects falling within the following areas: travel and/or research connected to and culminating in a work of creative writing; a writing-related internship at (for example) a literary magazine, book publisher, or literary agency; and/or attendance at a summer conference or workshop. The awards range from between $2,000.00 to $4,000.00. The following stipulations apply:
1. Qualified sophomores, juniors, and seniors who have taken one 200 and one 300-level (or higher) workshop OR two 300-level (or higher) workshops at Goucher are eligible to apply. If applicants have taken one 200-level class and are concurrently enrolled in a 300-level (or higher) workshop at the time of application or are scheduled in spring 2023 to be enrolled in a 300-level (or higher) workshop, they are also eligible to apply.
2. Goucher Students from all majors/minors are eligible. Students do not have to be creative writing majors or minors to be eligible.  No.1, above, cites the only eligibility criteria.
3. When you submit your writing sample, please submit a sample MATCHING the genre of your intended fellowship project.  E.g., if you plan to write a cycle of poems reflecting your experience in Athens, Greece, then please submit poetry for your application materials.  Do not submit fiction if you wish to pursue a poetry project.  Do not submit creative non-fiction if you wish to pursue a screenwriting project, etc.
4. Length of creative materials are as follows: (a) submit up to eight poems; (b) up to 25 pages of short prose pieces (fiction or creative nonfiction); (c) a sample novel chapter (up to 25 pages) with a one-page plot synopsis; (d) one play; or (e) the logline/capsule of an original screenplay (no adaptations) along with a writing sample of its opening (up to 25 pages).
5. Fiction writers, poets, creative nonfiction writers, playwrights, and screenwriters who fulfill criteria in no. 1, above, may apply.
6. A student who has received a Kratz fellowship in the past can apply for a second fellowship ONLY IF they have turned in their final project for their first fellowship.  If they did not submit their final project, they are ineligible to apply for a second fellowship.
7. Fellowships may not be used to fund Intensive Courses Abroad (ICAs).
8. No changes upon receipt of the award may be made in the category of the original proposal (for example, money awarded for an internship must be used for an internship).
9. Projects funded must be completed in the summer—fellowships may not be used for a project scheduled to happen later.
10. Fellowship awardees are required to submit a dossier of the writing produced during the fellowship to the Director of the Kratz Center in the fall semester following the summer fellowship period (see the agreement below for specifics).
11. Applicants are urged to be specific and thorough in the articulation of their artistic agenda in the narrative and the budget. Avoid over-generalized statements; instead please carefully detail your artistic aims. For travel requests, rather than merely stating plans for a road trip, articulate how funds requested for travel reflect the applicant's creative approach.
Apply for a 2023 Summer Writing Fellowship
The deadline to apply is Monday, January 9, 2023, at  5:00p.m.  Questions?  Email us:  kratz@goucher.edu

To apply, please download, complete, and save the application (DOCX).  Then upload that document with the following form: