Welcome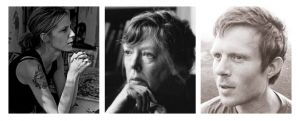 Welcome to the website of the undergraduate Creative Writing Program in the English Department at Goucher College!
The photographs to the right depict three of our illustrious alumnae/i authors: Darcey Steinke '85, Eleanor Wilner '59, John McManus '99. Goucher's Creative Writing Program has produced a rich array of authors, editors, performers, teachers, nonprofit managers, and civic leaders. Creative Writing concentrators in the English Department must take courses in British and American Literature, textual analysis, and critical theory along with the following core creative writing courses:
ENG 120: Introduction to Fiction Writing
ENG 202: Short Story Writing
ENG 205: Introductory Poetry Workshop
ENG 217: Literature & Film: Screenplay Adaptation
ENG 226: Creative Nonfiction (I)
ENG 300: Fiction Workshop taught by the Kratz Writer-In-Residence
ENG 305: Writing Workshop: Poetry
ENG 306: Writing Workshop: Fiction
ENG 307: Creative Non-Fiction (II)
ENG 315: Advanced Seminar in Creative Writing
Goucher's creative writing professors also offer First Year courses in the Frontiers program in Creative Nonfiction and Screenwriting. To see all of the Goucher English and Writing courses, click here.
Goucher's Creative Writing Program is distinct from its Academic Writing Program and its MFA in Creative Nonfiction Program.
For more information, peruse our website or email us at kratz@goucher.edu.