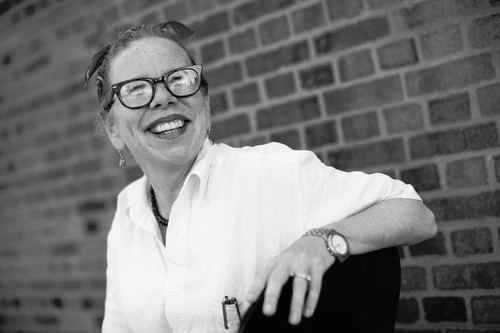 The Kratz Center for Creative Writing at Goucher College was pleased to welcome the cartoonist and novelist Lynda Barry as the Fall 2013 Visiting Author. On Wednesday September 25, 2013 at 8:00 p.m., Barry read and discussed her multimedia work with the aid of photos, videos, cartoons, and text. Then she fielded questions and signed books in the Hyman Forum within Goucher's Athenaeum to a packed house of rapt attendees. The event was free and open to the public. On Monday and Tuesday September 23 and 24, 2013, Lynda Barry taught two free master classes on each day from 4:00 p,m. to 6:00 p.m. in the Heubeck Multipurpose Room at Goucher College to a broad cross section of students, faculty, and community writers and artists. Of her writing workshops, the New York Times notes that, "Lynda Barry will make you believe in yourself." Enrollment in Lynda Barry's Monday & Tuesday master classes is now closed.
Lynda Barry's Biography:
One of America's premier visual storytellers, Lynda Barry is the recipient of the 2009 Will Eisner Comic Industry Award for Best Reality-Based Work. A prolific author, Barry first gained acclaim for her long-running weekly comic strip for The Chicago Reader entitled "Ernie Pook's Comeek." She went on to publish an array of celebrated illustrated novels and comics, including Girls and Boys (1981), Big Ideas(1983), Everything in the World (1986), Down the Street (1988), The Fun House (1988), The Good Times Are Killing Me (1988), Come Over, Come Over 1990), My Perfect Life (1992), The Lynda Barry Experience (1993), It's So Magic (1994), The Freddie Stories (1999), Cruddy (1999), The Greatest of Marlys (2000), One! Hundred! Demons! (2002), What It Is (2008), Picture This: The Near-Sighted Monkey Book (2010), and Blabber Blabber Blabber: Volume 1 of Everything (2011). The Good Times Are Killing Me, a play about interracial friendship, was made into an Off-Broadway play in 1991 and her performances are documented in The Lynda Barry Experience (a 1993 spoken word CD). Barry is also an internationally recognized arts educator who has offered workshops at such institutions as the Omega Institute in Rhinebeck, New York; The Crossings in Austin, Texas; Arts Institute and Department of Art at the University of Wisconsin-Madison; and the Capilano University in North Vancouver, British Columbia.
Feel free to click the following links for more information about Lynda Barry:
A New York Times article about Lynda Barry's master classes
Lynda Barry's Author's Page at www.amazon.com
Lynda Barry at Drawn & Quarterly
A Video Introduction to Lynda Barry's Vision
Lynda Barry's Pep Talk for National Novel Writing Month