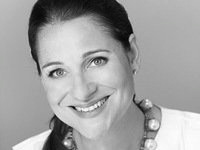 We are pleased to welcome the bestselling novelist Jennifer Weiner as the Fall 2014 Visiting Author. Jennifer Weiner is the author of eleven hugely popular novels and a vocal proponent of gender equality in the media. On Wednesday October 8, 2014 at 8:00 p.m., Jennifer Weiner will read and discuss her work and sign books in the Hyman Forum of the Sanford J. Ungar Athenaeum.  At 3:00 p.m. on the same day, the community may "Meet the Author" in the Soper Room of the Julia Rogers Building. Both events are free and open to the public, but tickets for the 8:00 p.m. reading must be reserved online at http://www.goucher.edu/tickets. Teachers are welcome to bring students. Email kratz@goucher.edu for more information.
Jennifer Weiner has said that, "People are always coming up to me with my books and saying, 'You write these things I think but I could never say.'"
Biography of Jennifer Weiner:
Jennifer Weiner (pronounced "WHYner"), bestselling novelist, short story writer, essayist, and activist, was born in 1970 on an army base in Louisiana. She grew up in Connecticut and graduated with a degree in English literature from Princeton University in 1991. She worked as a newspaper reporter in central Pennsylvania, Kentucky, and Philadelphia until the publication of her first novel in 2001, and has been a full-time fiction writer ever since.
Her books include GOOD IN BED (2001); IN HER SHOES (2002), which was turned into a major motion picture starring Cameron Diaz, Toni Collette and Shirley MacLaine; LITTLE EARTHQUAKES, (2004); GOODNIGHT NOBODY (2005); the short story collection THE GUY NOT TAKEN (2006); CERTAIN GIRLS (2008), the sequel to GOOD IN BED, BEST FRIENDS FOREVER (2009); FLY AWAY HOME (2010); THEN CAME YOU (2011) and ALL FALL DOWN (2014), which is her latest novel. She was also the co-creator and executive producer of the ABC Family show "State of Georgia," which ran during the summer of 2011.
Jennifer Weiner is a frequent public speaker and a fierce advocate for gender equality in the media who has appeared on The Today Show, The CBS Early Show, The Martha Stewart Show, and The Rachael Ray Show. Her work has appeared in The New York Times, Seventeen, Redbook, Glamour, Good Housekeeping, In Style, Allure, and Elle. An active voice in social media, Time Magazine named her as the author of one of its 140 Best Twitter feeds, and Forbes put her on its list of "25 Working Moms to Follow on Twitter."
The New Yorker Magazine profiled Jennifer Weiner on January 13, 2014. The article noted the following:
"Jennifer Weiner has two audiences. One consists of the devoted consumers of her books, which have sold more than four and a half million copies. Weiner's books have spent two hundred and forty-nine weeks on the [New York Times] best-seller list, and more than fourteen thousand readers have rated her novel, "The Next Best Thing," on Goodreads. Weiner has almost eighty thousand followers on Twitter. Her other audience is made up of writers, editors, and critics. Through her blog and her Twitter account, Weiner has stoked a lively public discussion about the reception and consumption of fiction written by women. This audience is smaller than the one that buys her books, and barely intersects with it. Yet social media have given Weiner a parallel notoriety, as an unlikely feminist enforcer."
Visit www.jenniferweiner.com for more information about the author.
Arrangements for the appearance of Jennifer Weiner made through Greater Talent Network, Inc., New York, NY.