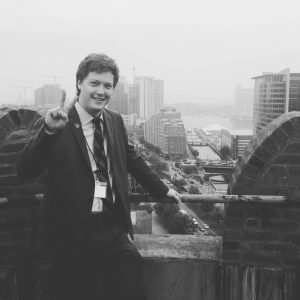 We are happy to announce that Conor Snow '15 received a Fulbright scholarship for teaching English in Germany in 2017/18! Graduating from Goucher College in 2015 with a degree in History and minor in German, Conor Snow will be serving as a Fulbright English Teaching Assistant in the northern-most Bundesland of Schleswig-Holstein. The grant period will last from September 2017 until the end of June 2018, and his primary focus as a teacher will be assisting his host school with instructing pre-university level students, particularly of refugee/immigrant/minority background, in English and American studies.
Whilst a student at Goucher, Conor took numerous courses in the German department, studied abroad in Lüneburg in the fall of 2013, and was a recipient of the German Embassy Prize of the Federal Republic of Germany upon graduating in 2015. Conor also graduated summa cum laude and was inducted into Goucher's chapter of Phi Beta Kappa.
He is currently employed by the Baltimore City Department of General Services as the agency's Special Properties Associate in Historic Preservation Administration.