Travel writing sparks reflection on race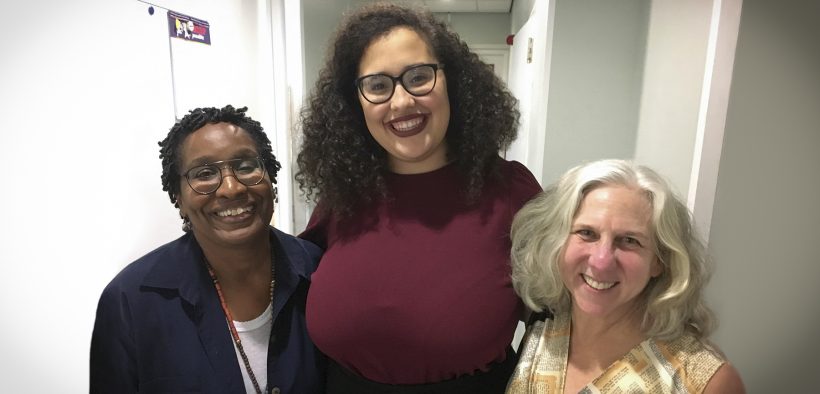 By Molly Englund
In December 2018, Donte Small '18 and Nia Vargus '18 presented at "Raising the Curtain on Race: Race and Development," a conference hosted by Curaçao's National Commission for UNESCO, the University of St. Martin, and the Eastern Caribbean Public Health Foundation. It was a gratifying ending to a story that began the previous summer, during an Intensive Course Abroad, or ICA, to Curaçao.
Assistant Professor of Writing Studies Phaye Poliakoff-Chen had never taught a study abroad course before—but she'd always wanted to. So when she was pitching ideas to Professor Eric Singer, who was then the associate provost for experiential and external programs, she suggested Curaçao, the autonomous Caribbean country within the Kingdom of the Netherlands. Poliakoff-Chen was introduced to Curaçao in 2010 by an exchange student, Annette Morón, with whom she has stayed friendly. Goucher had never done an ICA on the island before.
"Curaçao has this very painful history," Poliakoff-Chen says. The Spanish destroyed the Indigenous people, and the island became a major stop on the Dutch slave trade. In 1915, Shell opened a polluting oil refinery there.
But Curaçao also has so much beauty—in its welcoming people and its joyful architecture, which includes the oldest continually operated synagogue in the Western Hemisphere.
Poliakoff-Chen had all this in mind when she proposed to take eight students there to study travel writing. They would not write about sunsets or cocktails. Instead, Poliakoff-Chen would "ask students to understand the ethics of being a travel writer," she says, "and to question themselves about the responsibilities for people who travel and report back."
The ICA was budgeted for eight students; "I ended up with 20," Poliakoff-Chen says. Faculty members Jamie Mullaney '95 and Brandon Arvesen '05 rounded out the group.
ICAs are three-week long courses that are offered as an alternative to a semester abroad. For Poliakoff-Chen's students, the first two weeks were spent traveling the island with a guide from the University of Curaçao, Lianne Leonora. "We visited museums, attended lectures, met with different scholars and creators and artists," says Small.
Then, "we would reflect on each of the events," says Vargus, "and then for the last week, we worked on one piece that focused on one experience or the whole experience."
At the start of their last week, Vargus began to write a research piece about the art of the island, and how it reflects the culture of race there. "At some point," she says, "it became a personal narrative, also," using art and culture to compare the ways people in Curaçao and in the U.S. view race. She found that race was more of a taboo subject in Curaçao, something best left for the privacy of the home. She also found that people in Curaçao focused more on ethnicity than race.
Right away, Small was drawn to the languages of the island. Many people in Curaçao speak Papiamentu, a creole language created by enslaved people. He noted how much of the island's economy was built around tourism, and how difficult it could be for someone who only speaks Papiamentu to find work catering to visitors. Many islanders have to know English, Spanish, and Dutch, as well.
In the story of the Papiamentu language, he saw a connection to his own story. Small was incarcerated for six and a half years; it was through the Goucher Prison Education Partnership that he met Poliakoff-Chen. When Small was released, he enrolled at Goucher full time. The world was opening up to him, but he had to learn new ways of being in it.
"Language was something I always struggled with," he says. "I always struggled with grammar, and then when I went to college, there was another hidden struggle: my pronunciation." Small had to learn yet another way to speak, or code-switch. Being in Curaçao "really heightened the reality for me of how language could limit you in a lot of aspects."
Shortly after the group returned to Baltimore, Poliakoff-Chen called Small and Vargus with news: Their university guide in Curaçao, Leonora, was also a co-organizer of a conference on race, and she wanted to invite the two to present their papers.
Small and Vargus both worked hard to edit their pieces. Vargus cut eight pages from hers; Small carefully rewrote his to make sure the tone was respectful and didn't come off like an American telling the people of Curaçao their own history.
In the midst of finals last winter, during her final semester—Vargus graduated early—she returned to Curaçao for their session on the outsider's perspective. A former first-year mentor and program chair, Writing Center tutor, and teaching assistant, Vargus had a very busy college career. Now that she's graduated, she finally has a chance to breathe, take in everything she's learned, and figure out what's next. It probably involves a lot of writing.
Small, who was still on parole as the conference took place, was not able to get permission to leave the country in time to attend. He participated over Skype instead. But that doesn't take anything away from the experience Curaçao gave him.
"The ICA was absolutely phenomenal," he says. "It really inspired me to travel the world, and it really taught me how to travel the world."
Today, Small works as a tech professional, which gives him a creative autonomy that he loves, and a language with endless possibilities.
Photo at top: Lianne Leonora, Nia Vargus, and Phaye Poliakoff-Chen at the "Raising the Curtain on Race" conference