Two new majors approved by faculty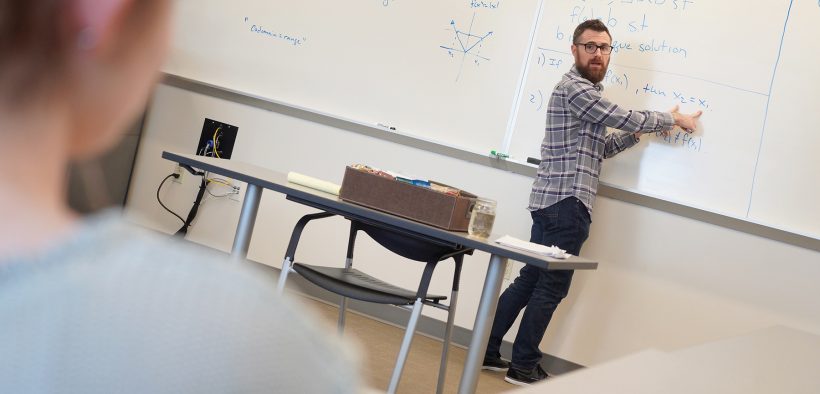 On December 10, 2018, the faculty, with days of grading still ahead, met to discuss and decide the fate of two new proposed majors for the college: integrative data analytics (IDA) and professional and creative writing. Both programs were approved and are now before the Maryland Higher Education Commission (MHEC) for review. If MHEC approves them, the two new majors could be offered to Goucher students this fall.
The two proposals are part of the college's ongoing program prioritization and academic revitalization process, which has seen some academic programs phased out and others identified as in need of adjustments. The Board of Trustees asked the faculty last year to undergo this process to strengthen the academic programs and support the evolving interests of students. One new major, visual and material culture, evolved out of the art history and historic preservation majors and has already been approved by MHEC to be offered this fall.
IDA was up first at the faculty meeting, after the motion to move it forward to debate passed. Scott Sibley, Goucher's interim provost, began the discussion by reminding his peers of the environment in which these programs were proposed: Applications to the college have been down over the last few years, a trend seen at most colleges, and some areas of interest have become evident in the new Goucher Commons curriculum.
Sibley also said there were opportunities for growth, namely in the gap between "inquiries" (or students who inquire about a program at the college) and "apps" (students who then end up applying to the college). Both new majors are intended to attract students who might not otherwise apply to Goucher, while also adding modernized dimensions to the curriculum.
The IDA major was met with overwhelming approval: One non-math professor described it as low risk, potentially high reward, and budget-friendly. With society increasingly reliant on technology, data and data collection are now vital in most careers, whether in social justice, environmental science, or business. That's part of the reason Goucher now requires all students to achieve proficiency in the field—that is, learning how to interpret data—and why Goucher launched a Quantitative Reasoning Center to further support students in this area.
Some of the debate focused on the opportunities for students with degrees in data analytics. Assistant Professor of Mathematics and Computer Science Phong Le '03 said that his peers did a lot of research and were convinced that IDA is the future of the field. He also said that data analytics master's programs are already prevalent, and the U.S. is five to 10 years out from seeing data analytics Ph.D. programs become common. In fact, MHEC is also reviewing a new professional development certificate, Actionable Intelligence Through Analytics for Decision-Makers, that would be offered through the Welch Center for Graduate and Professional Studies and is designed to give senior managers and executives the ability to make data-driven decisions.
Professional and creative writing was next. English Professor Madison Smartt Bell explained that they would need to add only two to three new courses to create a combined professional and creative writing major, with separate minors in professional writing and creative writing.
Many professors viewed the program favorably. One who argued for the new major said that creative writing has exploded as an interest in this country, and M.F.A. and undergraduate programs are expanding quickly. Another pointed out how few black professors teach in creative writing programs, and that this is a way to support and encourage future writing professors of color.
The proposal for a writing major was largely driven by students' needs—during the debate, Sibley referred back to the inquiry-conversion gap in saying that this program revamp is overdue. "There are 1,200 students who inquire about creative writing, and only 17 who apply," he said, to the surprised reaction of the assembled faculty members. Goucher currently only offers creative writing as a concentration within the English major. With a standalone major, more of those 1,200 inquiries are expected to apply.
At the end of the debate, Interim Provost Sibley pointed out that the process for proposing new programs remains open, and other faculty members who introduced new programs to the Curriculum and Budget & Planning committees could take in their peers' feedback and come back with revised proposals for other new majors.
Ballots were then passed out, and, after some time, Faculty Chair Micah Webster returned with the results. Now that a majority of the faculty has approved the programs, it's onward to MHEC.
Photo at top: Associate Professor and Faculty Chair Micah Webster