Finding community on and off the court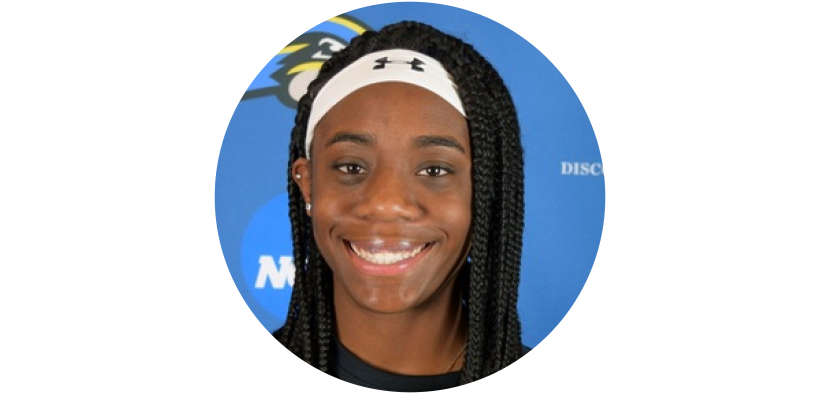 By Natalie Eastwood
Anise Williams '22 is rebounding off a year of determination. Seeing her Goucher women's basketball coach's face when they defeated a team who won in last year's Sweet 16 round of the Division III tournament has been her favorite basketball memory so far. Williams, who leads her team with an average of 15.8 points per game, was as excited for her coach as she was for her teammates.
"We're a really small team that's closely knit," she said. "There's just a sense of community on campus, and I have fun doing what I love."
Williams has learned that Goucher is a welcoming place to be.
"At first, I was scared I would be overwhelmed, but everyone at Goucher wants to help," Williams said. "They want you to feel good with being different and with being who you are."
Williams is from West Palm Beach, FL, where she is very used to being surrounded by people who don't look like her.
"I came from a small private school in south Florida where everyone is basically the same. You don't see a lot of diversity," Williams said. "Goucher really opened my eyes to different people, different backgrounds."
The first event she attended on campus was a cookout that celebrated diversity, and Williams said events like that help her feel connected. Williams has a small group of friends who always have a great time together. "I'm an introvert, very laid back, but at the same time determined, hard-working," Williams said.
She entered the year as a biochemistry major, but she's dropping the bio not because of her grades (which have been great) but because of her passion for chemistry. Williams didn't like the memorization that came with biology, but she has always loved learning new concepts and applying them. This is where chemistry challenges her strengths.
"Within the first three weeks of class, my instructor—Jaired Tate—asked me what my career goals were," Williams said. Williams wants to go into forensic analysis. No, she didn't watch NCIS or CSI growing up. The passion stemmed from a high school internship with a police department in Florida where Williams measured bullets, collected fingerprints, and processed evidence.
Williams enjoys chemistry not only for the academic rigor but for the opportunity to build relationships with her professors, she said.
Williams fell in love with Goucher's campus, and she's come to love the people on it, too. Her teammates, peers, and professors are all part of creating a community she now calls home.
Photo at top: Anise Williams