Tennis, anyone?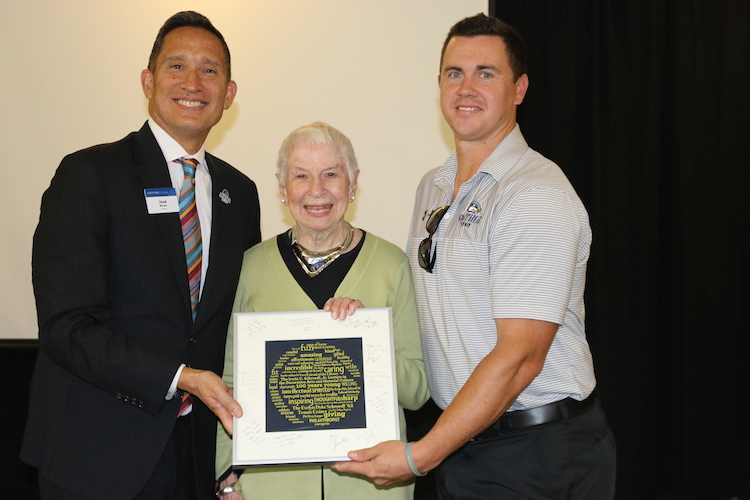 At 100, Evelyn Dyke Schroedl '62 Aces Philanthropy
By Molly Englund
One day in 2014, Evelyn Dyke Schroedl '62 was shooting pool with a philanthropic friend. The friend casually asked if Schroedl was afraid of heights, to which she said no. Next thing she knew, she was signed up to help fundraise for the National Kidney Foundation of Maryland. All she had to do? Rappel down the outside of the 27th floor of the Marriott Hotel in Baltimore. She was 96 years old. Shown the ropes—literally—moments before her turn, she was undaunted and made it safely to the ground.
Schroedl turned 100 this fall. She's still donating her time and money and having a blast doing it. And the centenarian who still plays doubles tennis once a week is underwriting Goucher's entire soon-to-be-built Evelyn Dyke Schroedl '62 Tennis Center. The current tennis courts are on uneven ground; when it rains, they get soggy and crack. The facilities aren't commensurate with the quality of the players and program. The new center will be in a better location behind the Decker Sports and Recreation Center, with 12 courts, stadium seating, and state-of-the-art lighting. Goucher plans to make the courts available to the greater Baltimore community, as well.
Schroedl's story began much more modestly. Her father was a steel erector in Baltimore who lost his job during the Depression. Schroedl got a job at the Hochschild-Kohn's department store, working in the marketing department for $10 a week. She took night classes in costume illustration at Maryland Institute College of Art, which at the time was unaccredited.
Her future husband also worked at the department store. After their marriage in 1939, she quit and spent the next decade as a homemaker. But when her husband lost his job, she looked for work herself. She started working at Goucher College as an assistant in the registrar's office. Her husband found a job at Black & Decker, but Schroedl stayed at Goucher.
Invaluable in the office, she was promoted to assistant to the registrar, then assistant registrar, and then finally to registrar. She worked at Goucher for 32 years before retiring. And she took classes again, earning her B.A. in English in 1962 at the age of 44. "It was difficult," she says. "I was working, taking classes, and cleaning house and cooking."
The couple didn't have huge salaries—"We didn't make a lot of money ever"—but they were smart with what they had. Schroedl credits Goucher professor Fred Reuss with teaching her how to invest. She and her husband got into IBM early, and she remains a fearless player on the stock market.
Several years ago, Schroedl generously sponsored a significant new scholarship. The Evelyn Dyke Schroedl '62 Endowed Scholarship Fund helps deserving students from Maryland public schools who would not be able to attend a private liberal arts college without financial aid. It was important to her because of her own history. "I could not go to college," she says. "My family was in the depths of the Depression, and there was no outside help at all. I wanted to help people like me."
An artist at heart, Schroedl takes a once-a-week art class at Oak Crest, the retirement community where she lives, and frequently gives paintings to her friends. In 1997, she established the Irwin C. Schroedl Jr. Lecture in the Decorative Arts and Material Culture to honor her husband's memory and bring prominent artists and thinkers to Goucher's campus. Recent lectures have highlighted everything from the history of high heels to the social implications of technology and media.
Schroedl is a busy woman. Besides a weekly tennis game and art class, she plays bridge three to four times a week and often attends Goucher events and lectures. Her support of the college is essential to its vision for the future, and Schroedl will be back at the Marriott on March 10 for Goucher's 2018 Awards Gala to help kick off a new capital campaign. She won't be rappelling down the building this time, "unless," she allows, "it's for a good cause."