Rising higher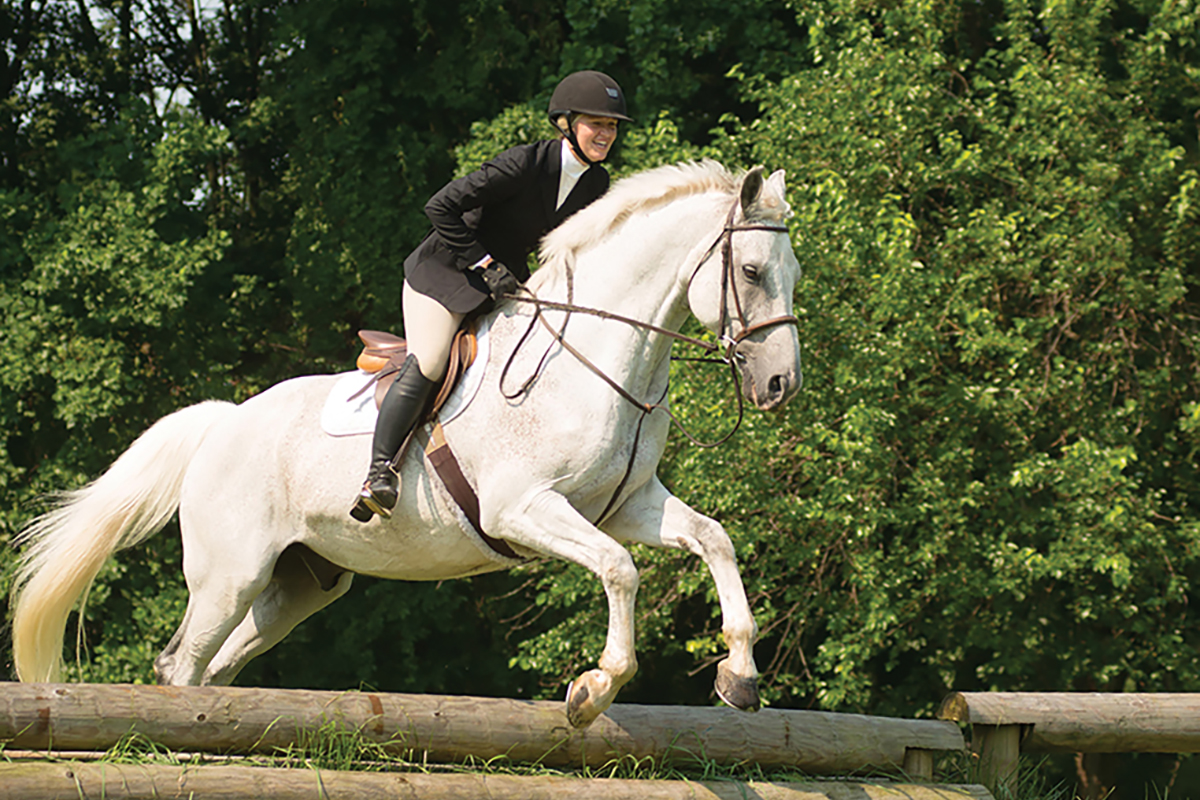 An Equestrian Center for the 21st Century
G
oucher's award-winning Equestrian Program has been a fixture in the life of the college for the past 91 years. Look around: Jumping fences crop up in the grass derby field not far from busy Dulaney Valley Road; young people in tall boots and breeches are scattered among the jeans and T-shirts of their classmates.
But where are the horses?
Goucher Magazine set out to find them. On the far side of campus, turn off the loop road and walk past the tennis courts on the left and the Decker Sports and Recreation Center on the right. In late September, tall trees and construction block the view of the stables and arenas. Then the wind shifts, and you know you're going the right way.
It's the right way for now, anyway. Soon, the entire team will move across campus to what will become the new Maryland Equine Education Center. And the Maryland Horse Breeders Association (MHBA) is building its new headquarters at the equestrian center, with plans for a museum and reference library, a partnership that will allow for joint events and educational opportunities. MHBA has already relocated to temporary quarters on campus.
"The possibilities are endless with this partnership," says Greg Permison, director of campaign and strategic initiatives at Goucher. Permison points out that Maryland has more horses per square mile than any other state, and that it's a $1.5 billion industry here. "There is no model for this at any other college in the country. We have an opportunity to not just be a thought leader but the example of how to bring a legitimate industry association to a college campus." Goucher will bring K-12 students from all over the state to learn about horses, from the biology to the business. "It will be like a lab, an incubator, from inside the horse industry." Like the college's Center Pair Exploration courses, it will be a chance for students to come together to work on complex problems that draw on a number of disciplines.
For such a big business, many at Goucher don't know much about the campus steeds and their friends. Chamois, a gray-white Appaloosa with brown spots, is the college's oldest horse at 27. Chamois has taught many new riders, and one waits now as Brittany Martin, the assistant director of the Equestrian Program, brushes him down. Always groom a horse before riding, Martin explains, because any dirt stuck in their hair under a saddle will rub them raw.
Martin puts on the saddle pad, the English saddle, and the bridle, gently moving the reins back over his head and ears. She and the new rider lead Chamois to a covered arena, where the footing, or ground material, is made of sand combined with felt and rubber. The extra cushioning is better for the horses' muscles and joints. Soft, thin footing is best, as it's bad for their tendons if it's too deep. Like a baseball infield, the footing requires regular dragging.
When the Equestrian Program began in 1926, the campus was still in the city. Eline von Borries, the head of the Physical Education Department, was a lifelong rider who championed the sport at the college. Goucher had no horses of its own then, so students went to a stable near the current campus to rent horses. That stable went out of business in 1953, and the college decided it was time for its own.
The local architecture firm Wilson and Christie designed the college's first stable, completed in 1956. As described in the Goucher Library's archives about the history of the stables, "The bottom half of the stable is of cinderblock and the upper half features redwood siding, interspersed with windows and louvered shutters which were painted in bright primary colors." Today, the shutters are a deep maroon, and ivy slowly encroaches on the redwood.
As the program grew, the college added more stables. In 1984, Goucher began competing in the Intercollegiate Horse Show Association (IHSA), and the program became a varsity sport. In 1993, the college built the covered arena. There have been no capital improvements to the facilities since, even though Goucher now has an equine studies minor and hopes to extend the program to a major, as well.
The current setup includes eight paddocks; an outdoor arena and a covered arena; two stables and a barn; two derby fields; wooded trails; the groom's house, where the stable manager lives; four full-time staff members; four part-time staff members; many student workers; up to 28 horses at any time; and one special miniature horse, named Cookie.
Riding a horse for the first time is a daunting experience—gaining the stirrup with the help of a mounting block; right hand on the saddle, left on the mane; then up and over with one leg, hopefully ending on top, leaning forward to parallel Chamois' graceful neck. At the command "Walk!" and a firm kick in the side—the kick comes with a reminder from Martin that Chamois is a 1,000 pound animal in no danger of being hurt—they lurch into motion. A trot requires a little more effort by both parties. If the rider doesn't control her movements, she will be jostled hard by the horse. They trot, Martin holding the reins and running alongside. The rider is jostled hard.
Still, it's an exhilarating experience. The sounds of the Baltimore Beltway beyond the trees faded under the horse's breath and Martin's cheerful encouragements. Everyone should try this, the rider thinks.
And many people at Goucher do try this, which is why the program urgently needs to expand.
Of course, that doesn't hold the varsity equestrian team back, which has won many awards. In the last six years, the team won the Region Champion title each year and the Zone IV Champion and Zone IV Reserve Champion titles three times each. And Goucher has been in the national top 10 at the IHSA nationals for the last six years. Multiple team members have won the individual National Champion title. Cary Hundley '18 earned the High Collegiate Medal at the Tournament of Champions Pre-Season Classic September 16. She's the second Gopher to earn the title, after Trustee Joey Fink '15.
As of October, the team was off to a strong start. At its first show October 7, Goucher took first place with 47 points, with Johns Hopkins in a distant second with 32 points. Hundley also came in first in both open flat and open fences, and Clea Lerner '18 took first in novice flat and qualified for the Regional Championships in April. Five other teammates each had a first-place win.
The team performs in hunter seat competitions, which is part of the English riding style, as opposed to the Western style. Unlike Goucher's other varsity sports teams, the riding team is coed and practices year-round. Each week, varsity riders have three lessons with Martin or Jen Smith, the director of the equestrian program. They also can opt in to an intensive riding package that includes two more lessons per week. Although equestrian isn't a traditional team sport, since riders are judged individually, each rider's points are added together for a college's overall score. This means each rider in each division of the competition is equally important.
At one advanced-rider class with Jen Smith, it was easy to see how the individual athletes function as a team. Cary Hundley and Rena DiPaula '20 were practicing flatwork and jumping. They started their flatwork with the two-point position, meaning they only touched the horse with their legs and were completely out of the saddle. They glided into a medium trot from opposite sides of the ring, each in their own world, but moving together in concert. Moving on to jumping, Smith called out the order of the eight fences quickly, and only once. Neither rider showed any confusion as each took her turn with the obstacles.
Riders may be up on a high horse, but the sport is humbling. Not only do riders take care of their own bodies, they take care of their horses, as well. The varsity team members have many responsibilities at the stables. They must spend time grooming the horses and taking them out to graze, which they're happy to do. "They ride them the most," say Smith, "so they often want to come and do caretaking."
Students can also take regular riding lessons as a PE class at Goucher. Many also work in the stables as a part-time job to cover the cost of the lessons. Paid student employees clean stalls, feed and groom the horses, and work as teaching assistants in beginner classes.
Taking care of horses is hard work. So is riding them, as the new rider, sweating profusely, found out. (She realized why all the advanced riders carried iced drinks around.) But it's more than a physical sport. "Riding is uniquely challenging in the sense that it's physically demanding, mentally demanding, and emotionally demanding," says Smith. "There's a passion to it that can promote discipline. You're learning how to ride a horse, and you're also learning how to handle it. Sometimes the horse is going to be difficult, and you're going to have to cope, and become resilient, and understand where they're coming from. You have to meet in the middle. They have to understand where you're coming from. There are so many life skills that you can learn from it."
Horses' personalities are as varied as their riders' are. Some are silly in the morning, some are stubborn, and some just want to graze. Brittany Martin emphasized this point during a September riding lesson. Kyle Kihn '18 had been riding for a little over a month, and Cherise Madrid '20, now on the varsity team, started riding a year and a half ago. To help get accustomed to different horses, they switched horses halfway through the lesson.
At shows on campus, riders do not pick their own horses, but draw for them. And when they travel to other colleges for competitions, they use the hosting schools' horses. Typically, the most reliable horses enter shows that take place early in the school year, when everyone is still a little rusty. But riders must be prepared to ride any kind of horse, and adjust quickly as they learn that horse's quirks.
All of the college's horses are donated, usually through alumnae/i and their connections. Most are Warmbloods, a European middle-weight horse bred primarily for show jumping and dressage. They are distinguished from draft horses, or "cold bloods," and light saddle horses, or "hot bloods." Goucher also has an Appaloosa, Chamois, and Thoroughbreds. They are usually geldings, the name for certain male horses. (You can imagine the difference between a gelding and a stallion.) These horses are expensive, and athletes in their own right. Many of the original owners kept them from other horses as they grew to prevent injuries during play. This means some aren't socialized to other horses when they first get to Goucher. That's where Cookie, the miniature horse, comes in, a kind of emotional support animal for the others. She can be a little curmudgeonly with people, but she's a good friend to the horses, and unlikely to hurt them or be hurt by them. Cookie is very sturdy.
Even with almost 30 horses, Goucher's Equestrian Program could accept more. The riding lessons are popular, and the varsity team is only growing in national prominence. But they can't board any horses for students, which is a drawback to some of the serious riders who grew up on farms and want to bring their horses with them to college. The program also has no extra space for any additional horses' turnouts, which is the time when horses hang out freely in the pastures. And although they have a covered arena for bad weather, which has two sides and a roof, they have no true indoor option. Riders essentially practice outside all year, unlike most caliber programs.
Because there isn't enough room to grow in its current location, the Equestrian Program is moving to the rolling hills just behind the President's House. The new Maryland Equine Education Center will have a large stable with room for boarders. There will be indoor and outdoor rings, a trophy room, a pavilion, a participant holding area, and many paddocks. There also will be a classroom space that horses can enter, perfect for the equine studies classes. The equestrians will have much greater visibility on campus and will finally have the facilities to reflect the prestige and prominence of the program, which is only helped by MHBA's new presence on campus.
"It just really jelled," says Cricket Goodall, executive director of MHBA. "Everyone here is excited for the partnership, and it has come together well. These are big ideas, and big ideas take a while, but Goucher has been great." One big proposed idea is to turn the old location into a sustainable farm.
Katy Voss '71, owner of Chanceland Farms in West Friendship, MD, was on the board of MHBA for many years. "I think the synergisms between [MHBA] and the riding program at Goucher are going to be huge. They're going to build this library that's going to be another great resource for Goucher."
Permison is eager to start bringing kids to the new center to learn more about the animals that are so integral to Maryland's identity. "That's what we want to build here. We want to be the front desk of the Maryland horse community," he says. The possibilities are endless, and Goucher wants it to stay that way. "We know what we want to accomplish and with our historic riding program, location, land, and with President Bowen and the board's leadership, it is going to be interesting and exciting."
Like dancing, riding is about form and deliberate motion. Where you hold your hands and your heels, the angle of your body, the control of your movements—it all must be exact. There's so much to consider, so many muscles activated, and you go out and do it whether it's a hot day or a bitterly cold one. It's hard, but immeasurably satisfying to master even some of the technique, and to do it with a large complex animal is like nothing else. It's no wonder that so many alumnae/i of the program go on to equine careers, whether as riders, trainers, or writers covering the world. And so many stay connected to the program and to Goucher. This new rider will definitely be going back for more.