Froelicher finds a new home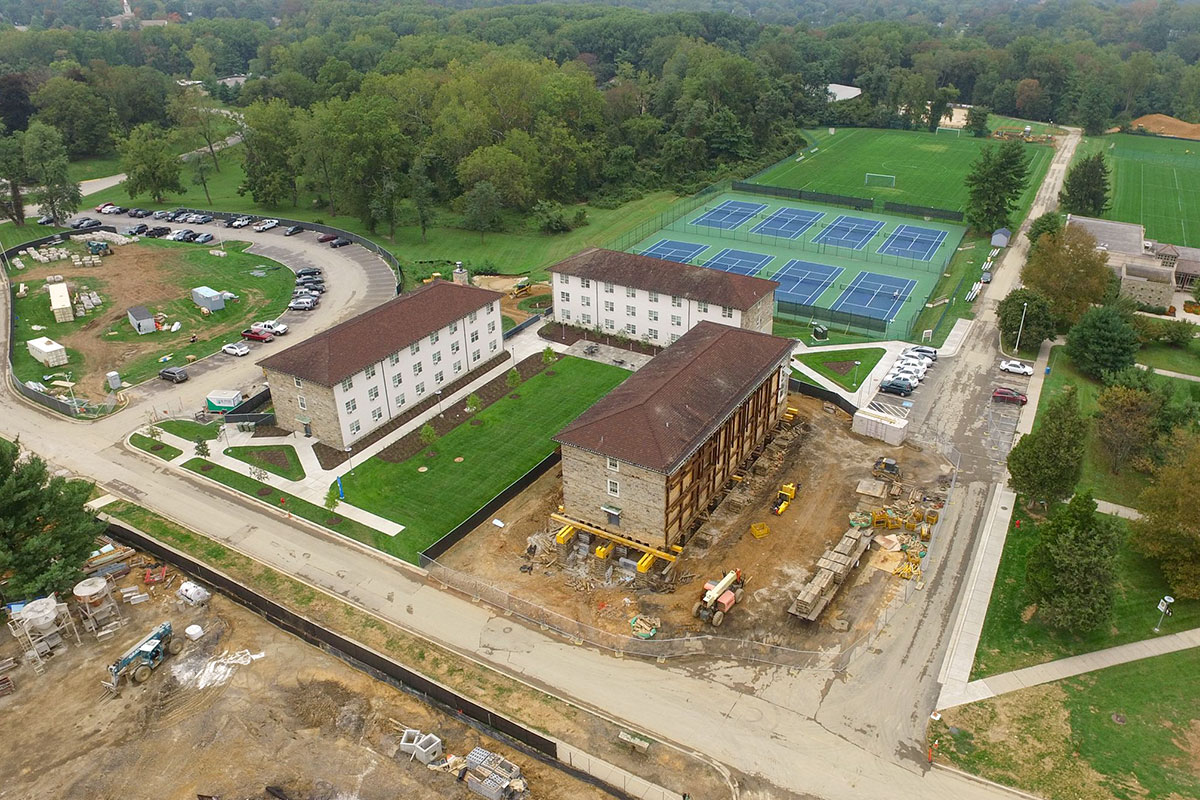 By Tara De Souza
There was one major change when students arrived at Goucher this fall—a new campus map—as all three Froelicher residence halls were successfully relocated this summer.
"They should put that on the History Channel," remarked the father of Ryland Collinson '21, while helping his son move into the recently relocated Alcock building.
While some new students might not have been aware of the large-scale construction effort, more than one hundred first-year students moved into Alcock and Gallagher in August, after the two residence halls rolled more than 500 feet across campus to new foundations. Tuttle moved to its new location as well, despite sustaining damage when it was lifted from its foundation, and will reopen to students in Fall 2018 once repairs are completed.
"Innovation underscores our approach to every- thing here at Goucher and moving Froelicher was no exception," said President José Antonio Bowen.
The relocation of Froelicher Hall marks one of the largest and fastest building relocations to ever take place on a college campus. Each of the residence halls weighed nearly 1,200 tons and took two days each to cross the loop road.
"We are a green campus. We take that very seriously and it is important to us," said Terence McCann, director of facilities management services. "This is a very sustainable approach." Not only have the buildings been reused, but wherever possible Butler stone and other building materials were saved and used throughout the relocation process.
Goucher's innovative initiative to preserve and reuse the student housing for future generations was recognized by Maryland's The Daily Record and the college was once again named "Innovator of the Year" by the publication.
"Innovators are constantly creating, improving, and creating again. They make a huge difference in people's lives, in the economy, and in the success of our region," said Suzanne Fischer-Huettner, publisher of The Daily Record.
The Froelicher Hall move makes way for the expansion of the new first-year village that is designed to strengthen community and allow faculty to live on campus. Construction for two additional first-year residence halls will begin this fall. Currently referred to as buildings B and C, the new buildings will be built adjacent to the new Pagliaro Selz Hall and will create a courtyard between the three buildings.
Designed for integrative learning, the first-year village architecture is focused on creating social experiences for students so that they become more engaged and involved with classmates and activities on campus. The New York Times columnist Frank Bruni highlighted Goucher's innovative design-thinking when mentioning the new first-year village project in a recent story. Plans for the new residence halls include a rehearsal space and demonstration kitchen for the more than 250 students who will be living in the two buildings.
First-year students will live close to the center of campus, directly adjacent to the Decker Sports and Recreation Center and the new centralized dining facility in Mary Fisher Hall. The two new first-year residence halls and the renovated Mary Fisher Hall are scheduled to open in Fall 2018.
For more information on how to support the first-year village project, please visit www.goucher.edu/communitymatters.