First day of college, take two for Goucher transfer students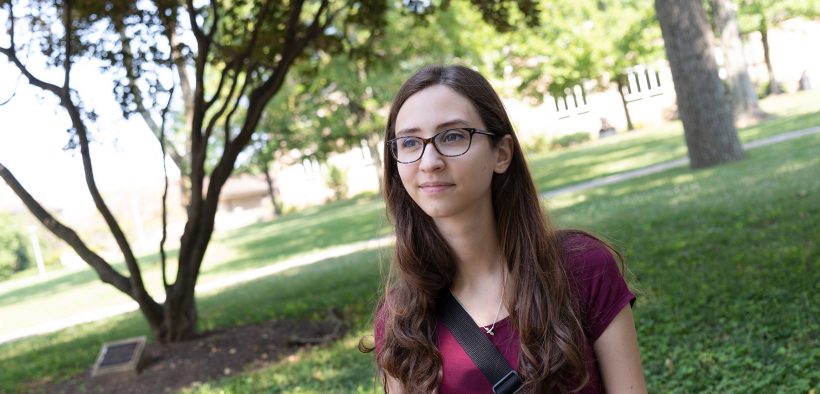 By Natalie Eastwood
The first day of kindergarten—hoping you're not the only one who doesn't know how to read, figuring out who will play tag, learning to share crayons and the good pair of scissors—isn't too different from the first day at Goucher. Who has the best music and snacks for study nights? Should you join the Beekeeping Club or the League of Legends team? Is anyone else a little bit nervous? Goucher students are figuring it out just as they did when they were five, and if they go to the Wellness Center in the First-Year Village, they might even do some coloring.
William Kelly '22 knows what it's like to make the transition to college because, while he is new to Goucher this fall, he's already been through the process. A transfer student majoring in political science, Kelly will be living in the First-Year Village with non-transfer first-year students, and he hopes to be their guide to college life.
"We don't know anybody here, so let's group together and figure this out," is what Kelly channels to himself and other first-years. "I'm not stepping into an already made, settled environment. I'm stepping into what I did two years ago [for my first year at college]," Kelly says. "Everyone is bright-eyed and trying to get their footing. Hopefully, I can make friends and help others along the way."
Kelly spent a year at Easton University, where the students—who he says were all different versions of himself—made for a "stale" environment. "At Goucher, it's OK to be different, show your feathers a bit, and experience things," Kelly says.
Kelly came to Goucher for the individuality within the campus community. He wants to run into people as he zips across Van Meter Highway, and he plans to keep his bedroom door open during the day just for people who want to say hey. Kelly will also be on the lacrosse team, where he is excited to not only gain the immediate comradery of his teammates but also join his dad—lacrosse coach Brian Kelly—on the field.
Kelly is one of 30 transfer students this fall, 20 of whom are transferring from community colleges in Howard, Frederick, Carroll, Montgomery, Anne Arundel, Harford, Prince George's, and Baltimore counties.
Melissa Egerton, assistant director of admissions for transfer students, says she sees more and more transfers in each incoming class. "Fall '19 has the largest number of community college transfer students in several years," Egerton says.
Articulation, the process of accepting credits from other institutions, is an important part of giving college students a smooth transition to Goucher, Egerton says. Partnerships with community colleges help Goucher communicate which credits count for which classes, so students know what they do and don't need to graduate.
After exploring different programs at their previous college, realizing what they need to learn best, and affirming their passions, these transfer students then had to ask themselves what they were looking for in a four-year institution. So, why Goucher? Was it because of the hammocks? Did Lucy, Goucher's residential labradoodle, win them over?
For Caroline Buxenstein '21, a graduate of the Community College of Baltimore County (CCBC), the deciding factors came down to financial aid and an accessible campus. As a first-generation student with high financial need, Buxenstein says that wherever she chose, she needed a school that would support her. Finances, after all, were one of the factors that led her to community college. Secondly, her seven years at CCBC—interrupted by problems related to a genetic condition—were spent figuring out how to balance her life, education, and health needs.
"As a nontraditional student, I feel comfortable fitting in, because Goucher is a diverse community and is accepting. It can be hard to understand my health [needs]," Buxenstein says, "and Goucher was one of the most accessible campuses I visited, and it's one of the things I loved most." To her, automatic doors, ramps, elevators next to commonly used entryways, and the proximity of academic buildings to one another were some of Goucher's gems.
Buxenstein plans to major in history, with a focus on the history of medicine and diseases. For a summer research project at Johns Hopkins University, Buxenstein studied the physical and psychological impacts of quarantine. She hopes to blend her interests in psychology, philosophy, history, and languages (her goal is to speak a second one fluently), which is why Goucher's interdisciplinary curriculum was an additional motivator for her to attend.
After being sick and forced to take a break from her education, Buxenstein realized school is where she wants to be for the long term. Her goal is to earn her Ph.D. and become a college professor.
Others are a bit less decisive, which is why Ryann Cole '23 has thoroughly thought through her decision to stop overthinking. She wants to "get in the swing of things" before she has a chance to think about the new experiences at Goucher and get nervous.
When Cole graduated high school, she was unsure what she wanted to major in, and the jump to a four-year school seemed too wide. So, she started taking classes at Howard Community College, which gave her time to work in a flower shop and enjoy the freedom from a heavy class load.
But she's ready for round two. Cole is coming to Goucher for the small class sizes and the home-away-from-home without being too far from her family. The study abroad program was another small step for Cole, who wants to travel but felt more comfortable with a safety net of people to help her along the way.
"I am definitely excited to be back in school and feel like I'm doing something purposeful," Cole says. Right now, that purpose is completing her degree in computer science and figuring out how she wants to apply it.
Cole is also looking forward to on-campus yoga classes and hopes to join some organizations, although she's not sure which ones. She will be living in the First-Year Village. "I wanted the experience of living on campus and living kind of on my own, but not completely in the real world just yet," Cole says.
Yes, the real world: Fairies flitting through the trees. Merpeople slinking through a murky pond. Gnomes stealing vegetables from the community garden. Jessica McKinney '21 chose Goucher not for the mystical beings hiding on campus and living in her writing, but for Goucher's new Professional and Creative Writing Program.
"I wanted to find a college that at least had a creative writing concentration, and since Goucher has an actual major, that was the best thing I could ever ask for," McKinney says. "I've always wanted to tell stories. Writing is just the form I want to use."
McKinney hopes to join Goucher's publications—The Verge, and possibly The Quindecim and The Goucher Eye—but she's also excited for new experiences, people, and ways of looking at the world.
While at CCBC, McKinney worked at a nursing home where she listened to many life stories. "I love to get to know people and understand why they make certain choices," she says. "In a way, I think it will make me a better person because I'll learn to see from different perspectives and develop greater empathy for others."
Flinn Eng '21, who uses "they" pronouns, was immersed in a silkpunk trilogy over the summer—a genre that incorporates a classical East Asian influence into steampunk, which plays on Victorian-style steam-powered technology. Like silkpunk, Eng is a blend of multiple interests and identities, and they hope Goucher will be a place where all those pieces of themself can harmonize.
Eng will be majoring in the new professional and creative writing major, and they hope to make a career as a fiction writer. "As a queer person of color, I'm going into this industry with a perspective that the literary landscapes don't reflect the world that we live in," Eng says. "I'm excited to study at Goucher because it strikes me as a place that is actively training its students to change those landscapes."
Eng was impressed by Goucher's Race, Power, and Perspective core class requirement, as well as the summer reading book, which tells the stories of Latin American children facing deportation. They want to study beyond the old, white men who were the hallmark authors of high school and join new, diverse conversations and perspectives.
Eng is coming from CCBC, which prepared them for this next academic challenge. "I had a difficult time in high school, and it took me a long time to figure out why I wasn't studying properly," they say. "I'm a kinesthetic learner. I do my best when I'm learning hands-on, but my major is focused on reading and writing, which isn't super tactile." Notecards, bullet journaling, and putting stickers next to their completed to-do lists have been Eng's guide for success. They add, "It's only silly if it doesn't work."
Take note, first-year students. It's only silly if it doesn't work. So, hold on to the why that brought you to Goucher and turn it into your how. How will you make friends, explore your passions, and find yourself, just as you did in your first year of kindergarten?
(Photo at top): Caroline Buxenstein '21