Paul Henderson exhibit comes to the library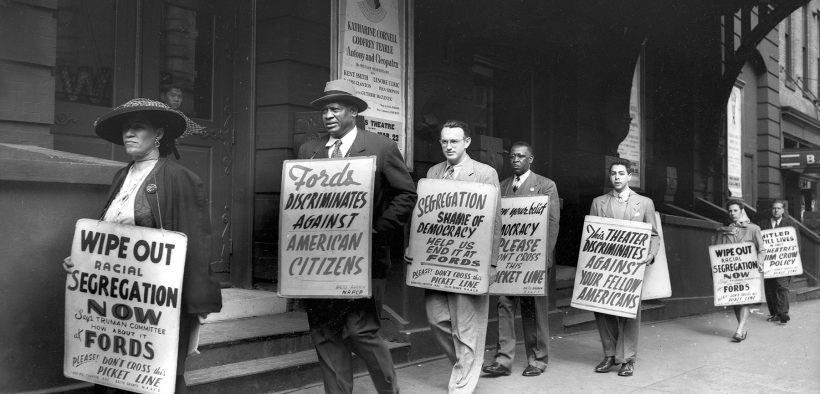 By Kailah Figueroa
The Goucher College Library welcomes Paul Henderson: Photographs from the Civil Rights Era, a traveling exhibit from the Maryland Historical Society opening on September 19, 2019. Paul Henderson was an African American photojournalist who worked on the staff for the Baltimore Afro-American as one of their first photographers and as an occasional writer. He also worked as a freelance photographer, taking over 7,000 photographs that captured moments of the African American experience in Baltimore from the late 1920s to the 1960s.
The exhibit will be divided into four themes. "Activism and Protest" will include photos of NAACP activities. "Pastimes and Entertainment" will feature Black culture in Baltimore relating to the arts, music, and entertainment. "Everyday Life" will look into the day-to-day lives of the Baltimore African American community.
The last section, "Morgan State College" (now Morgan State University), will feature images from the historically Black university located in Baltimore. Morgan State has a long history with Goucher. Several of the original board members at Goucher were also the original board members at Morgan, and many Goucher students and Morgan students worked closely together in civil rights protests and activism during Henderson's time. Additionally, John Franklin and Mary Goucher donated money and land at Edmondson and Fulton avenues in 1880 for the expansion of the school that became Morgan State.
Henderson's photographs feature notable figures in the African American community, including Thurgood Marshall, Dr. Lillie Carroll Jackson, Pearl Bailey, and many others. All together, the sections provide a lens into the Black experience during the civil rights era. Student-led tours will be offered that are based on oral histories from the McKeldin Jackson Oral History Project at the Maryland Historical Society. Library staff will lead classes on tours focusing on the history of the civil rights movement using historical research methods. Henderson photographed candidly, with images ranging from political protests, NAACP activities, and racial segregation to more intimate settings like college graduations, athletic events, and church groups.
Although the whole collection consists of over 7,000 photographs, the exhibit will display a small selection of photographs with artifacts and documents to accompany them. "Activism and protest were always behind the scenes in everyday life," says Debbie Harner, the Goucher College education archivist and historian who curated the exhibit. "We want to highlight the racial injustice in society today and to see how far we've come, but to also acknowledge that we need to improve and change moving forward. We want to have an open discussion."
Because the majority of the people in Henderson's photos remain unidentified, there will be an option to help identify figures and unknown places captured in his photographs by scanning a QR code with a smartphone. Special Collections & Archives (on the fourth level of the Athenaeum) will also have paper copies for those who do not have smartphones. "We want this to be an immersive experience; history doesn't take place in a textbook," Harner says.
Henderson's photography will showcase the history of the Baltimore civil rights movement through and the Afro-American newspaper. "We hope that after viewing the exhibit, people will be able to see that local history is connected to national history and Goucher's history is connected to Baltimore's history," Harner says. "I hope this gives students the opportunity to connect to the past and see the relevance of our history to today's circumstances both on- and off-campus." Many of the places Henderson photographed still exist today, along with his impact in Baltimore's history.
The exhibit opens September 19, 2019, on the upper level of the Sanford J. Ungar Athenaeum, and will be up through May 24, 2020. A reception will be held October 17, 2019, from 6 to 8 p.m.
Public viewing hours of Paul Henderson: Photographs from the Civil Rights Era are Monday to Friday, 10 a.m. to 5 p.m., and Saturday and Sunday, noon to 5 p.m., during normal college operations. For updated events, please go to www.goucher.edu\hendersonexhibit.