Set the table: What does your plate say about food accessibility?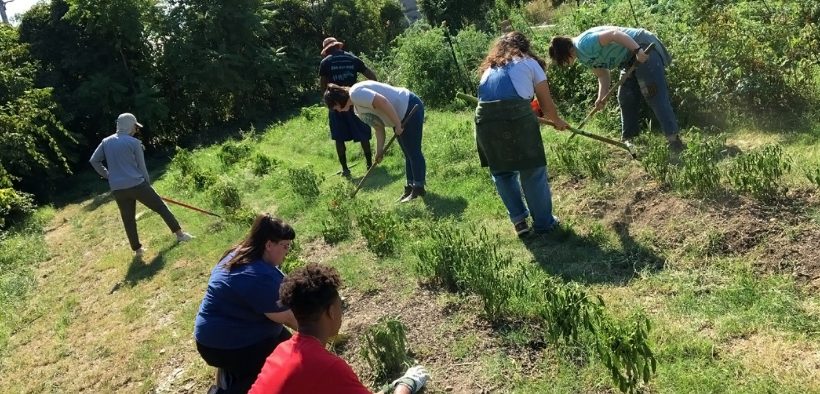 By Natalie Eastwood
Fresh produce, organic options, plenty of variety, and all located at the grocery store around the corner; there are probably several within a couple miles of your home. Plus, with the convenience of owning a car, getting groceries is never a problem. In fact, going grocery shopping is probably something you gripe about Sunday morning or after work.
As students in Associate Professor Emily Billo's environmental justice class are learning, there are forces of privilege and race that determine who has access to healthy food. Your conveniently located grocery store two turns from your home didn't end up there by accident. Billo's class collaborated with the Black Yield Institute (BYI) to understand systemic problems behind food accessibility in underprivileged communities.
BYI is an organization headquartered in Baltimore's Cherry Hill neighborhood that addresses food insecurity among people of color in Baltimore. One of their initiatives is an urban garden to promote models of food production and land stewardship. Goucher students helped weed the garden while learning about food apartheid, a social and political construct that makes nutritious food inaccessible to a group of people. Disproportionately, people of color are most affected.
In conversations BYI co-founder and servant director Eric Jackson facilitated with students, they talked about differences in food access around the country. For some who identified as growing up poor, they realized that it was a much different experience compared to the food apartheid in Cherry Hill. That surprised certain students, who thought "poor is poor," Jackson says. "They're learning the complexities of the issue, and how food apartheid affects not only food access but transportation and other systems that impact people on the day-to-day," he says.
Students are also helping with a larger project, which is to get young and old people of color to talk about food memories and examine how their relationship to food has changed over time, says Jackson. Students are researching in Goucher's Special Collections and Archives to add to the background knowledge of Cherry Hill and to discover how it came to be a place of food apartheid.
"It was eye-opening to see how little their voices are heard, but also that the systematic things are playing into the ways in which a space like that is made," says Nick Patterson '20, a student in the environmental justice class. "The infrastructure, the health of the people, the education of the people, are all tied together."
The partnership definitely helped make people more aware, says Clare Kresse '20, who is also in the class, because for those who grew up with grocery stores on every corner, gaining access to food was never even a thought. "I think food is something that we take for granted," she says. "This is probably the first time I've ever thought about who made the decisions to put certain stores where I live versus where I don't live."
Those who don't have the power to control these resources need to be given the leverage to do so, Kresse says, adding, "It's a huge learning process of asking myself, 'Where do I align myself as an ally that's not overstepping, yet using my privilege in the best way I can to help a certain group?'"
It's a question that Billo frequently asks herself and her students, recognizing that the Black community needs to maintain ownership of their experience. "For me, the work is more than just a class," Billo says. "These political commitments are the necessary work that has to be done in order to push forward a meaningful conversation about more equitable access to resources."
(Photo at top): In addition to the hands-on work students did in BYI's garden, students presented BYI with research on the history of Cherry Hill and problems around food insecurity that community members face.
All photos courtesy of the Black Yield Institute.