The 419-item bucket list: One couple visits every National Parks site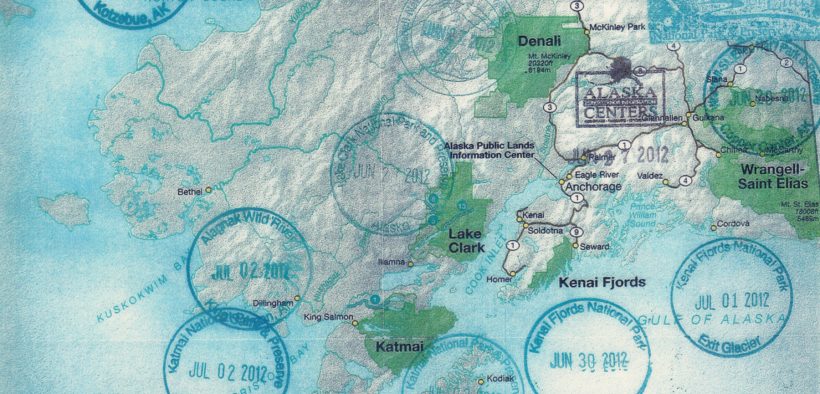 By Molly Englund
Driving through the Mojave Desert. Landing in a floatplane in a lake in Alaska. Visiting three Canadian territories, 10 Canadian provinces, four of the major U.S. territories, 50 U.S. states, many countries, all seven continents.
Penelope Norrington Orth '63 and her husband, Joseph Orth, have crossed all of these off their shared bucket list.
But to Penny, a Federal Aviation Administration support contractor and former Goucher chemistry major, it's a bucket list that keeps growing. Back in 2006, the Orths decided to visit every National Parks Service (NPS) site, which includes not just the famous parks but monuments, preserves, and more. When the Orths started, there were 383 sites. There are now 419, and they hope to have seen them all by 2020.
What began with the creation of Yellowstone National Park in Wyoming and Montana in 1872 has expanded into a national system of iconic wonders and historic memorials. As the novelist Wallace Stegner said, "National parks are the best idea we ever had. Absolutely American, absolutely democratic, they reflect us at our best rather than our worst." The country's 61 national parks are an essential part of our collective story.
What we sometimes overlook in that story, however, are the monuments, trails, rivers, and battlefields that make up the other hundreds of sites run by the National Parks Service. The newest site, added in March 2019, is the Tule Lake National Monument in California. It's a place typical of the complicated nature of our heritage: the location of a Civilian Conservations Corps camp during the Depression that became a World War II internment camp for Japanese Americans and later for prisoners of war.
Penny and Joe have been to Tule Lake. They've also been to the Aztec Ruin National Monument in New Mexico, the Jamestown National Historic Site in Virginia, and the Big Hole National Battlefield in Montana. They've been to all but one of the national parks. They've been to all the sites in Alaska, Puerto Rico, the Virgin Islands, American Samoa, and Guam. But Penny, who has never let her asthma keep her from the great outdoors, remains modest about their accomplishments.
"Well, it's a good excuse for a nice trip," she says. "The national parks are gorgeous. Part of it, for us, is just about seeing the country."
Joe agrees. "But it's also the people you meet as much as anything, having simple conversations that are still enlightening," he says.
Penny and Joe had always loved traveling, but they began their American odyssey in earnest in 2006, when Joe discovered the NPS Passport Book to collect the stamps NPS has offered at sites since the mid-1980s. The two had been to plenty of NPS sites before; Penny grew up going to the Washington Monument in DC, and it holds special meaning for her. But now they were going to do it all, the ones they'd never been to as well as the ones they knew. This time, it would be commemorated with an official NPS stamp and supported by their senior passes, which at the time cost $10 and guarantee lifetime admission (they've had theirs laminated). Says Penny, "I used to always say, it was the last, best, good deal you could get from the U.S. government."
Joe's favorite is Shenandoah National Park, a stone's throw from their home in Virginia, where he used to take his sons from a previous marriage camping. The one Penny found most surprising was the Cesar A. Chavez National Monument in California, southeast of Bakersfield. "I knew that he was a labor organizer for the farmworkers, but we didn't expect that much [at the monument]." But the mountain setting was breathtaking. "It's where Chavez and his wife are buried," Penny says. "The family has made a memorial garden around it, and it was really beautiful."
As 2019 draws closer to the end, so too does their bucket list. The Orths are getting eager; they have done about 40 sites this year alone. Penny and Joe now have only a dozen left to see, most of them in Texas. They had already seen everything in Hawaii when President Barack Obama added another in 2015; they are going to Honouliuli National Monument for Christmas this year.
When they were both still working full time, Penny and Joe lived on a powerboat in a downtown DC marina. One of their friends and neighbors there was the sitting secretary of the interior, who took an interest in their NPS trips. The former secretary is trying to plan a celebration in the District when they finish. And Penny already knows which stamp will be the last of her book: She will end where she began, at the Washington Monument.
(Photo at top): The stamps showing all the National Parks sites in Alaska the Orths have visited. All photos courtesy of the Orths.