The ride of a century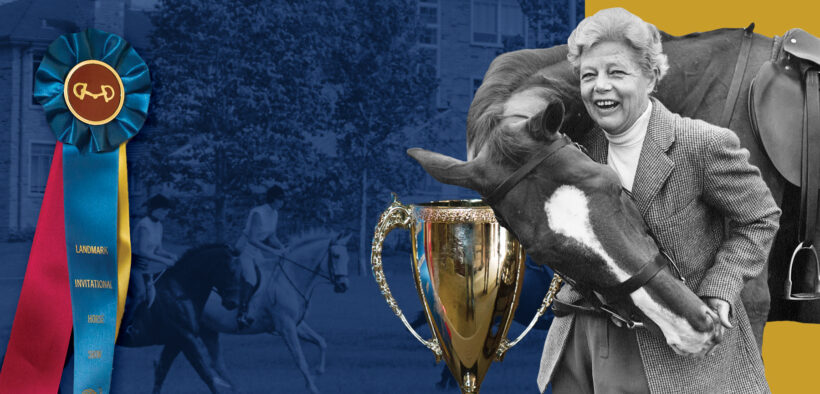 By K. Anoa Monsho
As the Goucher College equestrian program celebrates 100 years, students, alumnae/i, and coaches reflect on the sport's impact on them, appreciate the tremendous history the program offers, and look ahead to how the program is developing academically.

"Riding has always been a safe space for me. I love it. But more than that, I need it."
– Maggie Kinsley '26
Goucher College student Maggie Kinsley '26 doesn't know yet what she will choose as a major, but she's clear about her minor in equine studies.
"Just being in the open air and running across the field is the best feeling ever. I cannot describe it. It's amazing," she says. Kinsley says the equine minor gives her a chance to explore the various facets of working with horses as she competes on Goucher's varsity riding team. "I can't really see my life without horses in it. If I decide not to go to vet school, I can have a great career working around horses. It's a happy medium."
Maggie is part of a long tradition that arcs back more than a century. Goucher alums, students, and friends are celebrating the Equestrian Program's centennial with a series of events that included a conversation with author Dr. Nina Hooton Gardner '62 about her Goucher equestrian experience and book, The Magic of Horses, and concludes with equestrian special events during Blue & Gold Weekend 2023 on October 20-21.
Although now nationally ranked, the Equestrian Program started small. Eline Von Borries, who in 1923 was the head of the Physical Education Department, poured her energy into building a riding program with seven horses, a student group of young women who were passionate about riding horses, and a slight but beautifully built stable that won an architectural award and is still in use today.
The program has grown from a recreational activity—imagine student riders in mid-century Towson trail riding and conversing throughout the bucolic campus—to a nationally ranked Intercollegiate Horse Show Association (IHSA) team. In May, the team finished in eighth place in the IHSA National Championship.
A LONG RIDE
"We designed the new equine studies minor to be broad, especially because in Maryland there are so many careers in the booming horse industry. There are three equine-specific classes that students take, and then they can choose courses based on their area of interest."
– Jennifer Smith
Goucher's current equestrian director, Jennifer Smith, is buoyed by the program's legacy and moved by the support of alums and the horse community writ large. She's utterly engaged with the team as a competing member with IHSA, the largest multidivisional collegiate equestrian competition representing over 400 schools. But what matters most to her are the students, the horses, and the symbiotic relationship between the program and Goucher as a whole.
"Riding is a solitary sport, usually only available to those with the means to participate. But at Goucher, it's also a team sport, and all students, whether on the team or not, experienced or not, can participate in the program either by taking lessons, riding, or helping down at the stables," she says. "The horses are so wonderful and there are so many benefits to being connected to them. They teach empathy, discipline, and the value of being committed to taking care of another being."
That ancient human-horse connection is what inspired Smith to develop Goucher's new equine studies minor and equestrian scholarship opportunity. That, and the expanding career opportunities in the field.
She led the expansion of the indoor arena and has plans to move the Equine Studies Department and Equestrian Program forward. "My hope is that we can augment and upgrade our facilities and continue recruiting and training better riders and horses."
Smith's vision for the program is inspired by the legacy of several former directors who established and expanded Goucher's Equestrian Program, particularly Patte Zumbrun, who served as director from 1987 until 2013, when she retired and handed the reins to Smith, her assistant at the time. "Under Patte's directorship, the program really expanded in every way, but most especially, it became really competitive," Smith says.
CREATING COMMUNITY
"I'm always willing to volunteer my horse farm for a field trip for [Goucher's] Equine Studies Program or for the riding team or whoever wants to come. There are so many facets of the horse world, and I love that there is so much interest."
– Katharine Merryman Voss '71
The Goucher equine community is facilitated by devoted alums. They help source quality horse donations, raise money to improve aging infrastructure, and connect students to career opportunities. Voss owns and operates Chanceland Farm, a Thoroughbred breeding, training, and rehab facility in Howard County, Maryland.
"Sue Ellen Marder O'Connor '71 encourages members of the horse community to donate their horses, and her efforts have increased the quality of horses we get tenfold. Jane Wilder Andrews '79, P '17, is helping fundraise for a much-needed facility renovation. Voss, who was named the 'top stakes-winning female trainer of all time' by The Washington Post, also supports the program," Zumbrun noted.
Ginny Kirby-Smith Carruthers '60 is keenly interested in the program's success, as well. Carruthers admits to whispering in her own granddaughter's ear about the program. After all, riding at Goucher is a family tradition.
"My own mother was a graduate of Goucher, and my second oldest grandchild, also a rider, is going to be visiting Goucher soon. And I think it would be just wonderful if she ended up in the program!" The warmth of fond memories and interest in the expanding program infuses Carruthers' voice. "There's such a wonderful community connected with the riding program. The horses are treated so wonderfully and taken care of with so much love and so much attention. That's not true of every place by any means."
A COMPETITIVE STREAK
"I was laser-focused on three main goals: developing a competitive riding team, improving Goucher's equestrian facilities and adding an indoor arena, and ensuring the value of Goucher's Equestrian Program would be forever embraced as a historical treasure."
– Patte Zumbrun
By the time Zumbrun was hired to lead the program in 1987, she had been working as the stable manager for eight years under Janet McBrien. "As program director, Janet McBrien focused on improving overall riding and horseman[1]ship skills," Zumbrun remembered. "She introduced Goucher students to the IHSA and formed a small team. An interesting twist is that one of the original team members, Janis Fischer Groomes '86, was my first assistant." After leaving Goucher in 1992, Groomes started her own private riding program near Gettysburg; she now coaches the Gettysburg College and Mount St. Mary's University riding teams while serving as an IHSA regional president.
Kate Fournel Renner '04, who competed during Zumbrun's tenure, was the first student athlete from the equestrian program inducted into Goucher's Athletic Hall of Fame. She currently works as the farm operations manager at Gaia Herbs.
"Whether a rider was in walk-trot or open fences, Goucher equestrian coaches saw potential before riders felt their own, and creatively provided the fertility that encouraged an individual's roots of confidence to grow," said Renner. "I learned a life lesson that limited resources are not a barrier to those who believe in the interconnection of horse and rider, despite backgrounds, despite level of experience, despite the perceived quantitative value of a horse."
All Goucher horses are donated, and they each have a unique life story that they bring with them to campus, often on their actual passports. Some are former racehorses who aged out or were injured, and some need a quieter life. "Believe it or not, horses can have emotional and mental breakdowns," Zumbrun shares. "As our program became more well-known through IHSA competitions, people began donating higher-quality horses, which in turn helped the team to compete at higher levels."
A twist that turns up several times in program history is that many alums remain connected in the rarefied world that revolves around horses. In Goucher's case, competing in show jumping opened opportunities for wider community service. At times in its history, Goucher's program hosted lessons and opportunities to ride for people in the community and for several years the program participated in a horse therapy program.
Goucher's current stable of 25 horses is lovingly cared for and seems to enjoy serving in second-act careers as show horses.
LIFE-AFFIRMING OPPORTUNITY
"When it came to applying for colleges, I was adamant that I wanted a college with a varsity, co-ed equestrian team. It turns out that very few schools do, so Goucher rose to the top."
– Joey Fink '15
As a member of the team, Joey Fink '15 raised Goucher's ranking in spectacular fashion. During his tenure, the equestrian team advanced to the IHSA National Championships each season, finishing the program-best fifth in 2013, and, to date, he is the only two-time National Champion in the program's history.
"I grew up with a mom and two older sisters who rode horses, and from a very young age I was encouraged to ride and compete. Growing up, it was an interesting experience being one of very few men or boys riding horses," Fink says. He easily recalls some difficult days. "During my elementary, middle, and high school days, I was often never really considered an athlete because I wasn't like the other boys who played on the basketball or lacrosse or soccer teams."
Fink says he wasn't a good fit for other sports, but in competitive show riding, he hit his stride. "For the first time in my life I wanted to be a school athlete, and what I loved so much about Goucher's program was that it gave me so many opportunities to be able to compete that I don't think I would have gotten at other schools," he said. "I became co-captain of the equestrian team in my sophomore year and my childhood dreams came true. Being recognized as a top scholar-athlete—it's hard to articulate just how much that meant to me. It was life-affirming."
These days Fink, now a financial advisor with Morgan Stanley, stays connected to the program, serving on the 100th anniversary committee and helping fundraise support for the program.
There is so much more to Goucher's rich equestrian legacy and so many opportunities to support its next century. To learn more, visit www.goucher.edu/equestrian100.