Leading the way for generations of scientists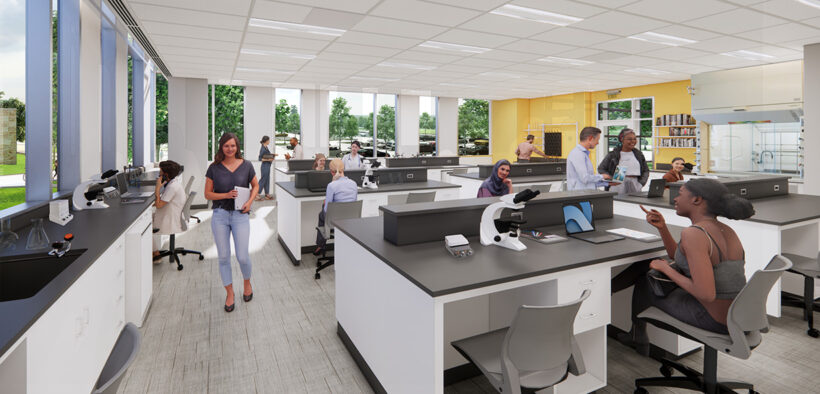 A vital pillar of the [UNDAUNTED] comprehensive campaign is the Science Research Center. This new facility will offer state-of-the-art capabilities for chemistry, biology, environmental science, and health science programs and will broaden opportunities for all of the college's liberal arts students.
Leading the effort to support scientific initiatives at Goucher College, the Kurtz Faculty Research and Exploration of the Sciences Fund (KRES Fund) provides an opportunity for Goucher faculty—regardless of subject expertise—to explore specific research independent of their immediate positions and obligations. Prior to her death in 2005, Myra Berman Kurtz, Ph.D., '66 honored cherished Goucher professor Ann M. Lacy by establishing a fund for student research in the biological sciences. In 2021, Stuart Kurtz honored his late wife by strengthening his commitment to the Myra Berman Kurtz '66 Fund for Faculty Research and Exploration of the Sciences with a $400,000 pledge.
"Myra would be in favor of this initiative because it seeks to improve the faculty experience at Goucher College," says Stuart. The KRES Fund's vision is to encourage faculty to remain lifelong learners and continue their intellectual curiosities and passions by exploring the sciences, technology, and their relationship to society.
After earning a degree in biology at Goucher, Myra earned a Ph.D. in microbiology at Harvard University and excelled as the director of infectious disease research at Merck Research Laboratories.
Nurturing Goucher's science education is also a priority of Stella Miller Robertson '71 and her husband, James Robertson, who have devoted their professional lives to scientific pursuits. Following her retirement as a vice president of research and development at Alcon Laboratories, Stella founded Arrochar Consulting to help entrepreneurs and startups launch and grow emerging technology companies. She is also a co-founder of Bios Partners, a Fort Worth-based venture capital group. James is a geoscientist and geological engineer, and he is the founder of Rannoch Petroleum.
The Robertsons have supported many initiatives at Goucher, including the Science Research Center, student awards to celebrate achievement in the sciences, and to honor Stella's professors, Helen M. Habermann, Ph.D., and Helen B. Funk, Ph.D. In addition, they recently created the Stella M. and James D. Robertson Endowed Scholarship Fund to provide financial aid to students interested in science, technology, engineering, or mathematics.
To continue innovative STEAM initiatives at Goucher, Patricia Regenbogen Rosenblatt '69 and Michael Rosenblatt's gift to the Science Research Center demonstrates their commitment to giving Goucher's diverse student body the educational foundation they need to propel them on to advanced academic degrees and trailblazing careers in the sciences. Patty and Mike's dedication to STEAM is evident in their careers.
As an artist and a sculptor, Patty heeds the call to steward our planet through her work and in her life. Mike has spent his career in medicine, most recently serving as the chief medical officer of Flagship Pioneering, the firm behind the clinical development of Moderna Therapeutics. The Rosenblatts pledged their support with the promise that future generations of science students will follow in the footsteps of the many Goucher alumnae/i and friends who have forged new frontiers in the sciences.
Goucher faculty, staff, and students have always been a priority for Stella Platnik Yousem '54. Stella has supported various initiatives, including the Special Collections, the Athenaeum, Hillel, summer research, scholarships, Friends of the Library, and the Greater Goucher Fund. In addition, Stella has volunteered and attended campus events whenever possible, including helping at Move-In Day for first-year students.
The college became a family affair when Stella recruited her son, David, to serve on the Goucher Hillel board. This year, to honor her late husband, Herbert, an admired and revered obstetrician and gynecologist, and sons, David, vice chairman of radiology and professor in the Johns Hopkins Medicine Department, and the late Sam, a world-renowned lung pathologist, Stella pledged $500,000 to the Science Research Center. The Yousem Family Student Commons will be named in their honor.
As the home for the respected Summer Science Research Program and the Post-Baccalaureate Premedical Program, the Science Research Center will be an incubator for scientific exploration and innovation for generations to come. For more information or to join these esteemed alumnae and friends, please go to undaunted.goucher.edu or contact us at 410-337-6536.