New & Notable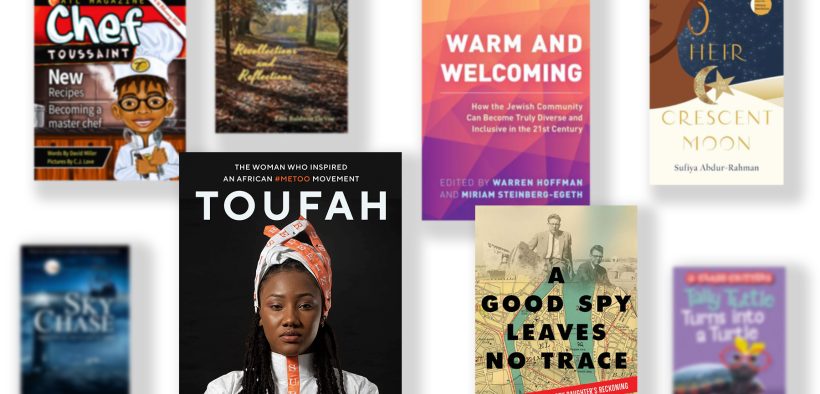 Recent books from the Goucher community
Chef Toussaint, by

David Miller, M.Ed. '97
Dare to be King Project
You will love watching Chef Toussaint make magic in the kitchen, from fried chicken to apple cinnamon French toast. Join this nine-year-old master chef as he turns his grandmother's recipes into award-winning dishes. Experience the power of literacy through a great storyline and memorable images. Spend time with Chef Toussaint in the kitchen as he uses vanilla, nutmeg, cinnamon, basil, curry powder, ginger, and a bunch of natural spices. Chef Toussaint is a great family book complete with recipes and a message for parents in the back of the book.
Recollections and Reflections, by

Lois Baldwin DeVoe '49
Saltwater Media
This is the personal memoir of Lois Baldwin DeVoe. A 1949 graduate of Goucher College, Lois Baldwin DeVoe also attended Rutgers University and the University of Innsbruck, Austria. She was born Lois Marion Kahl in Baltimore and raised on Marlo Farm near Reisterstown, Maryland, where she learned her love of animals and dreamed of traveling the world. She lives in Mercy Ridge, a retirement community in Lutherville, with her cat, Lucy.
Tally Tuttle Turns Into a Turtle (Class Critters #1), by

Kathryn Holmes '04
Abrams Books/Amulet
It's Tally Tuttle's first day of second grade, and she's so nervous that she feels like she ate butterflies for breakfast! She just wishes she could retreat into a shell…Then, all of a sudden, Tally is shell-shocked to discover that she's actually turned into a turtle! Tally will have to forge her own transformation and come out of her shell—both literally and figuratively! In this new chapter book series, Mrs. Norrell's second grade classroom has magic that allows kids to transform into animals to learn important life lessons.
Sky Chase (Book 1 of The Flight of Ships), by

Lauren Massuda '16
Water Dragon Publishing
Travel to a vast world of airborne ships and floating islands. The crew of the Raging Storm, led by 16-year-old Captain Cordelia, protects the floating Caelum Islands from strange creatures and criminals. When Cordelia is poisoned, she must find the cure before time runs out. Her only hope is to join an alliance with a mysterious doctor—one who has carried a grudge against her father for years. Not only will Cordelia have to race against time, but she will have to face the demons that keep invading her mind.
Toufah: The Woman Who Inspired an African #MeToo Movement, by Toufah Jallow with

Kim Pittaway, M.F.A. '14
Truth to Power
In 2015, Toufah Jallow was a Gambian 19-year-old dreaming of a scholarship. She entered a presidential competition and won, which brought her to the attention of Yahya Jammeh, the country's dictator. He proposed marriage. When Jallow turned him down, he drugged and raped her. Wearing a niqab to hide her identity, she fled, making her way to Canada. Then Jammeh was deposed. In 2019, Jallow went home to testify against him in a public hearing, sparking marches of support and a social media outpouring of shared stories among West African women.
Heir to the Crescent Moon, by

Sufiya Abdur-Rahman, M.F.A. '12
University of Iowa Press
Winner of the Iowa Prize for Literary Nonfiction
Abdur-Rahman's longing to comprehend her father's complicated relationship with Islam leads her to recount her own history and delve into her father's past. She journeys from the Christian righteousness of Adam Clayton Powell Jr.'s 1950s Harlem, through the Malcolm X-inspired college activism of the late 1960s, to the unfulfilled potential of the early 1970s Black American Muslim movement. Told at times with lighthearted humor or heartbreaking candor, Abdur-Rahman's story speaks to the challenges of bridging generational and cultural divides and what it takes to maintain family amid personal and societal upheaval.
Warm and Welcoming: How the Jewish Community Can Become Truly Diverse and Inclusive in the 21st Century, by Warren Hoffman and

Miriam Steinberg-Egeth '02

(co-editors)
Rowman & Littlefield Publishers
This is the first book to tackle institutionalized biases and barriers to inclusion, offering not only stories and context about the issues facing Jews of all backgrounds but also practical and concrete advice that Jewish institutions can implement to change how they engage with diverse populations. From senior leaders to young innovators who are helping to change the ways that Jewish institutions create community, Warm and Welcoming offers fresh perspectives, best practices, and new ideas to transform Jewish institutions regardless of their size, resources, or number of years in existence.
A Good Spy Leaves No Trace: Big Oil, CIA Secrets, and a Spy Daughter's Reckoning, by

Anne E Tazewell, M.F.A. '18
Writelife Publishing
Her father was a writer, decorated World War II intelligence officer, CIA agent, and oil industry consultant who died a penniless alcoholic. After he left her family in Beirut when she was six years old, Anne E. Tazewell only saw her father seven times. A nature-loving world traveler, Anne advocates to reduce the use of oil to mitigate the worst of what's to come with climate change. A ghost story, secret political history, call to action, and family memoir, the book is an investigation of loss, love, oil, and the alternatives.