Back to school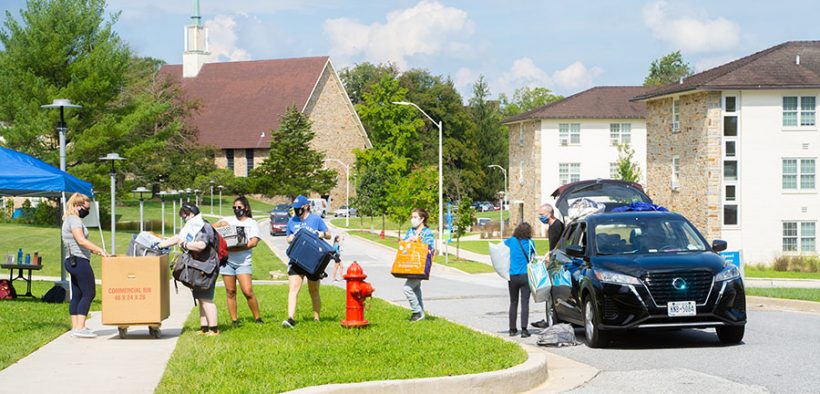 After a year of remote learning, Goucher welcomes all students back to campus.
Amid the late August heat, there was palatable excitement among the students and their families stopping along the loop road to check into the First-Year Village. Whether during a global pandemic or not, the feelings conjured when being dropped off at college for the first time remain the same—an energy and eagerness that are especially welcomed on the Goucher College campus since the physical buildings were closed for nearly a year due to the COVID-19 pandemic.
Vice President of Student Affairs & Dean of Students Aarika Camp and her team spent months planning for students' return to campus.
"We have made, and continue to make, decisions focused on student health and safety that would allow for us to create a high impact and engaging experience," says Camp.
While students, families, staff, and volunteers were wearing masks and following safety protocols, these August morning move-ins were similar to any typical summer move-in for new students. There were boxes, laundry baskets, snacks, decorations, and all of the usual items that first-year students bring as they moved into their new homes on the Goucher campus.
First-year student Shawn Pelote '25 moved in early for athletics as part of the cross country team.
"Moving to campus was a bit hard at first, but with the aid of countless peers and administrators, the transition became smoother," Pelote says. "This semester, I am looking forward to making new friends, improving in cross country and track, earning good grades, and being an active member of the Gopher community."
This year, first-year students were not the only ones moving onto campus for the first time. Many sophomores also moved into Goucher residence halls after spending their first academic year online.
Sophomores Ian Meyer-O'Connor '24 and Sam Byrne '24 met virtually last year while taking classes online during their first year as Goucher students. During move-in and orientation, they reconnected and finally had the chance to meet in person. While chatting in Trustees Hall, Meyer-O'Connor says, "Seeing people in 3-D is different than seeing them on a screen."
Student Affairs provided orientation opportunities for sophomores, as well, to feel empowered to know where and what resources are available. This year, a new sophomore year mentors (SYM) program was also created to pair an upper-division student with sophomores. The mentors will meet with students throughout the semester and provide general support during the transition to living at college.
Senior Sunny Butterfield '22 is an SYM and greeted students and families as they arrived and checked in for sophomore move-in day. She said that it was especially interesting to see students meet people in person with who they had only previously interacted over Zoom.
"I hope to help sophomores with problems that feel really big and isolating," says Butterfield. "We are here to give sophomores a place to land and talk about anything."
With twice as many new-to-campus students this year as in previous years, the Student Affairs team concentrated on the two distinct sets of needs for both first-year and sophomore students. While there was a distinction between the two groups, both sets of programming focused on helping to build community through engaging activities to help foster relationship building.
"College is of course about learning in the classroom, and the overall college experience is a classroom where students are learning how to live independently, develop or re-enforce their sense of identity, and foster lifelong relationships," says Camp. "The vibrancy of the college lies with the students."
View move-in activity photos on Goucher's flickr page.
(Photo at top): By Adan Rodriguez