In the thick of it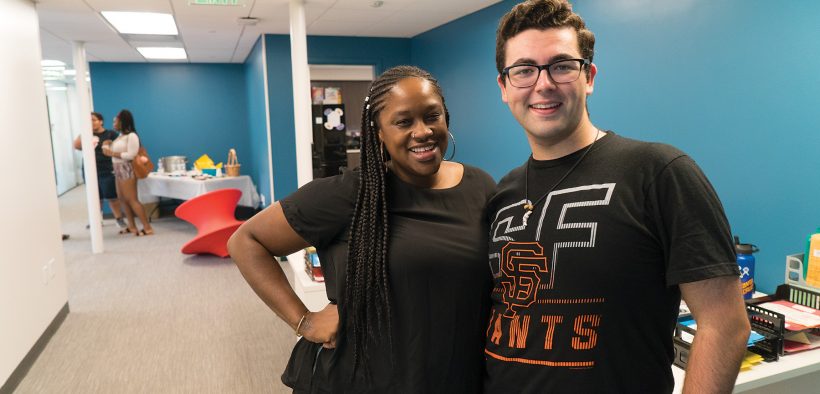 Having extra elbowroom is always a good thing. Just ask the Office of Student Engagement (OSE), whose new digs, which opened in the newly renovated Mary Fisher Hall in time for the Fall 2018 semester, mean plenty of space for enhanced student and community-focused programs.
"In the past, most students didn't know where we were," says John Nobriga '19, a senior who is the administrator for Goucher's student clubs with OSE. "Now we're next to Mary Fisher Hall. All students need to do is walk by to visit us."
OSE's old location was tucked away in the back corner of the bottom floor of the Athenaeum. Now being located in the thick of things right off the entrance of Mary Fisher and directly next to the new dining facility, OSE can be more visible, not only to students but also to the entire campus community.
"We have a captive audience," says Aisha Rivers, OSE's director. "A central location is great for maximum interaction with our students."
OSE is dedicated to providing quality on- and off-campus activities, leadership development opportunities, and late-night and weekend events that enhance the Goucher experience for students and their families. With the new space, OSE can greatly expand its programming not only in their new location but also campus-wide.
"We are also planning to host different events on other parts of the campus," says Rivers. "We are planning events in the First-Year Village and the dining hall. We'll also be using the residence side of the campus for events so students don't have to walk far to participate."
Rivers says OSE is planning more pop-up events and hopes to use the demo kitchen in Fireside Hall to host workshops like cooking on a budget.
In addition, OSE will continue its campus-wide dialogue with students through activities like "Talkback Tuesdays," where a white board is placed at locations around campus to engage students and solicit their feedback.
The expanded space is also good for OSE's morale, as it will literally and figuratively give the staff more breathing room.
"We've been deprived of space for so long that just having more space will be a wonderful thing," says Rivers. Getting more space will help OSE better organize and utilize all of its material resources.
Helping centralize student engagement and wellness further, OSE will share the new space with the Office of New Student Programs. The Office of Student Support and Outreach and Counseling Services will soon move in to Mary Fisher Hall as well.
"In the past, we were like the invisible hand coordinating events," says Nobriga. "We are such a major asset to student life, being near students and welcoming students into our office will benefit everyone."
– Jill Yesko