Philanthropy is in her genes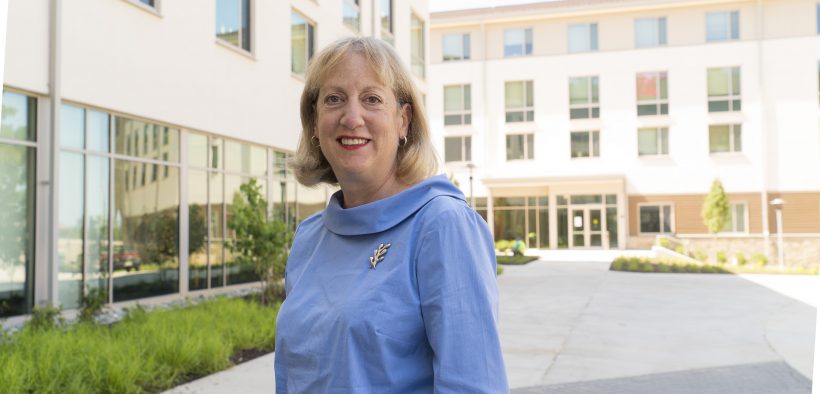 By Jill Yesko
Elizabeth Ellers '81's Goucher experience has been a series of memorable moments and undaunted firsts that have defined her life since graduation.
"I came from a small town in Ohio," says Ellers, who serves on the Goucher Board of Trustees and is the chair of the Marketing & Branding Committee. "I had a lot of personal firsts at Goucher. It was the first time I lived away from home. The semester I spent in Paris was the first time I traveled outside the country. My world opened up at Goucher."
Today, Ellers is making it possible for other Goucher students to expand their horizons. After a successful career as a marketing and advertising executive, Ellers' multi-year gift is supporting the First-Year Village, Goucher's innovative living and learning community for 450 students that opened its second and third buildings this fall.
"There are a lot of worthy philanthropic causes," says Ellers, who majored in economics and minored in historic preservation. "I am happy that I can contribute to Goucher's ability to undertake such an exciting and ambitious path. I am well aware of all of the pressures that independent colleges and universities are facing, and of Goucher's determination and ability to meet them."
Ellers credits her interest in philanthropy to her parents, who supported their colleges and other institutions. "I grew up believing that philanthropy and participation are part of being a good citizen," she says. "Goucher has been an important springboard for so many people. I hope that they share in the responsibility—and enjoy the satisfaction—of giving back."
Living in northern Virginia, Ellers has the opportunity to visit Goucher frequently to attend meetings. She likes to meet students and faculty, and see the new construction that, in addition to the First-Year Village, includes the expansion of Mary Fisher Hall, the planned addition of the Goldsmith Interfaith Center to the chapel, and the upcoming construction of the Science Research Center.
One thing that hasn't changed since Ellers' undergraduate days is Goucher's focus on each student's individual learning experience and on providing outlets for inquiry beyond the classroom.
"I remember that I had small classes, personal attention from my professors, and opportunities for independent study," says Ellers. She sees the Goucher Commons, the college's new curriculum, as a pathway for students to benefit from an integrative learning experience and build proficiency in areas that will make them ready for the jobs of the future.
"I'm excited that Goucher is requiring that every student take data analytics," says Ellers. "Our evolving economy demands college graduates who can write well, use metrics proficiently, and continue to learn. Lifelong career niches are vanishing."
Ellers is proud that Goucher is not hesitating to make bold changes it believes necessary to serve its students better in these challenging times.
"People can be dismayed by change," says Ellers. "But, like all enduring institutions, Goucher has re-invented itself many times. In each case Goucher was undaunted. For young people, there is nothing more important than a college education—and the confidence it gives them to be undaunted."