Live well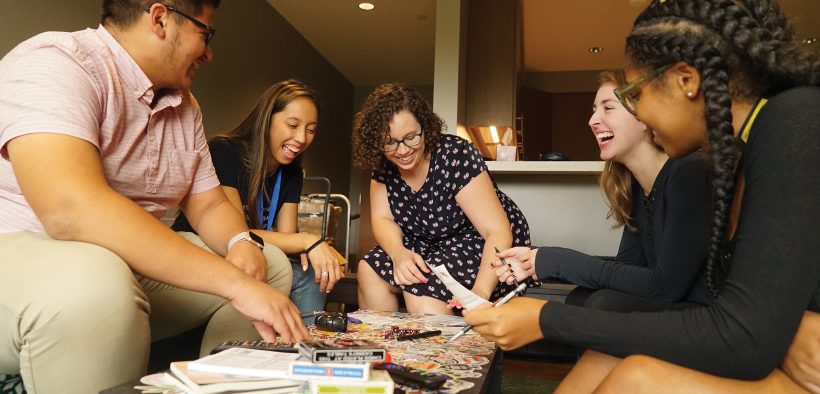 Goucher's campus, with its 287 wooded acres in the heart of Towson, is an obvious draw for the students who come here. But they aren't the only ones to call Goucher home. Be they young staffers or program directors, a number of faculty and staff, as well as their families, have always taken advantage of the opportunity to do the same. For the college, it's another way to engage the students, which is the key to their success.
Now, with the opening of the second and third buildings in the completed First-Year Village, Goucher is bringing even more faculty and staff to live where they work.
"What's great about the faculty-in-residence role is getting to work a lot more directly with students," says Justine Chasmar, director of the Quantitative Reasoning Center and an assistant professor of mathematics. She and her husband are living in Fireside Hall this year, one of the new First-Year Village buildings.
Faculty and staff in residence can be a boon to student wellness, particularly as new students settle in. "The transition to college can be really intimidating, so knowing that faculty are approachable contributes to decreasing stress," says Chasmar. "The more points of early contact, the more likely students are to persist."
Rachel Wimberly sees the staff living alongside students as mentors. A residential life coordinator in her first year at Goucher, Wimberly is also living in Fireside Hall with her partner. "My partner is trans, and he's super open about it," she says. "We've talked about how just him being here, doing well, living our life as a couple, is good for trans students to see."
Wimberly is connecting with students and supporting the resident assistants, and she's also working with the emotional support animal program—mostly cats and some dogs, as well as a rabbit, ferret, and snake. "My thesis was on emotional support animals," she says. "It fits it perfectly with what I'm doing professionally."
"A sense of home is really important," says Chasmar. She and some other faculty and staff in residence are planning a number of projects to build community and promote wellness, including workshops on how to eat healthy on a budget and a series on real-world math skills. They also plan on cooking demos in the village's demonstration kitchen, one of many aspects of the new dorms intended to encourage student wellness. But for all Chasmar's ideas, she won't over-plan.
"They're really engaged, so we're going to learn a lot about the students and what they want to do," Chasmar says.
Wellness goes both ways. Wimberly is fostering a big, sweet dog named Winter. As Winter is still getting used to her new home, Wimberly takes her on walks to meet students to cheer her up. "She loves it."
– Molly Englund