Hands-on learning from home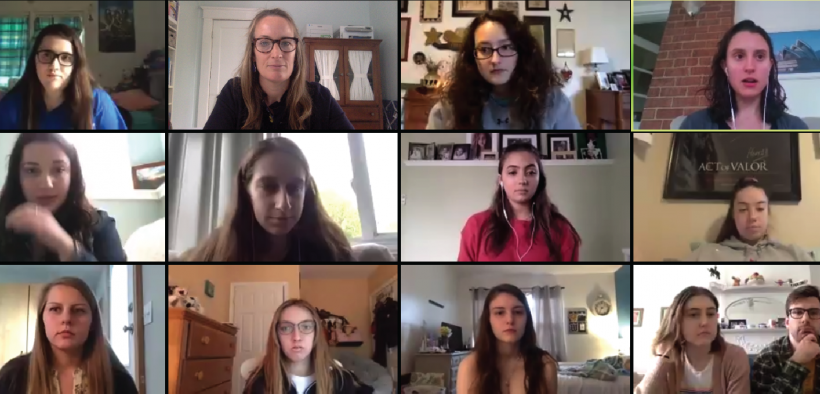 By Tara de Souza
How do you teach a plié or demonstrate a physics lab remotely?
With the onset of the COVID-19 pandemic, schools around the world were forced to adapt quickly to the new parameters of education midway through the spring semester. At Goucher, professors had a new kind of complex problem to solve: how to make a hands-on learning experience a virtual one.
"I have transformed my dining table into the laboratory benchtop," says Physics Professor Sasha Dukan. From her home, Dukan is performing demonstrations and experiments synchronously via Zoom for her post-baccalaureate premedical physics class.
For her live virtual lab classes, she uses lasers, electronic equipment, lenses, mirrors, and other lab equipment she brought from campus. Then, students use interactive video tools to collect and analyze data to perform their virtual experiments at home. And while she and her students miss Goucher's lab spaces, Dukan says that the students have enjoyed and are learning from her dining table simulations.
To maintain the community-based learning element in April Knupp's Spanish class, she and her students used the language exchange app HelloTalk to communicate with native Spanish speakers to compare various aspects of their lives. In another Spanish class, students are recording videos of themselves in Spanish, telling stories about their experience with social distancing.
"Continuing the need for inquiry of the world community and global perspectives is crucial, especially in such an unprecedented and daunting time," says Knupp, who is a visiting assistant professor in the Center for Hispanic and Latinx Studies.
While the immediate future of learning in the coronavirus era forced educators to create remote classrooms for students, some Goucher professors still found new experiences to share with their students at home.
When Professor Tina Hirsch Sheller '74's field trip to the Johns Hopkins University Archaeological Museum for her visual and material culture class was canceled due to the pandemic, Sheller worked with the museum's curators to find a way to share the "Goucher Mummy" with her class. Sheller says she eagerly embraced the opportunity to host the curators via a Zoom lecture and have her students virtually tour the museum. During the tour, students saw notable images of the original, nineteenth-century "Museum of Oriental and Classical Archaeology" at Hopkins, as well as the mummy brought back from Egypt by John Franklin Goucher in the 1890s and is now on permanent loan to Hopkins.
"The virtual museum tour proved to be an outstanding learning opportunity for my students," said Sheller. "The two curators who offered the tour provided students with a fascinating illustrated lecture … and whet their appetites for more."
For Professor David Grossman's marketing management class, students transitioned their group work online and continued to develop awareness campaigns as part of the class's service-learning project. One group of students worked remotely with the Baltimore County Police Department to create a marketing plan that would help the organization promote internship and career opportunities. The students presented their final marketing proposal to the department via a live Zoom event and Q&A.
Goucher's professors and staff members are working hard to make sure their students stay engaged, no matter the class or content. Whether by creating digital dance choreography or inviting online political science guest speakers, keeping the college community connected is a priority across Goucher's virtual campus.