Let's raise our glasses—from all over the world—to Goucher's senior students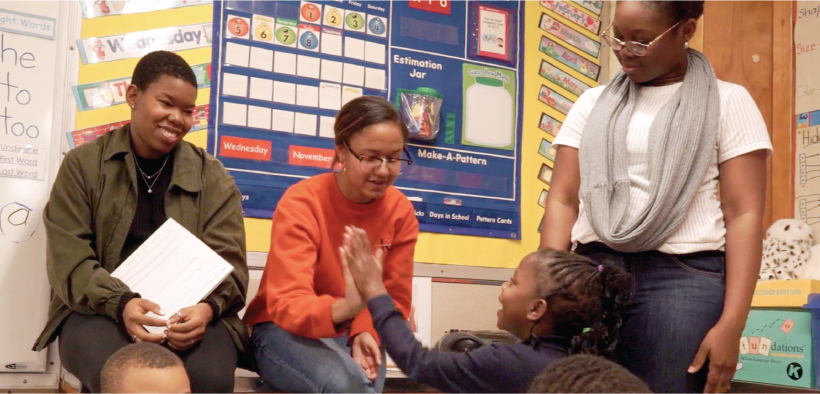 By Natalie Eastwood
Goucher College seniors have much to celebrate this spring, even as they complete their final semester remotely. The virtual symposium and online art show, which showcased students' work, was viewed by students, alumnae/i, faculty, and staff across the country. Many seniors have additional accomplishments to celebrate, including the four awardees of the Lawrence Prize, a yearly fund created by Elizabeth Deale Lawrence '66 and Bryan Huntington Lawrence. The $25,000 (per person) scholarship is for students' living and relocation expenses during their two years working for AmeriCorps' Teach for America (TFA) program. These newly minted alumnae/i will be sent to different parts of the country as educators, although one won't be going far.
De'asia Ellis '20 will be teaching special education in Baltimore City. She entered Goucher College knowing she wanted to become the superintendent of Baltimore City Public Schools but never pictured herself as a teacher. After hearing from her professors that her career goal would only be possible by starting in the classroom, Ellis went all in. As an individualized interdisciplinary major, which she built around education policy, Ellis spent almost 200 hours working with students.
Ellis requested a Baltimore City placement because, as a graduate of the city schools, she grew up hearing misconceptions about the students, namely that they don't care about learning. And that's not true, Ellis says. She's not entering the school system to change the students but rather help them adapt to challenges that make their learning environment inequitable. "Baltimore City is home, and I feel a special connection to these students because I see myself in them," Ellis says.
Psychology major Zanabou Njie '20 will be teaching special education in Richmond, CA, in the Bay Area, although her grade level is still being determined. "Especially as a special education teacher, a lot of my job will be about being an advocate," Njie says.
Whether it's for the student or the family, Njie will continue "upstream thinking," a practice she learned through Goucher's Community-Based Learning programs. "And that's something I'll carry with me everywhere I go," she says. "I'm definitely the type of person who is going to ask 'why' in any situation. I don't do anything without having a clear purpose."
Njie joined TFA to expand her knowledge and skills as a changemaker, and she's learned from Goucher that hands-on experience is invaluable to social justice work. After TFA, she is thinking about returning to school for a doctorate in psychology to become a school counselor.
Yinesha Taylor '20 will be using her English major and creative writing concentration to teach high school English in Las Vegas, NV. "I just want to give and pour out and make some else's day better," Taylor says. "I might not change someone's life with a single interaction, but I can improve their day."
Helping others is something that has always come naturally, and Taylor plans to continue her efforts after TFA—possibly by joining the Peace Corps, returning to school to become a nurse, and then finding her way back to the classroom.
Ridwan Lawal '20, economics major, spent most of his Goucher career helping and empowering others through Umoja, Community-Based Learning, Agricultural Co-op, and as a first-year mentor. He will be teaching math to middle schoolers in Cleveland, OH.
"I want students leaving middle school to feel more comfortable with math because that is a subject that often divides students into categories of whether they are smart or not," Lawal says. "If you don't feel smart, then you don't think school is for you. School should be a place where everyone is constantly eager to learn, not a place where people are giving up on the idea of learning."
Middle school is a very challenging time for many, and Lawal hopes to connect with students in a way that makes a difference. "My wish for the world, or the world that I see and know, is more community," he says. "What makes me feel good is to see people helping each other in times of need."