Recruiting a new class through Zoom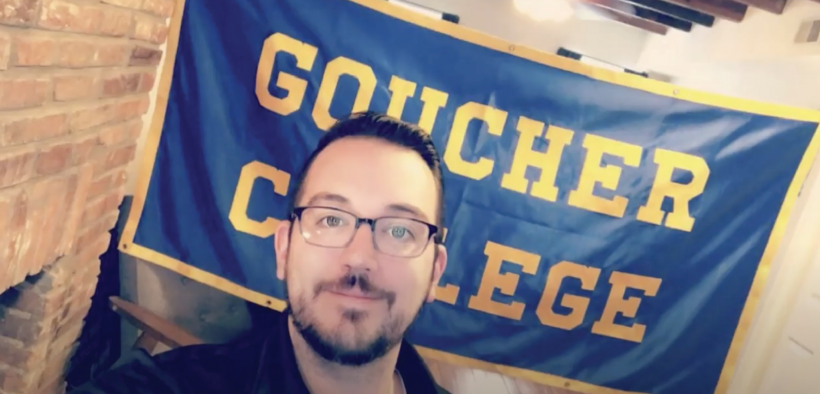 By Molly Englund
Even during a pandemic, people still want to go to college. But as enrollment deadlines approach for the fall semester, the question of how to choose a college takes on new facets.
How can a student decide where they want to go when they can't visit campus, sit in on a class, or meet an alumna for coffee? At Goucher, the answer is through virtual recruitment efforts, which are underway to surprising effect.
Goucher now offers a guided virtual tour, virtual info sessions, virtual counselor conversations, and virtual chats with a student ambassador. There are also events planned for specific audiences, like the Gopher Grit session—a webinar on resilience for students who are expected to attend in the fall.
The success of these virtual peeks into Goucher life has been a welcome surprise. In a recent online town hall, Jonathan Lindsay, Goucher's vice president for enrollment management, said, "We've seen over 300 folks attending these sessions, and we have a schedule that continues through the month of May up to our new deposit deadline of June 1. So those are going well."
Goucher has another advantage when it comes to recruiting students: its alumnae and alumni. Before the spread of COVID-19, Goucher enlisted alumnae/i across the country to take part in regional events and one-on-one conversations with accepted students. Now those efforts have gone digital.
Maia Miller '16 worked as an admissions counselor at Goucher after she graduated, leaving in 2018 to move back home to Seattle. She's currently at Google via a staffing agency working as an intern programs coordinator. "We were all set to have several different Goucher events here in Seattle in person," Miller said, "but the week before, COVID-19 happened, and we changed those to virtual conversations over phone calls, Skype, FaceTime, whatever works for the students."
Recently, Miller had a phone call with a student from California who deferred last year. He wanted to talk about the resources Goucher offers and spoke about the college's Academic Center for Excellence. As a recent employee and graduate, Miller handled the conversation easily. "It was really natural for me to say, 'Oh, we have all these different things!' When maybe other alums aren't necessarily as up to date on what's happening at the college."
Zach Reese '16 was a student ambassador while at Goucher. He's now in his fourth year of pursuing a social psychology Ph.D. at the University of Michigan, but still finds time to volunteer with Goucher. Reese, like Miller, was all set to participate in regional recruiting events, his in Illinois, Wisconsin, and Michigan. "I was going to take students out to restaurants. I was going to meet them for coffee. I was thinking this was going to be a really good season. Then COVID-19 hit," said Reese. He's offering Zoom calls instead. Just last week, he spoke to an accepted student from Wisconsin who had several options for college. She had questions about the culture, wanting to go somewhere in line with her social justice values.
"She wanted to know if Goucher was a place that would support her interests in those kinds of things and her desire to be around people who care about that kind of thing. I go, 'Oh, you have no idea,'" Reese said, laughing. The student deposited to Goucher the next day.
Alumnae/i are also involved in recruiting more broadly. Nadiera Young '12, M.Ed. '14, is the admissions liaison for the AAGC, and she works to get other alumnae/i involved with recruiting efforts. "We are seeing if alums can meet with prospective students in their current cities, or having alums accompany President Devereaux at his prospective student events," said Young. "Now with COVID-19, we are setting up virtual meetups, emails, or phone calls, so prospective students are still able to see Goucher through the lens of others. At the moment, we are specifically working with reaching prospective athletes by connecting them to alums who participated in athletics at Goucher."
Conversations with alumnae/i will always be a crucial part of picking a college. As Miller points out, "I think it's great for alums to share personal stories, like what you enjoyed most or which dorms you lived in, and it's not just a list of facts for students to hear. To personalize it—telling them it's a small school, and we have a great campus, and why that was meaningful to me and other alums. Hearing that versus, 'We have over 200 acres!' makes it more meaningful, and gives them a better answer to the question, What does Goucher actually embody?"
In the town hall, Lindsay was optimistic about Goucher's future, as is Reese. "I think Goucher's uniquely adaptable," said Reese. "We've adapted to a lot over the last 10-15 years, and the community is really strong."