Finding their beat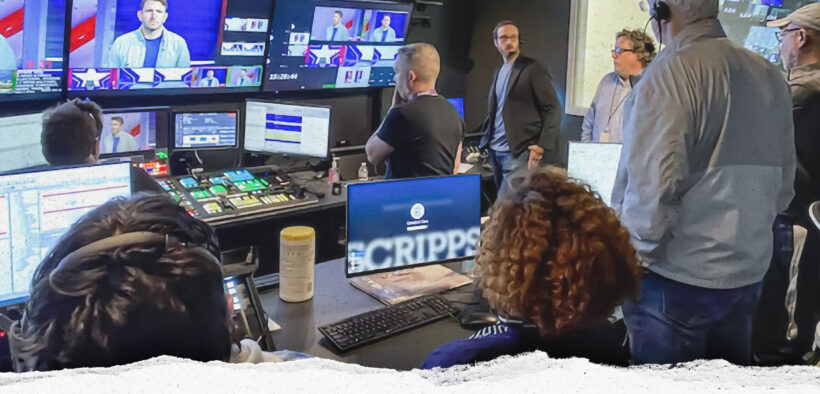 With a strong foundation from their faculty mentor David Zurawik, these young alums are the next generation of award-winning journalists.
By Martha McLaughlin, M.F.A. '16
Among Goucher's young undergraduate alums are several talented journalists working for some of the nation's most respected media outlets. Though their stories are as unique as they are, they all share some essential plot points.
Erica Green '07, an education reporter for The New York Times, recalls, "My first time reading the newspaper was in the early nineties when I read a Baltimore Sun story about my own family and the worst day of our lives." After her mom was sentenced to prison, the Baltimore City native entered the foster care system when she was only seven years old. Green bounced from foster home to foster home before being taken in, in middle school, by a teacher. The communications & media studies major, who minored in political science and Spanish, would later intern for and then return as a full-fledged reporter to The Sun. As a journalist, she "vowed to write stories with humanity, dignity, and respect," she says.
"I recall being struck by how people could gain access to details of the worst day of your life and put them out for the world to read. I believed I could use my gift [as a writer] and life experience to do better by people, particularly vulnerable ones like me and my family, in how their lives were presented to the world." Her deeply reported pieces, numerous awards, and increasingly impressive positions are evidence that she's done just that. And done it well.
In 2016, Baltimore's City Paper voted Green "Best Journalist" for her work covering Baltimore City Schools for The Sun. In his piece "What Makes 'New York Times' Education Reporter Erica Green So Good?" for Kappan—a magazine for educational professionals—Alexander Russo cites first the exposé Green co-wrote about the abuses and unethical practices used by the T.M. Landry school in Louisiana so its graduates achieved 100% admission rate to Ivy League colleges. The story was featured in the Times' TV show The Weekly, which aired on FX and Hulu.
Russo writes, "Some of her strongest stories include an award-winning piece about Charlottesville, which … examined a school system with one of the biggest racial gaps in the country, an investigation into mistreatment of Native American students in Montana, and her … profile chronicling the fledgling success of the LeBron James-supported IPROMISE school in Cleveland."
Green largely credits her success to her "Goucher Village"—the administrators, staff members, professors, and fellow students—who "poured into me" and "saw more in me than I could see in myself," she says.
Jackie Peiser '14 describes her education before Goucher as privileged. She attended a small, private high school in Dallas. Yet, as a junior, after her journalism teacher told her she didn't have "what it took," she gave up hopes of being a journalist. She quit the student newspaper, her dream destroyed.
At Goucher, she took a class with Assistant Professor of Communications & Media Studies David Zurawik, who "really saw my potential and told me I should seriously consider [journalism] as a career. I was so torn down," she says. But Zurawik's "unwavering support helped me rebuild my confidence. 'Z' was my mentor throughout my time at Goucher. He introduced me to editors at The Baltimore Sun, he reviewed my application for journalism school, and was an invaluable resource when I came across challenges as editor of The Quindecim, the school's student-run newspaper."
After Peiser graduated from Columbia Journalism School, fellow Goucher alum Ben Snyder '13 connected her with an editor at Fortune magazine, where she freelanced while job hunting. She landed a position at The New York Times, first as a news assistant, then as a reporter covering the media industry.
In 2020, Peiser began an overnight shift covering national news at The Washington Post. She wanted to be a faster, better writer, and thought it the best way to achieve her goal. Peiser ran her plan by Zurawik, who fully supported it, telling her to "keep your head down, learn the skills, and get it out of the way."
In July 2022, Peiser was promoted to retail reporter for The Washington Post. In this position, she focuses "on the retail sector, trends, the economic significance of the industry, and changes in consumer spending and behaviors," she says.
Like Green and Peiser, Ben Snyder was editor of The Quindecim. He double majored in communication & media studies and American studies and studied at Oxford, as well. He's now a senior managing editor at Insider Inc., where he helps recruit and hire for several of the digital publication's niche markets and works closely with Insider's editors and others on the personnel and management needs of more than 100 employees. Snyder is also responsible for establishing goals and beats for reporters and helps provide career development opportunities.
Early in Snyder's career, Zurawik remembers Snyder calling him up and saying, "'Hey, I'm working at Time magazine, but they want me to go to Time digital, which is a demotion, isn't it?'" Zurawik said, "No! Digital's the future. Go there and just pound out stories."
Snyder's been a writer or editor for other outlets as well, including Bloomberg and The New York Times. In 2017, he worked closely with former world tennis champion Billie Jean King on The History of World TeamTennis, a book about King's tennis league, which Snyder had interned for in 2011.
In 2003, David Zurawik was working full time as media critic at The Baltimore Sun and teaching in the Communications & Media Studies Department when then-President Sandy Ungar (a former journalist himself ) asked him to become faculty adviser to the student newspaper, The Quindecim.
Students writing and editing for The Quindecim "get the notion of media as a force for democracy—that if you don't have reliable, fact-based, vetted information, you have the potential for chaos and deception and all the other horrible stuff that goes on in America today," says Zurawik. "You have to believe in journalism. I think more people realize democracy isn't fixed and it's very fragile and it's an experiment that each generation has to not just believe in but contribute to, and that's where journalism comes in. There was a reason the framers put it in the First Amendment—the freedom of the press. They knew we needed this information."
After 32 years at The Sun, Zurawik left in 2021, signing on as a contributing media analyst at CNN the following year. He was also a recurring guest on CNN's Sunday morning show "Reliable Sources" for almost two decades until it was cancelled in August 2022. Zurawik says he plans to keep working in media along with teaching, "in part because media are changing so fast that if you're teaching newspapers as they were five years ago—most of those newspapers are not even there today," he says. "You have to stay engaged in media to help your students understand the landscape of today."
Matt Simon '09 was also a communication & media studies major. Like Green, Simon's formative understanding of the role of the media hails from childhood, but from a starkly different perspective. He noticed how his grandfather, an elected politician in Albany, NY, "interacted with the press and the power of their pen," he says. He got into journalism to help "expose problems, lift people up, and find solutions" to the issues we face. Simon is a senior executive producer at Newsy, the nation's only free 24/7 broadcast news network (expected to be rebranded as Scripps News in January 2023), and a member of the senior management team.
"My day-to-day function is to plan, produce, and execute special programs and projects. Right now, that includes a nine-week limited series on politics we are producing with The Washington Post, spearheading our election night coverage from the control room, and serving as lead producer on a major network-wide initiative to explore America's mental health crisis," he says. "The first month-long phase of that project concluded with a primetime event, featuring the U.S. Surgeon General and Elizabeth Smart," the woman who, at 14, was abducted and held hostage for nine months.
As undergrads, Green and Simon were both editors of The Quindecim. They dated Green's last semester at Goucher and, today, are married with two kids, a dog, and two thriving journalism careers. While they were drawn to their professions by different formative experiences, their goals as reporters are aligned.
Green recalls, "We worked on an article about a young woman who was hit and killed by a car crossing Dulaney Valley Road. It was horrifying. We covered that [story] as students together so we just know how to lean on each other in that way when we have to cover tough stuff. When I was out walking around in [2015 during the Baltimore] riots, [Matt] was tracking me on TV. He wasn't calling me telling me to get home. Our daughter was like, 6 or 7 months at the time. I had no business being out there. But he also knew that there was no way I was going to be anywhere else. So by having that friendship and partnership at Goucher, we just know how this works. And we can support each other in our respective careers as well."
Like all the other alums featured here, Monique Welch '16 was a communications & media studies major. She minored in music and was sports editor for The Quindecim. Welch says the internships and classes she took at Goucher, "and my involvement with the student newspaper, gave me insight into what the field would be like."
After nearly four years at the Tampa Bay Times, where she was a staff writer and digital producer, Monique recounts, "I worked hard to become a 'jack of all trades'—a multiskilled journalist recording and editing audio news briefings, recording live videos, reporting and writing about community news, and managing social media. [In June 2021], I accepted an opportunity at the Houston Chronicle, fulfilling a longtime goal of becoming a reporter." She is also an editor of the paper's "HouWeAre" newsletter, highlighting race, identity, and culture-related news in Houston.
What Welch loves most about her job is "being able to give a voice to the voiceless, to underrepresented minority groups—those who may not be able to advocate for themselves, and to hold those in positions of power or influence accountable," she says. "It's also rewarding to make an impact on someone's life from telling their story or experience."
As students at Goucher, each of these alums edited or wrote for The Quindecim. Each had at least one internship, and a few had several, at respected media outlets like The Baltimore Sun, WJZ-TV, and CBS News, that gave them experience in the fields they wanted to pursue. And each of them identified several professors, administrators, and staff members who mentored, challenged, and encouraged them.
As for Zurawik, he says, "I would like to leave a legacy of a firm concentration of journalism courses and study that continues what people like Erica, Matt, Ben, Jackie, and Monique have accomplished here."
(Photo at top): Matt Simon '09, in black jacket, at Scripps News