International student athletes make their mark at Goucher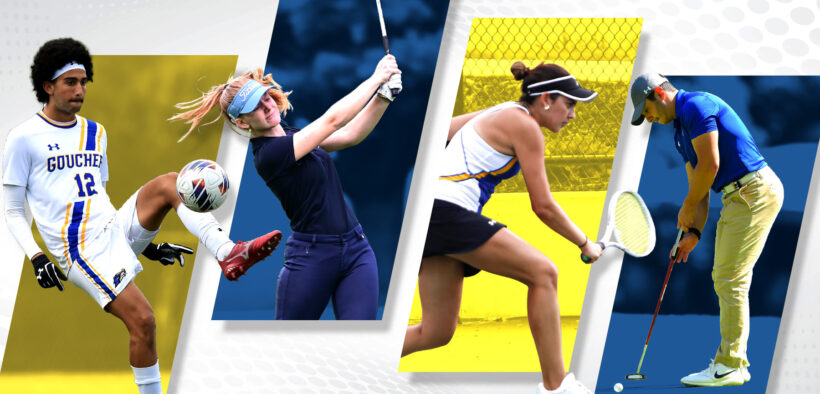 By Gregory Royce
If one scans the rosters or reads an event recap on the Goucher athletics website this year, it's easy to notice the number of international student athletes having an effect on the Gophers' fortunes.
No fewer than 16 student athletes hailing from outside the United States dot Goucher's rosters as of last semester, representing 13 different countries. Just this past fall, international student athletes have earned weekly and All-Conference recognition from the Landmark Conference, while several newcomers have had an immediate impact and figure to be in the mix for league and regional honors in the spring.
The most notable of those has been senior Ali Kazim Nakhid '23, who came to Goucher from Lebanon after a stint at UMBC. This fall, he helped lead the Gophers to one of the best seasons in program history while earning Landmark First Team All-Conference honors. Nakhid also is active on campus, serving as vice president of the Student Government Association and as an Arsht Presidential Diplomat.
Nakhid ended up at Goucher after playing pickup soccer with current teammate Bobby Beringer '24. He was set to transfer to another school, but after talking to Beringer and men's soccer coach Bryan Laut, he made the decision to come to Goucher.
"I felt like this is where I belong and where I needed to be," said Nakhid, who scored 11 goals this season. "I feel like here I've been given the platform and the opportunities to thrive not just in soccer but off the field, as well. We've got a great group of guys here, and they've been very supportive.
"When you leave home and come to the U.S. and try to adapt, it's a privilege to not be siloed. It's hard for a lot of people and that's how I felt my first two years, but (at Goucher) I've never felt siloed. I felt like I was welcomed from the beginning."
The longest-tenured current international student athlete at Goucher is Miguel Reider '23 , who has been at Goucher since the fall of 2019. Recruited to Goucher by former coach Hunter Brown to the fledgling men's golf program, the Mexico City native was a part of the Gophers' championship team in 2020 and shot a career-best round of 76 this fall.
"When I visited, I just liked the openness of the school. I really liked the coaches as well as the academic program," said Reider, who attended high school and played in Scotland. "I really enjoyed how open everyone here is and having a community of international student athletes, not only on the golf team but with the soccer team and some others, as well."
Natalia Navarro '26 came to the Gopher women's tennis team from Honduras and stepped immediately into the lineup at No. 2 singles. This fall, Navarro won all three of her singles matches as the Gophers went 2-1, with her win against Lebanon Valley in September breaking a 4-4 tie and clinching a 5-4 win against the defending MAC Commonwealth champions.
"I like that Goucher is a small campus, but it's close to major cities like Baltimore and Washington, DC," said Navarro. "I also came here because of my coach [Steve Baum '11]. He really made me look at the tennis program and the academic programs, and the schedule is similar to what I had done previously.
"We had a good fall season, we had a really good training schedule, and my classes are going really well," she said. "I've had some culture shock and some homesickness, but I'm working through it. It's nice that there is a large international student population on campus, as they're all going through similar things and it's a strong community."
Like Navarro, women's golf student athlete Iseline Schenk '26 is in her first year at Goucher. Coming from the Netherlands, Schenk was recruited by associate head coach Jan Jedlicka, a Czech Republic native who played collegiately in Missouri before coming to Goucher as the then-golf graduate assistant in 2020. Schenk has benefitted from having a coach who has gone through the process of learning and competing in a foreign country.
"[Jan] said to me that you can come to me and talk, since he had the same experience adjusting to a different culture, and it helps that he's young and went through it not that long ago," said Schenk, who tied a program single-round record with a score of 81 this fall. "My team's been very welcoming, even though they're all American. They've said if you ever need a family dinner you can come home and have dinner with my family. That was a big part of me choosing Goucher.
"It's a tight group of international students on campus, and it helps to have people on campus who have the same experiences as you. Where I'm from, the culture is not that diverse, so it's been cool and nice to have so many people from different backgrounds and learning from each other."
As the Gophers continue to excel on the fields, courses, and courts, it's a safe bet that international student athletes will be playing a part in that success now and into the future.