New & notable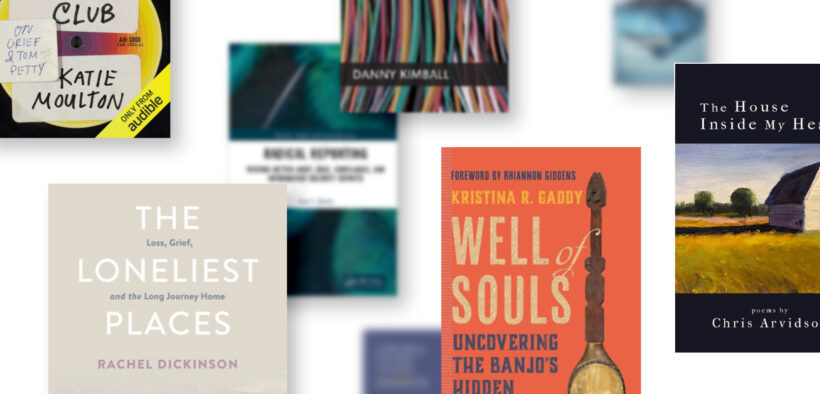 Recent books from the Goucher community
*
The House Inside My Head, by Christine Arvidson, M.F.A. '05
Finishing Line Press
Chris Arvidson's The House Inside My Headis a poetry collection that speaks to both your head and your heart. Full of rich detail, the book is a travelogue through her neighborhood, down I-77, and across the world. Told with keen humor, the poems are authentic and honest attempts to reckon with our politics, pandemics, and relationships. This is poetry for grown-ups, grappling with the state of our own worlds, sharing both insight and delight.
Dead Dad Club, by Goucher Lecturer Katie Moulton
Audible
Dead Dad Club is the memoir of Katie Moulton, a music critic who grew up in a die-hard rock-and-roll family. The story concerns her father's unexpected death from addiction shortly before her 17th birthday, and the music obsession she inherited from him that shaped her early adulthood. It is a quintessentially American tale that follows Katie as she navigates her grief and works as a radio DJ, spinning records that defined her father and her relationship to him. The book is scored with original music by Pinegrove's Evan Stephens Hall.
The Loneliest Places: Loss, Grief, and the Long Journey Home, by Rachel Dickinson, M.F.A. '15
Cornell University Press
These essays began as a chronicle of Rachel Dickinson's life after her son's suicide. Dickinson writes the unimaginable and terrifying facts of heartbreaking loss. She tells stories from her months on the run, fleeing her grief and herself, as she escapes as far as possible from the memories of her son, Jack. She relates the paralyzing emotion that sometimes left her trapped in her home, confined to a single chair, helplessly isolated. Conjuring Emily Dickinson, however, she describes how hope was sighted, allowed to perch, and then, remarkably, made actual.
Radical Reporting: Writing Better Audit, Risk, Compliance, and Information Security Reports, by Sara I. James '91
Routledge
Most people dread writing reports; they also dread reading reports. What they don't realize is that the techniques that make writing more readable make it more powerful. This is especially relevant for professionals in audit, risk, compliance, and information security. This small volume provides the tools needed to improve reports. It does so through addressing crucial concepts all too often overlooked in the rush to meet deadlines—the role of culture in communication; the link between logic and language; the importance of organizing thoughts before writing; how to achieve clarity.
Well of Souls, by Kristina R. Gaddy, M.F.A. '15
W.W. Norton
Kristina Gaddy uncovers the banjo's extraordinary role in the history of Black spirituality, ritual, and rebellion. She tells of the banjo's beginnings in the 17th century, when enslaved people of African descent created it from gourds or calabashes and wood, and how the enslaved carried this instrument throughout the Americas. African Americans came together at rituals where the banjo played an essential part. White governments, afraid that the gatherings could instigate revolt, outlawed them without success. In the mid-19th century, blackface minstrels appropriated the instrument for their bands, spawning a craze. Eventually the banjo became part of jazz, bluegrass, and country, its deepest history forgotten.
Cultivating Feminist Choices: A FEminiSTSCHRIFT in Honor of Ruth-Ellen Boetcher Joeres, by Brigetta Abel & others
University of Victoria Libraries
A Festschrift is a book of collected writings by different authors offered as a tribute to an important scholar, in this case Ruth-Ellen Boetcher Joeres '61. The book pays tribute to Joeres' influence on the field of German studies, as well as to her influence on the contributors' lives. Joeres is most known for her feminist scholarly contributions to women's writing in the 18th and 19th centuries, including her book Respectability and Deviance: Nineteenth-Century German Women Writers and the Ambiguity of Representation (University of Chicago Press, 1998), and her collaborative feminist editing practices.
Claiming Value: The Politics of Priority From Aristotle to Black Lives Matter, by Alena Wolflink '13
Routledge
Using genealogical, conceptual-historical, and interpretive approaches, Alena Wolflink argues that abstractions of value discourse in both economic theory and moral philosophy have been complicit in devaluing the lives of women, queer people, and people of color. She further argues that value claims nonetheless hold democratic potential as a means of defining priorities that center the role of political economy in the making of political communities. Claiming Value is an accessible work of political theory for students in courses on political theory, moral philosophy, social theory, economic theory, democracy, and social inequality.
Net Neutrality and the Battle for the Open Internet, by Associate Professor Danny Kimball
University of Michigan Press
Net neutrality began as a technical principle informing obscure policy debates but became the flashpoint for an all-out political battle for the future of communications and culture. Today, net neutrality is a crucial standard of openness in network access. This critical cultural history tells the story of how activists and millions of everyday people, online and in the streets, challenged the power of the phone and cable corporations that historically dominated policymaking in communications. The book offers lessons for communication and media scholars, activists, and anyone interested in technology and politics.