Dancing on a world of possibilities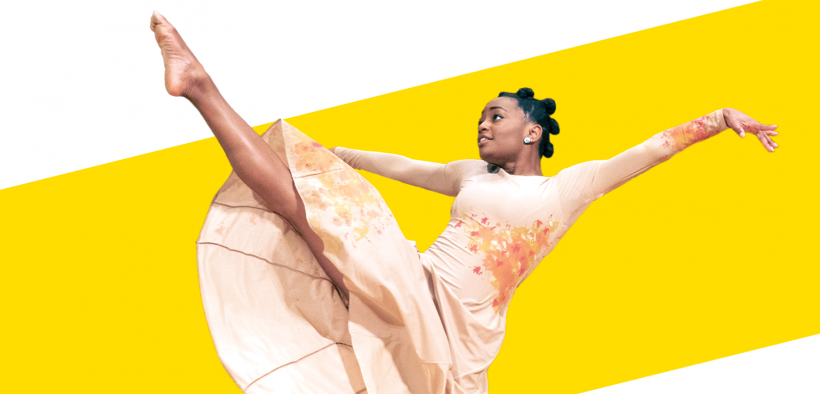 By Natalie Eastwood
Rebecca Friedman '09 and Peter Commander '09 meandered, maybe even floundered, in their first four years after graduation. They have regrets. But they also have success. And they have proof of the latter in the sacrifices they have made to create and run a performance company and dance school: Charm City Ballet (CCB). Their advice for recent dance graduates comes from their mistakes—they'll be the first to tell you they didn't do it all right.
When you ask the couple about those first few steps after graduation, they might laugh, but not because it was funny.
"Sorry, I laugh because it was a little bit of a mess," Commander says.
"It was," Friedman agrees.
Commander walked dogs, Friedman nannied, and they both taught dance classes at local studios. Neither knew where they were going, only that whatever they did, it must involve dance.
In 2013, they started hosting once-a-week drop-in classes, and in 2015, they founded CCB to create full-length ballet productions. They rented space once a week from another studio, teaching class in the morning and holding rehearsal in the afternoon while continuing to walk dogs and nanny. In December, they held their first show. They operated this way for two years before finding their own rehearsal space in Cockeysville and broadening their company into a dance school.
CCB has grown to produce two annual shows with 60 to 80 dancers, more than double their first cast of 32 dancers. The audience has grown, too, and the shows have moved from a 350-seat theater to a 550-seat theater. Their goal is to make CCB their full-time job, because although they're already working 40-plus hours at CCB, they're still walking dogs and nannying. CCB isn't a moneymaker, they say laughing, but it's their dream.
Commander wonders how he hasn't gotten tired of this lifestyle, but he loves it, putting in extra time to teach classes in the evenings and offering training sessions to dancers who want to become professional performers. Friedman even enjoys the non-dance related parts of the business, such as the administrative and marketing tasks, and they both use their free time to sketch out choreography and host rehearsals for the performances.
Their biggest regret is never attempting to become professional dancers.
"It'd be one thing if we tried and failed, but to not have tried—" Commander says.
"And to never know," she finishes.
"And to never know," he echoes. "To be neither successful nor have failed and to just be nothing is so much worse than trying and failing."
But that's why they're doing what they are now—offering space for professional dancers to rehearse, creating high-level performances, and mentoring the next generation of dancers. And they still dance, performing a short duet within each show.
"We sound like we're really bitter and like we're not happy with what we're doing, and that's not true at all," Friedman says lightheartedly. "We have regrets, but because of those regrets, we're here doing this now and helping people to not have those regrets in the future."
"It's very fulfilling," Commander says.
Just don't let fear be the reason you never try.
"Not just fear of failure, because that's in and of itself potentially detrimental, but fear of success tends to be just as powerful if not more so," Commander says. "The question is, Are you actually willing to make the sacrifices? If you're successful, you will have to give up certain things. It might be your location, access to friends and family; it might be time, a lot, a lot, a lot of time."
Julie Segall '09 gave herself two years to dance in New York City while she took prerequisites for physical therapy school. The experience wasn't a matter of failure or success, but just an opportunity to dance and sometimes get paid for it, she says.
After her two years, Segall returned to school and became a physical therapist for Neurosport Physical Therapy, where she works primarily with Broadway dancers. Her insider knowledge helps her identify why a dancer's form is skewed or aid a dancer's recovery from injury.
Segall crafted her plan before she left Goucher, majoring in dance as a non-performance major with a concentration in dance science. When she arrived in New York, just after graduation, she got a job at the front desk of a dance studio that no longer exists. A friend told her to put herself in the center of the dance world, even though that meant she wouldn't be on stage right away. And when she did find the stage, the term "professional dancer" felt off base to her because dancing wasn't paying all of her bills, she adds.
"Working at the dance studio, I ended up meeting a lot of choreographers and getting to know different dancers and dance teachers. I ended up getting more jobs by meeting people and becoming friends than by auditioning," Segall says.
She also had a network of Goucher alumnae/i trying to make it in New York—Emma Batman '08, Mathew Heggem '07, and Bridget Struthers '09 all helped one another. Segall danced extensively with Batman and Heggem's dance company, and all three alumnae/i have continued their success in the dance field.
Even today, if Segall reached out to her Goucher connections, they would be happy for an extra body on stage, she says. As it is, she doesn't have time to rehearse for performances, but she takes dance classes and is experimenting with theater tap.
In her last week as a professional dancer, she sprained her ankle. Segall had several shows that week, one of which was a major performance, but she couldn't dance—there was no way, she says. That show would have been a great way to end her career as a professional dancer, but it wasn't meant to be. "That oddly enough ended up being my transition into PT school," Segall says.
Despite the less-than-ideal ending, Segall is glad she made a two-year pact with herself to do what makes her heart soar. "I loved rehearsing, and I loved performing even more," she says. "It was wonderful and exhilarating. It's why I did it."
Her advice for performers: "It really is all about meeting people. If you find a choreographer who you like, you go to every single one of their classes because that's how the choreographer gets to know you."
It takes perseverance, Segall says. Now more connected in the community of her dance patients, she sees how hard they work to make it as professionals. "If you have the skills and you have the willpower, at some point you will get a job," she says.
That's where several of Goucher's dancers are now, looking for their first jobs and discovering all that they can do with their dance majors.
Jamison Curcio '19 is a community-engagement summer intern for Jacob's Pillow, a dance center, school, and performance space in Massachusetts. The prestigious internship matches Curcio's career goals perfectly. Coming into college, Curcio already knew her identity was rooted in more than dance, which is why she created a program that incorporated her many interests. Her individualized interdisciplinary major was performance art for social justice, and her second major was in women, gender, and sexuality studies. "I think there's something really beautiful about dance in that it's not a one-track, single-narrative field," Curcio says.
She hopes to use her knowledge and degree—products of her privilege—to set the stage for others, she says. Dance should be available for everyone as a performer and audience member, but it is often politically charged and European-centric, which makes it less accessible for minority groups and those of color, Curcio says. "All of our voices are valuable. That's something I want to push in everything I do going forward so that the things I do don't feel like work—they're a passion and going toward something of value," she says.
Curcio co-founded Goucher's Dancers of Color Coalition and she is now president, which has helped fuel her inner sense of responsibility to create spaces for the underprivileged and underrepresented. She hopes Goucher's Africanist dance genre—a hybrid of many dance styles and a pushback against more traditional forms of dance—will make the stage in Kraushaar Auditorium and the Dance Program as a whole more diverse, Curcio says.
In addition to her social justice efforts, Curcio has danced with three companies while at Goucher, including Christopher K. Morgan & Artists in Washington, DC, this past spring. She knows herself as a dancer and will continue to perform after graduation, but only with choreographers she has a relationship with and who are working toward a similar dance narrative.
She uses anger to portray combativeness on stage, mirroring the self-described bluntness of her personality.
"Dance has taught me to be, or that you have to be, unapologetically yourself," Curcio says. "It is the most vulnerable art form, and you are putting yourself out there, your physical body but also how you process different ideas and emotions. All of you is out there for everyone to see, so you have to be comfortable with who you are, no matter the genre, the style, the character that you're performing."
Curcio is equally confident as she approaches her career, but she's not without fear, although it's not for herself. Curcio's greatest fear is failing the people at the outskirts of the dance world, she says. If she makes a mistake or doesn't receive grant funding for an organization, the result could be lost opportunities for others. Curcio feels this responsibility like a shoe peeling away the skin at the base of her heel— unyielding, throbbing.
Her advice for herself is the same for others: appreciate the little things without losing focus of a bigger goal; use everyday experiences to build your career in dance; and be yourself, especially in a field as competitive as dance. "You have to handle whatever's thrown at you, and if you can't, well, you're a dancer—you can finesse anything," she says.
These wisps of guidance and inspiration follow her everywhere in the form of fortunes tucked into the back of her phone case. They are glimpses of the future, notes from the universe. "All your hard work will soon pay off," one says, and knowing that things in her life will fall into place helps Curcio focus on the path that will get her there.
What you need to know
All Goucher dance professors play key roles in preparing and supporting students as they navigate their college years and enter the multifaceted world of dance. Along with other dance faculty, Professor Elizabeth Ahearn has taught career readiness in the program's senior capstone courses. Ahearn has some helpful nuggets to those pursuing careers in dance.
Do your homework. Start by figuring out a general direction that interests you within the dance world. Careers include performing or choreographing, stage management, teaching, running a studio, photographing dancers, writing about the performing arts, physical therapy, or dance therapy, which uses movement to address physical and emotional health issues.
Update your website. In Ahearn's senior capstone class, students create either a website—complete with an artist statement, resume, dance reel, and professional dance photos—or an eportfolio, which might contain writing samples, lesson plans, and links to creative work.
Use social media to promote yourself. You have control over the imprint you have on the world, so you should capitalize on your influence over others' perceptions.
Go to dance performances, classes, and conferences because you will meet others in your field, and you never know when that may become useful.
Find a dance community. You've probably grown up with a tight-knit group of dancers, and it's vital to seek out dance studios that offer classes and opportunities for adults, no matter what direction your career takes you.
Most importantly, students should know they can always return to Goucher for guidance, as it is not unusual for any of the dance faculty to be contacted by former students who seek career advice.