First jobs (after college)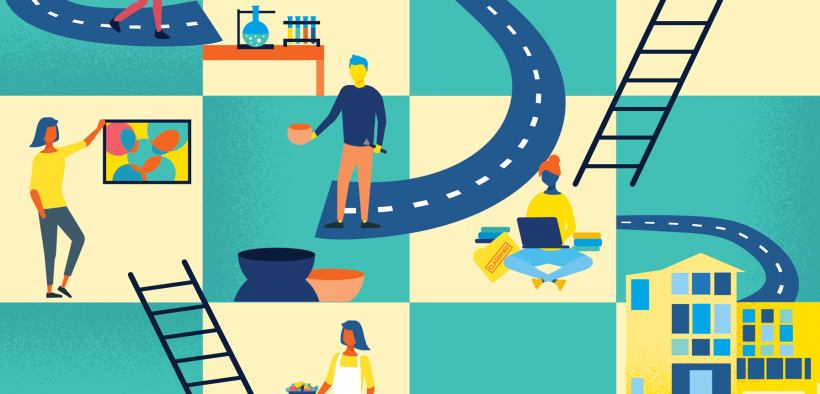 First jobs teach us a lot. Our first jobs after college can help start our career paths, or help us decide to do something else. Whether your first job was in line with your passion or just something you did to make money, these six alumnae/i stories will remind readers young and not-so-young that there's no wrong way, or place, to start your career.
Angie Boyter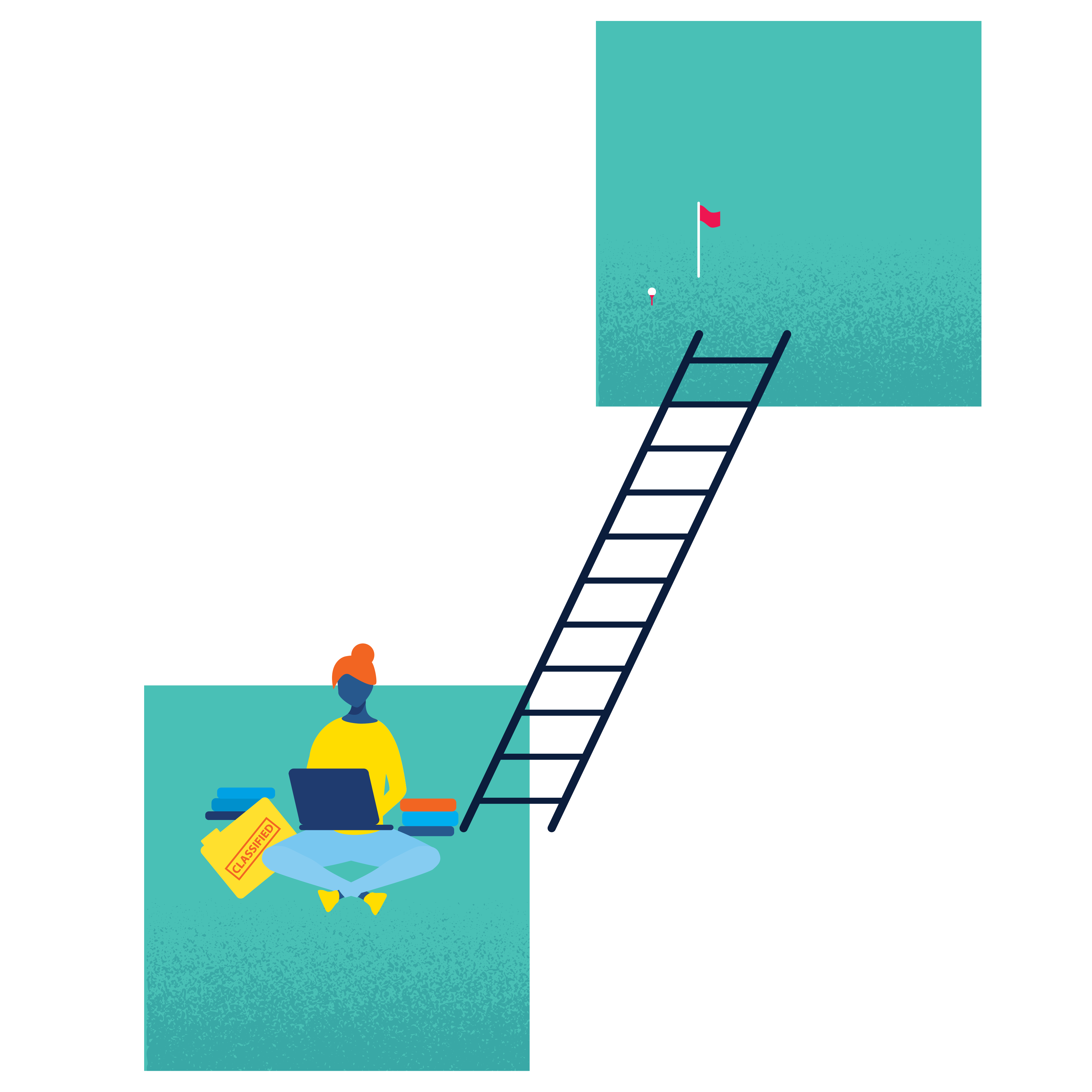 Angie DiCarlo Boyter '64 won't say what, exactly, her first job was. She worked at the NSA, or as the joke about the secretive institution used to go, No Such Agency.
When Boyter graduated from Goucher College in 1964, the world outside saw her only in one way. "You have an English degree from Goucher!" the people around her said. "You'll make a wonderful executive secretary," they said.
Even Goucher's vocational office had Boyter fill out a form that asked for her typing speed and shorthand skills along with the rest of her resume. "My reaction was that my parents did not make the significant sacrifices they did to send me to Goucher so that I could get the same kind of job my mother had," she said.
Boyter grew up in Maryland's Anne Arundel County, not far from NSA headquarters. A friend of hers who couldn't afford college worked there. When the friend suggested Boyter apply, too, Boyter said, "NSA? Do they hire college graduates?"
The NSA was something of a unique place in the mid-1960s. From her first interview there, it was obvious to Boyter that they regarded her as seriously as they did the male applicants.
Her prospective employers looked at her resume and saw her aptitude scores. Boyter majored in English and minored in French at Goucher, but she had also taken some math and physics classes in order to talk to her physicist boyfriend. Instead of giving her a typing test, the NSA asked if she would like to learn Russian and computer programming.
"What do you think I said?"
Boyter worked for the NSA for 30 years. It wasn't perfect, she said. But compared to other branches of the federal government, the agency was much more equitable. In her first position there, she worked with both Black and female programmers.
The NSA also supported Boyter's education. "I became a CPA and earned two master's degrees at Hopkins, in math and engineering, at their expense," she said.
But what was Boyter up to for all those years? "I can't really say much about what I did at NSA," she said. (Insiders leave "the" out of the name.) "But the work was challenging, important, and varied."
By 1994, though, the Cold War was over. "The government thought we had no enemies left," Boyter said wryly. So the agency offered incentives for early retirement, and Boyter and her physicist-boyfriend-turned-husband, who also worked there for 30 years, did the math.
"I added up our pensions and said, 'We can live on that!'" Boyter remembers. She was 49. The two retired and have had 25 years so far to take on other interests.
"I'm glad NSA didn't just hire high-school graduates," Boyter joked. "I'm glad they gave me a chance to continue to learn and grow beyond my Goucher years. And I am glad Goucher provided the education I needed to rise to the challenge."
Alex Kovacs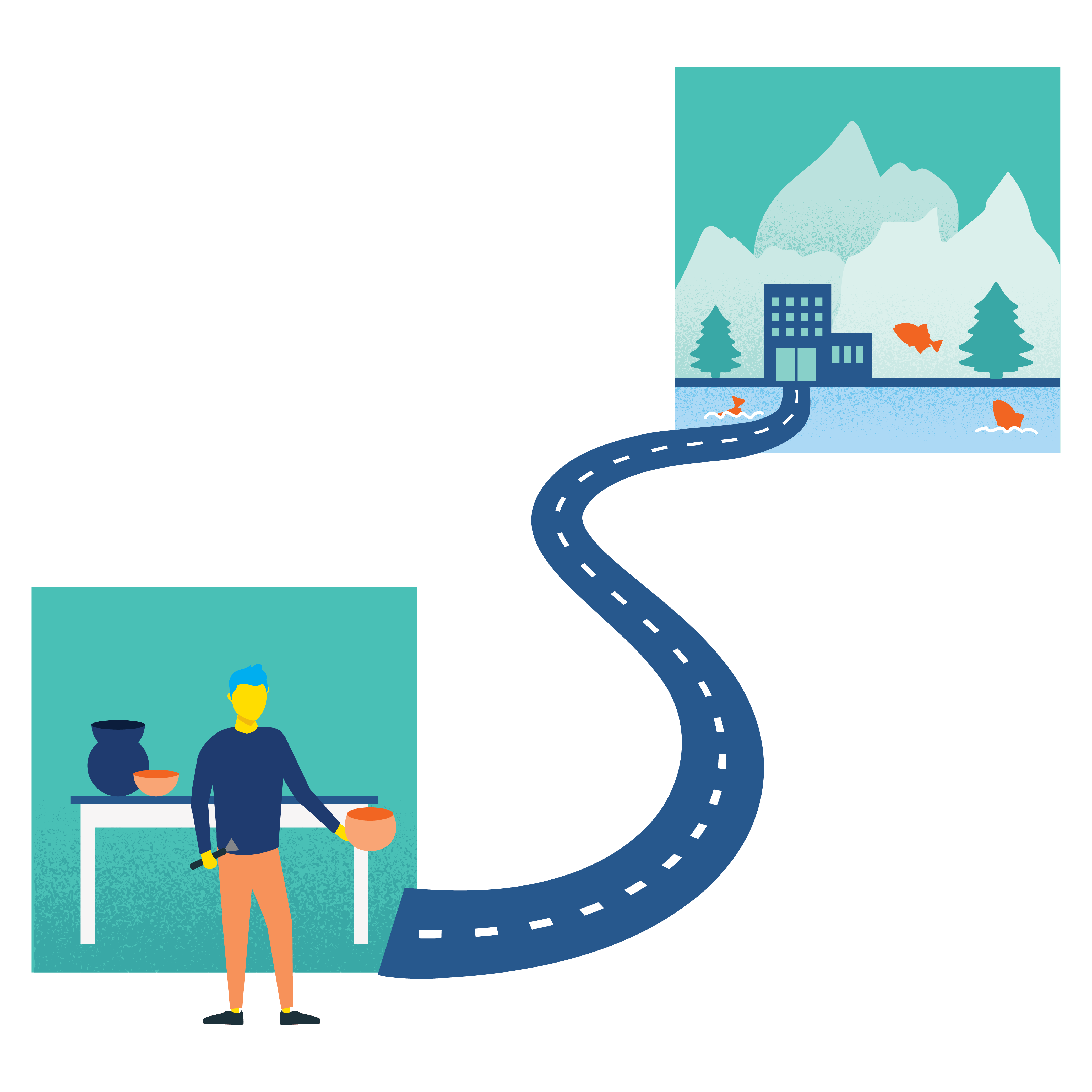 Alex Kovacs '14 was living in a dorm and spending his days working with people who, despite coming from very different international backgrounds, found deep friendships in each other.
Sounds like Goucher, right?
In fact, Kovacs was working at a fish cannery in Alaska. It wasn't quite his first job after college—that was as an artist and framing assistant at New Standard Frames, a Baltimore company that makes art frames. He started that job while still at Goucher, and it taught him a lot about art and craft, giving him handy skills, especially skills with his hands.
But Kovacs wanted to travel, and he heard about an opportunity to work in Alaska at a fish cannery—several other recent Goucher graduates had done it. It was well-paying summer work; the job would mean two months of doing little else.
That summer, in 2016, Kovacs worked the cannery night shift. He woke at noon and walked to the factory to start work soon after. Although he had several meal breaks, his shift didn't end until 6 a.m. Back at the dorm, he'd shower, go to bed, and be up again the next afternoon.
"It's a really long day," he said, putting it mildly. He also worked seven days a week.
It was a grind, but it had its moments. Although Kovacs was one of the few white and college-educated people working there, he made close friends, many of whom were from Mexico or the Philippines. His best friend at the cannery came to the U.S. as an infant in order to escape a cartel his father had been involved with. Now, the friend worked so he could pay for his mechanic education, with the goal of working on an oil rig to pay for college—he wanted to study botany. His friend's drive left a deep impact on Kovacs.
There was also something meditative about the job. "It was almost a monastic experience," he said. "My mind was very clear toward the end of it because I didn't have any distractions, a cell phone or television or anything. You're just living in your head."
The best part of the job was saving enough money to travel. When the two months were over, Kovacs spent the next year abroad, traveling to South Korea for two months, Japan for three, then to Vietnam, England, and Sweden.
He went back to the cannery again the next summer, this time promoted to quality assurance. His days started at 5 or 6 a.m. as he performed an hour-long inspection before the other workers arrived.
Kovacs traveled after his second season at the cannery, and ended up visiting Burlington, VT. He liked it enough to stay, and he's been there ever since. He's still working with his hands—Kovacs now makes ceramics, spending long days in his studio when he's not helping at Burlington City Arts, where he teaches some clay classes and works in a studio assistantship position.
Will he finally stay put somewhere? "I don't think I'll settle down here forever," he conceded, "but it's pretty cool for the time being."
Jinny Weiss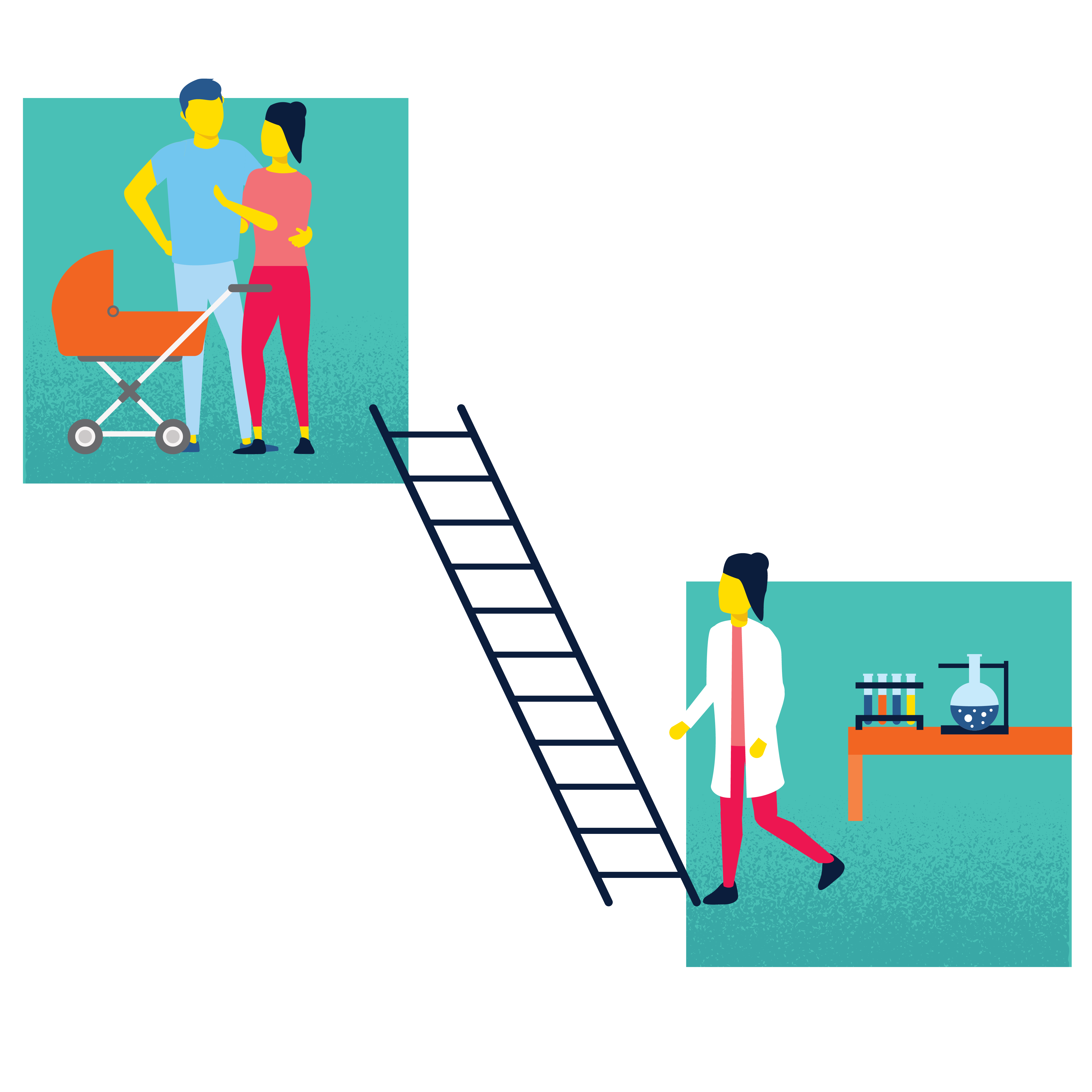 Virginia Weiss '40, known to her many friends as Jinny, graduated from Goucher at only 20 years old and went to work at the clinical chemistry lab at Johns Hopkins Hospital. The job paid $70 a month.
The lab did wet chemistry, which uses classical methods on chemicals in their liquid state (before the days of more sophisticated equipment). Weiss and her colleagues, who were other young women, tested urine and blood.
A chemistry major at Goucher, Weiss liked the job. "It was a continuation of what I was doing at school," she said. She loved walking from her home in Bolton Hill to the hospital in nice weather, and bonding with the other women over the messes the overnight interns left.
But not even a year into her new life, the U.S. entered World War II. Manufacturing jobs exploded. "I had the chance to go analyze raw materials at Western Electric," she said, which had a plant down on Broening Highway in Baltimore. Much of the work involved quality control for telephone wire, analyzing copper and tin. At different times, there were up to five other Goucher women working there. And it came with a better salary: $25 a week.
But Weiss' war efforts didn't stop there. In 1943, she took a leave of absence to join the Army teaching medical lab technicians. She did that work until the war ended two years later.
Coming back to Baltimore, Weiss took advantage of the GI Bill and began to take classes at Johns Hopkins' medical school, while also doing research at a hospital lab. "It was something to do with organic chemistry," she said, "although I must say, I don't remember." She excelled in her courses, but found research uninspiring.
"I decided it wasn't worth the struggle," she said, to invest so much time and effort in something she wasn't really interested in. Weiss realized she didn't have to keep doing something just because she was good at it.
Weiss married in 1949, and stopped working to raise her four children. She has lived close to Goucher for much of her life, and has never stopped taking advantage of the lectures and concerts that proximity affords. At 98, Weiss can still be spotted gardening, exercising, and even road tripping, as she did through New England with a daughter last year. If it's still fun to do, you can bet Weiss is doing it.
Kim Shaffir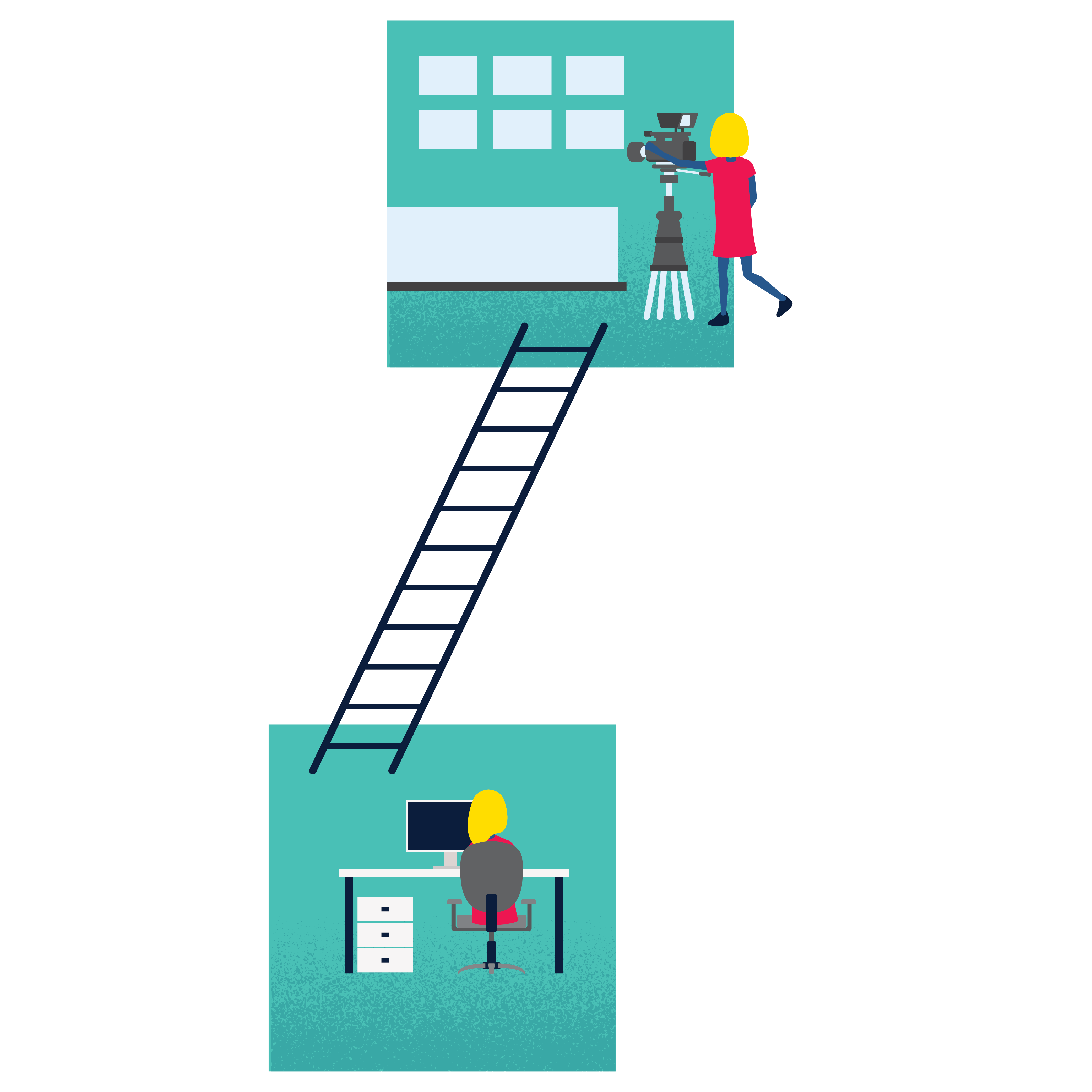 Kim Van Newkirk Shaffir '83, P '15 was in the last semester of her last year at Goucher when she took a video production class as part of her communications major. The department chair, Brownlee Corrin, had hired two technicians from WMAR-TV, the local NBC news affiliate at the time, to check that all the equipment for the class worked properly.
One of the technicians took Shaffir and her classmates on a tour of the TV station, where he mentioned that all the local stations hire "summer relief" technicians. It would be a good way to get your foot in the door, the tech said. "I applied," Shaffir said, "thinking they would never hire me."
But then she was called in for an interview with the head engineer. At the time, WMAR aired all of the Orioles' games. Shaffir and the engineer chatted about the baseball team, as well as her time at Goucher. A few days later, they hired her.
Shaffir started working full time during her spring break that March. Within a week, the team trusted her to operate the studio camera for the 6 and 11 p.m. news broadcasts. The job was supposed to be a six-month position through the summer of 1983, but that year, the Orioles made it to—and won—the World Series. Shaffir stayed at WMAR for an extra week to help cover the American League Championship Series.
"They told me to keep in touch, and that they would love to have me back the next spring," Shaffir said. There might even be a permanent job opening, since they were expecting some retirements. So Shaffir got ready to wait. But only a month later, an engineer from the station called her and told her that CBS in Washington, DC, was hiring.
Shaffir sent her resume, and got an interview with the deputy operations manager. It turned out that he had worked at WMAR, too, and had gone to Johns Hopkins University. When he noticed that Shaffir had gone to Goucher, he mentioned he once had a girlfriend there.
"He must have had fond memories of that relationship," Shaffir said, "because I got the job!"
Shaffir has now worked at CBS' Washington bureau for over 35 years, doing it all. She covered the Capitol, the Pentagon, and the White House, and was the producer/ editor for Face the Nation for over six years. In 2013, she received an Emmy with her team for their program on the 50th anniversary of the JFK assassination.
In early 2018, Shaffir was promoted to digital media operations manager, in charge of the bureau's transition to an all-digital editing system. For Shaffir, a foot in the door was all she needed—she did all the rest.
Ariel Foster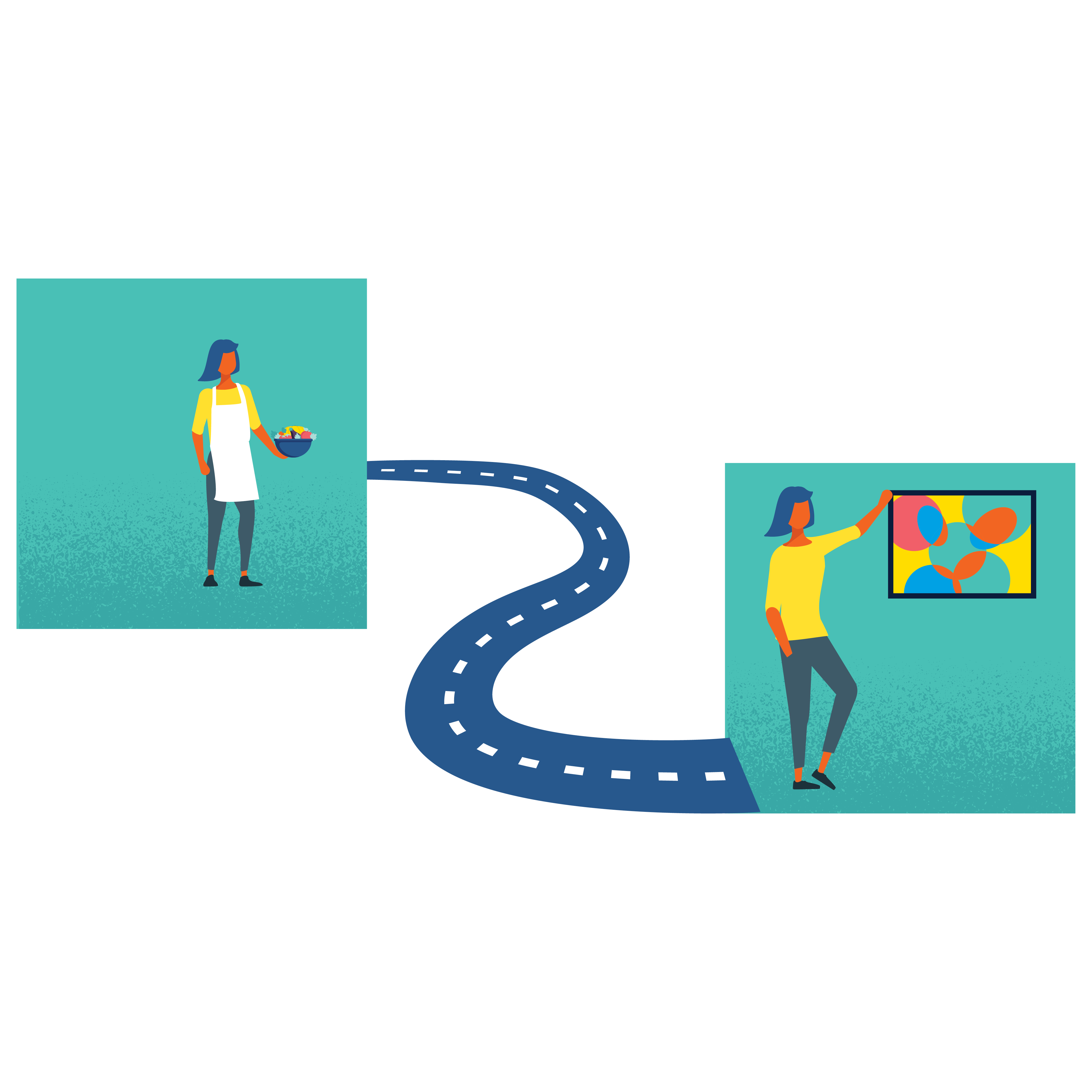 When Ariel Foster '16 graduated from Goucher, she needed a job. She was living in Baltimore City and wanted only to support herself. She found what she was looking for at Gertrude's, the upscale restaurant inside the Baltimore Museum of Art.
Foster is an artist with an interest in arts administration. "It's one step closer to being in that world," she thought. Seeing the faces of the organization every day, developing a network of people in art, was invaluable.
But Foster knew she wanted to be a part of the art world as much as she was around it, and working in a restaurant didn't leave her much time or energy to apply elsewhere. Foster gave herself a deadline: She would work at Gertrude's for one year, save as much as she could, and then, she said to herself, "I'm going to take a leap of faith and leave."
After a year, Foster quit and lived off her savings as she took on freelance graphic design work and went to art exhibits. She made artwork for a local coffee company, Dear Globe Coffee (and worked as a barista sometimes, as well), and did part-time work as a gallery assistant at the Guest Spot, an exhibition space. She spent a lot of time at her art studio, working on her resume and job-hunting.
"It really is a full-time job, looking for a job," Foster said. Then she heard about the Urban Arts Leadership (UAL) fellowship, a program offered by the Greater Baltimore Cultural Alliance that offers development and networking opportunities. She had quit her server job in March 2018, and by September, she was in the program.
The first four months of the 10-month UAL fellowship had Foster going to workshops and conferences as she was introduced to communities and people in the arts administration world. Then, she was placed at Baltimore Clayworks as an in-house fellow. Foster is still there, and loves it.
"I'm curating a show, I'm on their equity committee, and I'm an evaluator for a workforce community class," she said.
Foster is also building her name as an artist. In the spring of 2019, she took part in a group exhibition at Goucher's Silber Gallery called Foliaform. Foster, with her collaborator, Erick Antonio Benitez, makes tapestries by printing on fabric with linoleum. She uses her body movement in place of a press. "I dance over my carved linoleum blocks to imprint images on fabric," she said.
She accounts for her recent successes with her philosophy of life and work: Remind yourself about what you want, set your mind, and try to get a clearer and clearer vision of how to get there.
Eunbi C Kim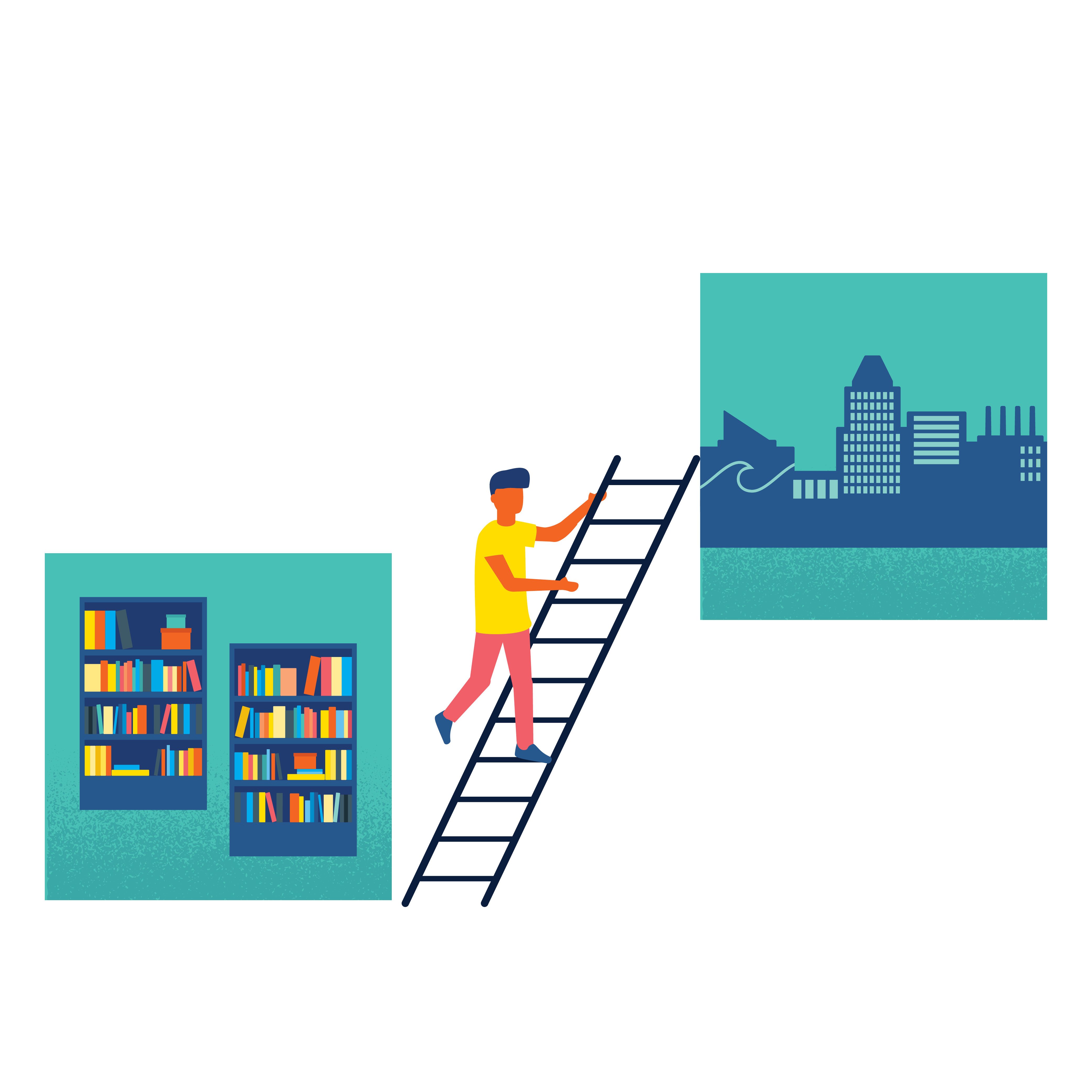 When you grow up in a place where you don't see yourself in the people around you, you can spend a lot of time thinking about the power of community.
Eunbi C Kim '15 was born in Los Angeles but moved to Arkansas with their parents as a child. Kim was eager to leave the state. "As somebody who identifies as a queer person of color, I feel like I had to escape to be more accepted," they said. (Kim's pronouns are they/them.)
Kim read Colleges That Change Lives, and Goucher's study abroad requirement captured their attention. At Goucher, they fell in love with Baltimore. That love solidified during the Baltimore uprising in 2015, a response to police brutality and the arrest and death of Freddie Gray.
Kim, a peace studies major, developed their senior capstone on Black and Asian relations during the 1992 Los Angeles riots as a cross-analysis of the Baltimore uprising. "I was deeply invested in making that kind of change," they said, "fighting against what we call horizontal hostilities, which is when people of color are pitted against each other. That's how white supremacy thrives."
In response to the uprising, they also began organizing with BARS, or Baltimore Asian Resistance and Solidarity, a leftist group created to bring support and education to community organizing efforts. A friend they were organizing with was working at Red Emma's, a workercooperative vegan restaurant and radical bookstore. Kim worked there for two years, learning how to manage a business and how to work with community groups.
Through Red Emma's, Kim, who had also interned with the United Nations High Commissioner for Refugees, got involved at the Baltimore Free School, a skill-share hub that offers classes on topics like gender equality, coding, and painting.
A nonprofit called Fusion was sponsoring Baltimore Free School, and Kim's relationship with the group grew. Last year, Kim started working at Fusion full time as an administrator and recently became a partner engagement coordinator, helping manage grants and collaborating with programs like the Free School and Baltimore Racial Justice Action, which has worked with Goucher College, as well.
"I'm basically aiding the rock stars of social justice in Baltimore to do what they do best," they said, "which is to activate spaces and work on programming while we take care of the finances and manage the grants." Kim traces their work back to that time in Arkansas, feeling like an outsider. "Baltimore accepted me for who I am," they said. "This place is very important to me and I've always wanted to give back."