First cohort of Goucher Video applicants graduates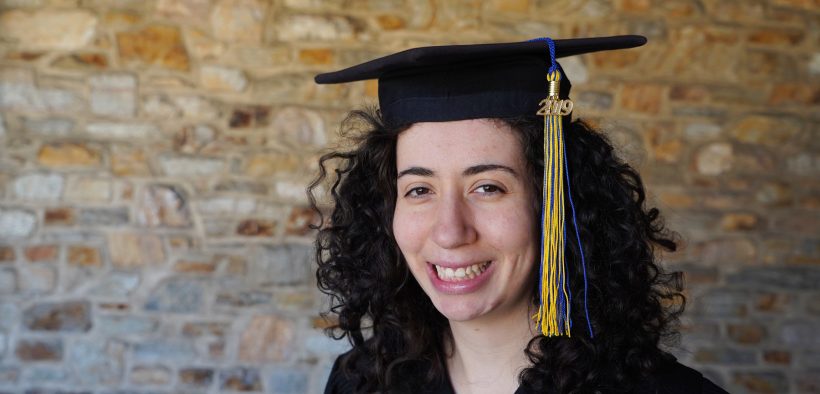 By Tara de Souza
Some decried it as an "experiment" and a "publicity stunt." Others viewed it as lowering the standards for college admissions. When it launched in 2014, the Goucher Video Application (GVA) was the first of its kind in college admissions. The first cohort of GVA students graduated in May 2019, some of them with honors, and these GVA graduates have proven the skeptics wrong.
"Some people thought we shouldn't be here," says Mitchell Moran-Kaplan '19. "People asked if we were smart enough to finish Goucher, and, to some degree, being a GVA student drove me to do better."
His GVA, which featured clips of him playing rugby, included ambitious plans at Goucher like solving the Middle East peace crisis and creating a Goucher rugby team. While he admits the first goal has alluded him, he did petition to create a rugby team but wasn't able to secure enough student interest.
Marissa "Moe" de La Viez '19 took a more stylistic approach to her GVA, as she paid close attention to the posters lining her background and to the music used in editing. De La Viez is interested in pursuing video editing, especially music videos. The GVA was a perfect fit for her interests: "Video is what I want to do, and the [GVA] definitely put Goucher as the front-runner of where I wanted to go."
For Allie Sklarew '19, Goucher was one of her top college choices, and she and her parents were apprehensive for her to apply via the GVA. She remembers her parents saying, "You have a good chance to get in, and we don't want this two-minute video to dictate your future."
Her college counselor convinced them otherwise, and she got to work on the video. A theme quickly emerged for her—the power of words. Sklarew's video included clips of her prior high school speaking engagements, and in putting together the GVA, she recognized the evolution of her story from being shy to owning her work and accomplishments.
While Sklarew and de La Viez each had concerns about not applying traditionally, Moran-Kaplan was fed up with the repetitiveness of the college application process and found the GVA a refreshing antidote: "I thought there should be more diversity of analyzing what students value. The GVA was like a college admissions interview without the interview step in the application."
Much like the creativity they poured into their GVAs, de La Viez and Sklarew each shaped their Goucher education through independent interdisciplinary majors (IIM), while Moran-Kaplan petitioned to create the Arabic studies minor and found faculty and student support to launch it during his sophomore year.
Moran-Kaplan says his favorite thing about Goucher has been all of the people he has met, his friends and his professors. He has been an active member of the community over the past four years, playing intramural soccer, participating in the beekeeping club and Jewish life events, and pursuing his interest in photography.
De La Viez, one of the first Rhoda M. Dorsey Scholars, has been a teacher's assistant for Goucher Professors Mary Marchand and Phaye Poliakoff-Chen, as well as a first-year mentor and Zumba instructor. "I am a Goucher success," says de La Viez. "I've made the most out of my four years here, met so many incredible people, and my resume is pretty lit."
As part of her Goucher class work, de La Viez has edited a music video and made a web series. She plans to stay in the Baltimore area and teach Zumba classes while she pursues video production. The Zumba classes she created at Goucher were hugely successful and brought her much joy. "I like helping people," she says. "One of my favorite students said that Zumba helped lower his stress, not just even after class but overall. It just made me feel so good."
Sklarew has been focused on a career in public policy. She was a Capitol Hill intern for U.S. Representative Dutch Ruppersberger last summer, and she just completed a government affairs internship with an agricultural advocacy organization. For the past two years, Sklarew has also served as the president of the Goucher Food Recovery Network, which has helped her meet a diverse group of people sharing a similar commitment to social justice.
"I think the idea of the video application set the tone that Goucher doesn't make you follow a certain path," says Sklarew.
As President Bowen told The New York Times in 2014 about the GVA launch, "This is an experiment, and there are plenty of reasonable objections. We're going to track these students, and we'll really know in a year. If the kids who did video apps do worse than others, we'll stop. If they do just as well or better, colleges around the country will be doing it."
As many other colleges around the country have adopted similar programs, including the University of Chicago, the GVA is another Goucher innovation that is helping to create more access to higher education.
"The GVA gives students the opportunity to become a member of the [Goucher] community and to make a great addition to the campus," says Moran-Kaplan.
(Photo at top): Allie Sklarew '19