Building big ideas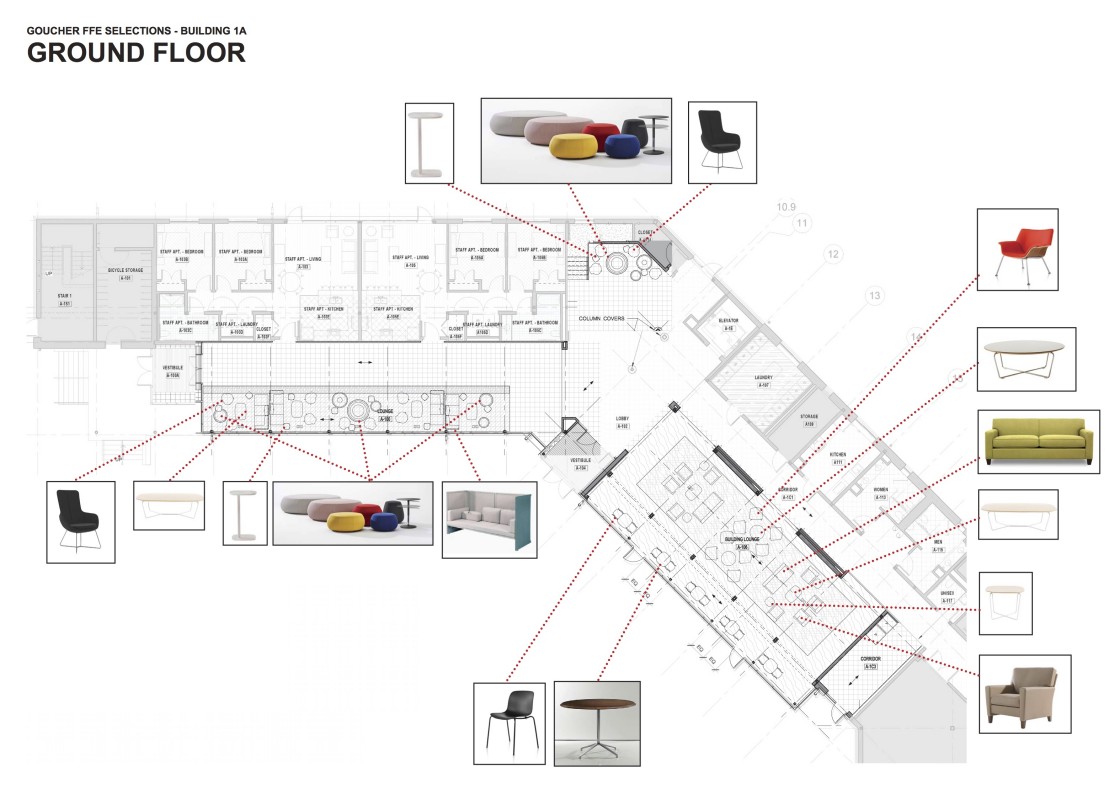 Research tells us that a meaningful residential experience greatly affects a student's chances for success, both during college and afterward. Our own personal experiences remind us that college is a transition from what we've known, taking us through the unknown world of higher education and newfound independence, and delivering us to what lies beyond. That transition is important, and students need support and a safe haven during the process to ensure their continued success and development.
This is why Goucher has developed a plan to bring the community together to nurture a sense of home for our students. The college will be creating a residential campus environment that fosters relationships, builds community, allows faculty to live on campus again, and maintains a dynamic sense of community and belonging that is essential to life at the college.
Goucher has some big ideas for how to do this. Some are already in the works; some are yet to come. Here is an update and preview of how the college is transforming our campus community:
First-Year Residence Halls
The first phase of the project—a three-building, first-year village at the center of campus—is moving along smoothly on its fast-track timeline. The first of these buildings, a $17-million, 186-bed residence hall, is on schedule to open for this fall semester.
This new dorm will primarily house students in double rooms, as well as a few singles, and it will feature quiet study spaces, common rooms on each of the three upper floors, a first-floor main lounge, faculty/staff housing, and an outside common space to support community-building.
"We're also super-busy reviewing hardware samples, plumbing fixtures, and everything that
is going to be ordered for the building, and we are finalizing furniture selection right now," says Linda Barone, associate director for facilities planning.
On Friday, February 5, we held a "topping out" ceremony. In construction, this builders' rite traditionally is held when the last beam is placed atop a structure during its construction, and Goucher is always ready to bring the community together to celebrate progress.
The entire building, referred to for now as Building A, will be enclosed in March, "and then we will really be able to get going on all of the finishes," according to Barone.
The other two buildings are still in the planning and budgeting stages. "We are in the middle
of getting all of those details worked out," says Barone. "Combined, the two buildings will offer 266 additional beds, and, if funded, they will open in Fall 2017 and Fall 2018, respectively, unless we are able to construct them concurrently."
While plans aren't yet finalized, intended features for Building B include a lounge with a fireplace and a demonstration kitchen, and two additional apartments for faculty/staff. In Building C, there will be rehearsal space for performers and a writing center.
Dining Hall
The second phase of this new plan for residential life will include a centrally located dining hall that will be designed to enhance a sense of community on campus. The plan is to create a large dining hall at the Pearlstone Student Center that will offer a broad range of meal options, including á la carte, all-you-can-eat, kosher, vegetarian, and vegan. If funded, this $22-million project will come on line in June 2018.
At this stage in the process, the facilities planning team is strategizing how to use the space to best meet student needs, and it is figuring out seating and how to lay out the addition to Mary Fischer Hall to accommodate this new space.
Hoffberger Science Building
Goucher's main science facility, Hoffberger Science Building, was started in 1946 and completed in 1953—with updates following in 1956, 1961, and 1981. The most recent major renovations are 35 years old, and the building needs work if Goucher is going to continue attracting students interested in biology, chemistry, and environmental studies, all important STEM fields.
The facilities planning team is now in the planning stages of this important project and has hired Gaudreau, a Baltimore-based architecture firm. Later this month, the team should have an estimate on cost and a rough plan of how to renovate and expand the aging science facility.
"The idea is that there is going to be an addition to the original Hoffberger building that is going to accommodate new labs," says Barone. "The hardest thing to retrofit is the labs because you really need 15-foot ceiling heights, which we don't have. So we plan to put all of the labs in the new space."
Barone says the phased renovation and addition work is likely to begin in 2018.
President José Antonio Bowen has been the driving force behind these projects, as well as their biggest champion. "Building living-learning communities is an imperative part of our mission to redefine the liberal arts for the 21st century," he says. "Our entire community—students, faculty, staff, and I— believes this vision for residential life and dining will improve the Goucher experience for generations of students to come."
To view construction progress in real time, go to www.goucher.edu/communitymatters.