Storied collections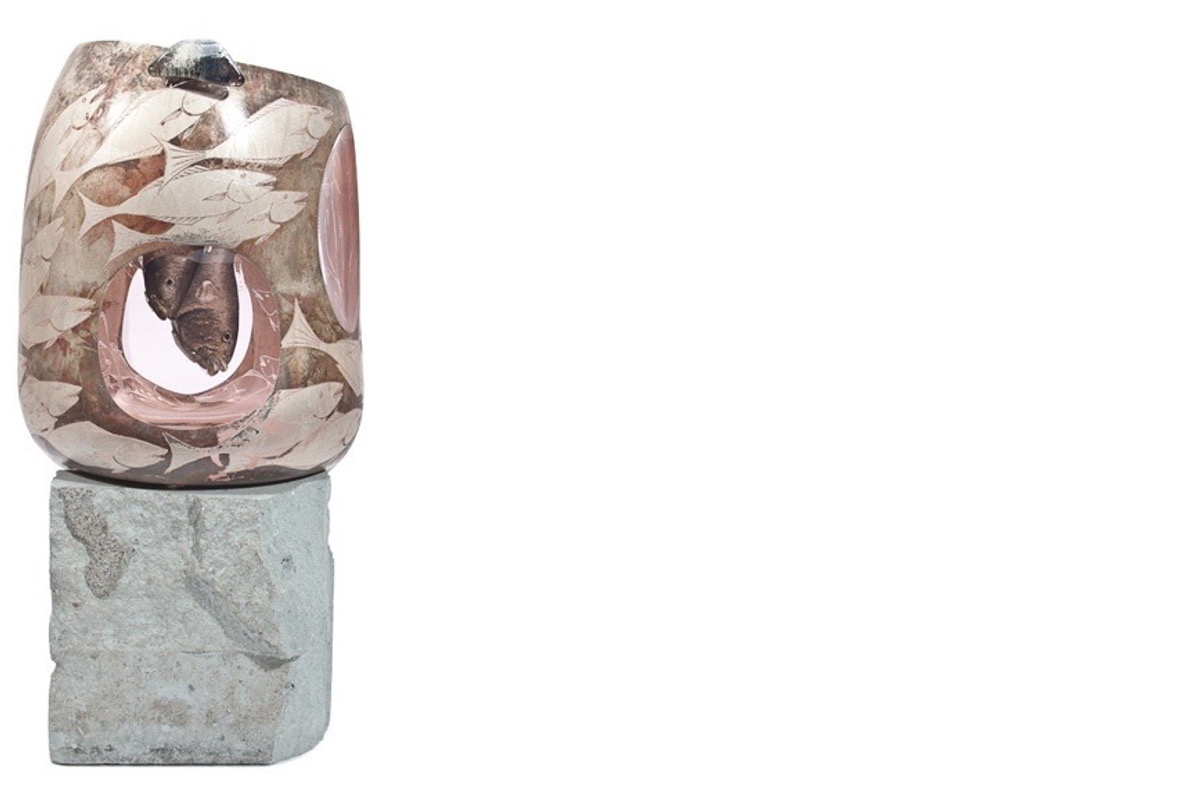 Something about the small sculpture caught and held Julia Gelfand '75's attention. In it, a school of fish is etched into opaque glass set upon roughly hewn stone, and the fine lines detailing the tails and fins make the fish seem to swirl by.
"The piece, which is by a Japanese artist, is an example of cutting and drawing in the glass, and it has amazing lines," says Gelfand, a longtime art collector. "It also has elements that are both sophisticated and primitive."
Called "Fish on the Rock #4, 2006," the sculpture by Hiroshi Yamano, is one of two artworks that Gelfand is lending to the college as part of an exhibition titled Goucher Collects: Living with Art. The show, on view at the Silber Art Gallery from April 14 – May 21, will feature more than 60 works drawn from collections belonging to nearly 30 alumnae/i, parents, and friends, as well as the college. It comprises prints, paintings, sculptures, and even an example of 16th century Spanish wallpaper, and includes works by Louise Nevelson, Ellsworth Kelly, Henri de Toulouse-Lautrec, as well as contemporary artists.
Organized by Sonja Sugerman, curator of Goucher's Art and Artifact Collection, the exhibit explores what makes a collector collect. "There are many different types of collections, and there are many ways of collecting," Sugerman says. "Every collection tells an amazing story, and that's what we are hoping to capture in this exhibition."
Indeed, there are as many stories to share as artworks. Gelfand and her husband, David Lang, have been collecting large and small pieces of ceramics and glass art from around the world for about 20 years.
"We usually are well aware of the artist and his or her work, so then, when we find the perfect piece for us, we acquire it, as we want to continue to admire and savor it. It just gives us an infusion of creativity. Collecting is in our DNA, and we treasure our relationships with artists and gallery personnel," the California resident says.
But at least part of the Yamano sculpture's appeal was its subject matter: "I am an angler, and the fish theme resonated with me," Gelfand adds.
For A. Will Brown '10, who has loaned four contemporary works to the college, the desire to collect began at an early age. Growing up in a family of artists, Brown always was surrounded by art. "As a kid, I was sort of collecting things in the same way that I am now: picking works very specifically for aesthetic or thematic groupings," says the curatorial assistant at the Rhode Island School of Design Museum.
Brown began building his personal collection two years ago—after graduating with a master's degree in curatorial practice from the California College of the Arts in San Francisco. "As someone who works in the arts and with artists pretty closely, collecting is first and foremost about supporting artists who I believe in, who are doing worthwhile and interesting things," he says. "Things that I can look at every day and feel excited about."
In conjunction with Alumnae/i Weekend, a viewing of Goucher Collects: Living with Art will be held Saturday, April 16, from 5 to 7 p.m. in the Silber Art Gallery. For information, call 410-337-6477.