Q&A: Board of Trustees Chair Miriam Katowitz '73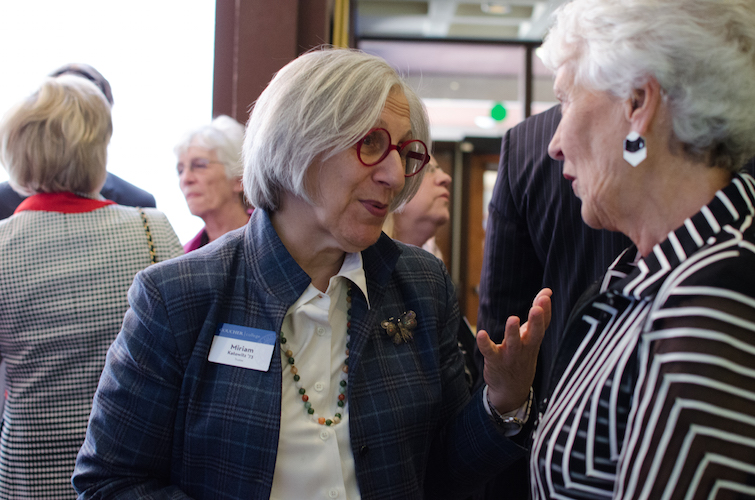 Miriam Katowitz '73 has been a leader at Goucher, serving on the Board of Trustees since 2007, as a member of the Committee of Visitors from 2002 to 2007, a vice chair of the Legacy Committee from 1995 to 1998, and as a former class fund agent. We sat down with the new chair of the board to chat about why she loves Goucher, and her plans are for the future of the college.
What compelled you to become involved in Goucher's leadership initially?
I was asked to join the Committee of Visitors; since I felt that Goucher had played a large role in who I am today, what I've learned, and am capable of learning, I was pleased to be asked to be a part of the college long after I graduated.
What are you looking forward to the most in your new position?
I look forward to working with José, the staff, faculty, and my fellow board members as we improve an already terrific Goucher. I'd like to work on attracting more students, improving our retention rate, graduation rate, and figuring out how to make Goucher affordable to upcoming generations.
What are the first things you'd like to tackle?
There are lots of areas that always need tackling. We are lucky to have a wonderful faculty who provide a great education component, and a rich student life that teaches our students how to think better, research, learn new topics, and how to communicate all of this to anyone who wants to listen and even to those who may not want to listen. I look forward to working closely with the faculty on an improved curriculum that will keep Goucher a strong liberal arts college that trains thinkers and doers. Another goals is to ultimately replace some of our older residence halls, as Stimson was the new dorm when I entered Goucher in the fall of 1969
What do you think Goucher has that will make it competitive and unique in the coming years as higher education evolves?
It's the rich campus life, the great teaching, excellent students, and supportive environment.
As a former Goucher student, what do you think Goucher gave you that contributed to your success?
I learned both how to be a leader and a follower.  I also learned to think, reason, write, and view and process information.  I made great friends through my time at Goucher and even new ones after that have a Goucher connection. I have so many great memories from school, though I admit "mystery meat" in the cafeteria is not one.  The food is much better today!  Some standouts are my work study job as a lifeguard at the pool, my spring term junior year in Copenhagen, and a summer at Hebrew University rooming with one of my Goucher friends.
—Angie Cochrun